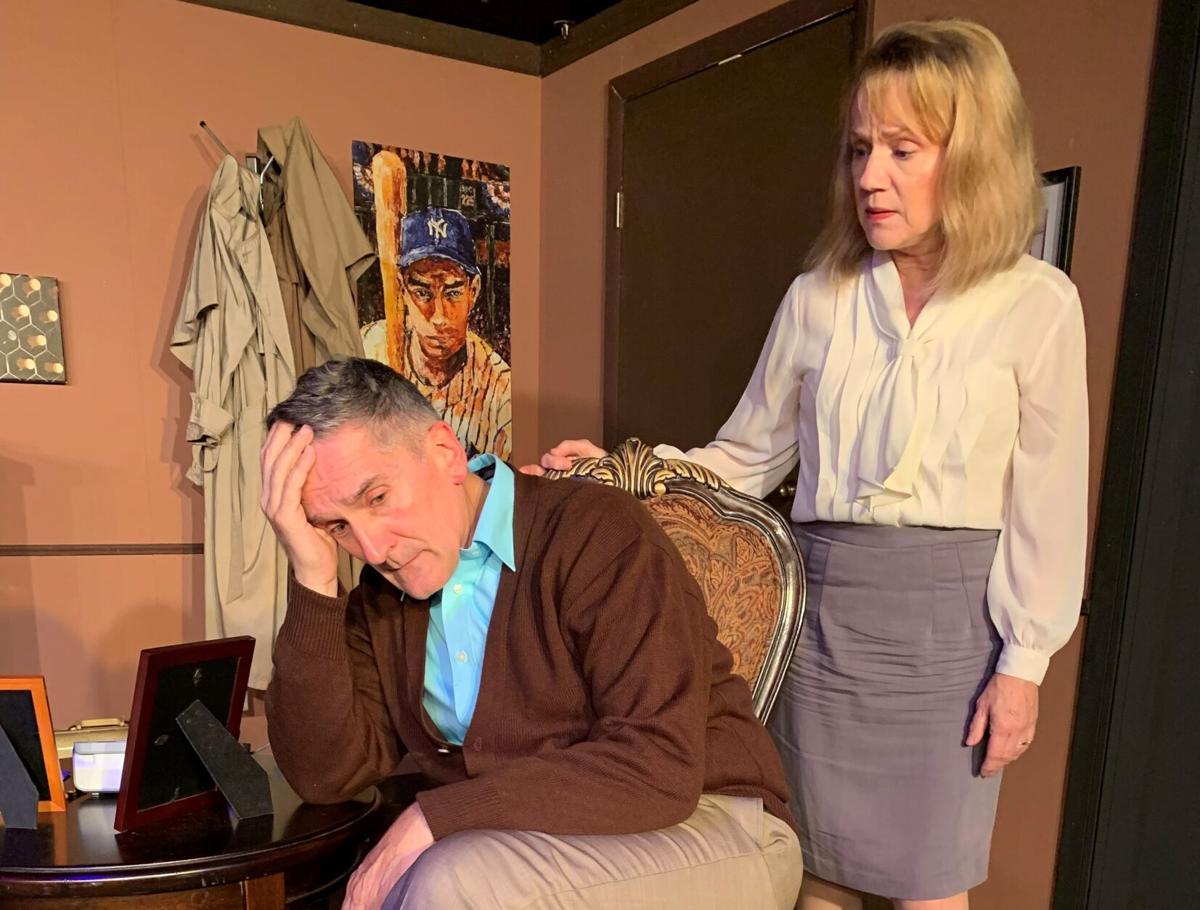 Back in the 1960s and '70s, Bernard Slade made a name for himself with television shows like "The Flying Nun," "Bewitched" and "The Partridge Family." He then turned his talents to Broadway, scoring a couple of hits with shows that seemed old-fashioned, even at the time. One was "Same Time, Next Year." Another was "Tribute."
Desiderio's Dinner Theatre in Cheektowaga is currently presenting "Tribute" with a first-rate cast. This is the story of the uncomfortable reunion of an estranged father and son. Scottie Templeton was everybody's best friend, but a truly lousy father and husband. When Scottie finds that he is terminally ill, he desperately wants to spend time with his son, Jud, and to forge a better relationship.
Unlike Neil Simon, whose work was rescued by some deeper late-career plays that inspired critics to reappraise the earlier work, Slade remains frozen in the 1970s. His work is most likely to appear on community theater stages, where his insightful humor about domestic life continues to delight audiences. The professional theater has, for the most part, abandoned him. Not, however, at Desiderio's Dinner Theatre, the last bastion of forgotten Simon and  Slade.
No show is too sentimental for Desiderio's, and "Tribute" is made to order.
Desiderio's opened its post-pandemic season with "God's Favorite" by Simon. Now it has taken on Slade's 1978 play, "Tribute." It did "Same Time, Next Year" just a couple of years ago.
On Broadway, Scottie was played by film star Jack Lemmon, who reprised his performance opposite an all-star cast for the 1980 film, which also featured Lemmon's "Days of Wine and Roses" co-star, Lee Remick, as his ex-wife, Maggie. Teen idol Robby Benson played Jud. The role earned Lemmon both Tony Award and Oscar nominations.
At Desiderio's, Gregory Gjurich plays Scottie. Zachery Gammel plays Jud. Lisa Hinca plays Maggie. Lisa Ludwig portrays Dr. Gladys Petrelli, played by Colleen Dewhurst in the film.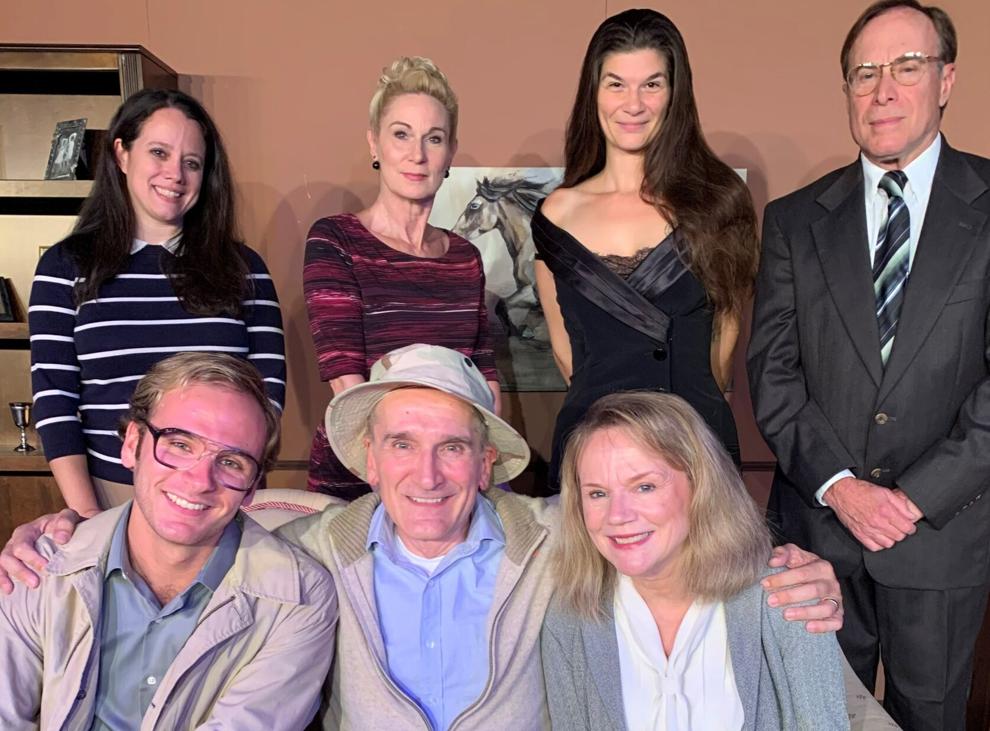 Gjurich playfully gambols through the antics of his man-child character, revealing both the terrible husband and father, and the irresistible personality of a great friend.
Gammel gives an appealingly nerdy portrayal of Jud, whose exasperation with his father seems all too justified, especially from the lens of 2021, when we are less likely to have a generous attitude toward men who treat women like toys, are absentee parents and ignore paying child support.
Much of the emotional depth of the play falls to Hinca, as a woman who adores Scottie, but couldn't be married to him. She engineers, not the reconciliation of father and son, but the dubious opportunity for it to happen.
The rest of the characters are people Scottie has collected in his travels. There is his "boss," Lou Daniels, a hard-boiled publicity man whose friendship is tried and true, cheerfully played with no-nonsense by Robert Insana.
There is his physician, Dr. Petrelli, a woman who is willing to violate the laws of ethics and confidentiality to save Scottie. Ludwig leaps to the task with self-assured zeal.
Jennifer Toomey Starr, a third-generation dinner-theater actress (daughter of actor Sue Toomey and granddaughter of dinner-theater legend Dolores Mendolia) capably plays Sally Haines, a fun-loving gal who tries to help Jud connect to the ideal of fun that is the meaning of life to his father.
Marie Costa charmingly plays Hilary, that hooker with a heart of gold, whose life was once redirected and saved by Scottie.
The "tribute" of the title refers to the testimonials the characters give in support of the value of Scottie's chaotic life. None of these people is a model of nuance or depth. Basically, this is a modern morality play in which we examine Scottie's life from the perspective of people who allegorically represent values like friendship, fun, loyalty and forgiveness. This skillful cast knows how to land the jokes and tug the heart strings.
At the end we smile, we cry, we go home feeling happier for the experience. Jay Desiderio is a master of this formula, and "Tribute" delivers the goods triumphantly.
Central to the dinner-theater experience, of course, is the dinner. Desiderio's is located inside Bobby J's Italian American Grille, a family restaurant that will take you back to dinners of your youth, where the entire clan could dine together, and everyone can find something they like on the menu.
After dessert, the Desiderio's staff deftly clears the tables so the audience can give the play its undivided and enthusiastic attention. From appetizer to curtain call, "Tribute" offers a sublime and engaging evening out.
Presented by Desiderio's Dinner Theatre through Dec. 18, inside Bobby J's Italian American Grille, 204 Como Park Blvd., Cheektowaga. Shows run most Thursdays, Saturdays, Sundays, and some Wednesdays. Evenings: 6 p.m. dinner, 7:30 show. Matinees: 1 p.m. dinner, 2:30  show. Cost is $58-$68 depending on entrée, ticket included. For information and reservations, call 716-395-3207 or visit mybobbyjs.com.