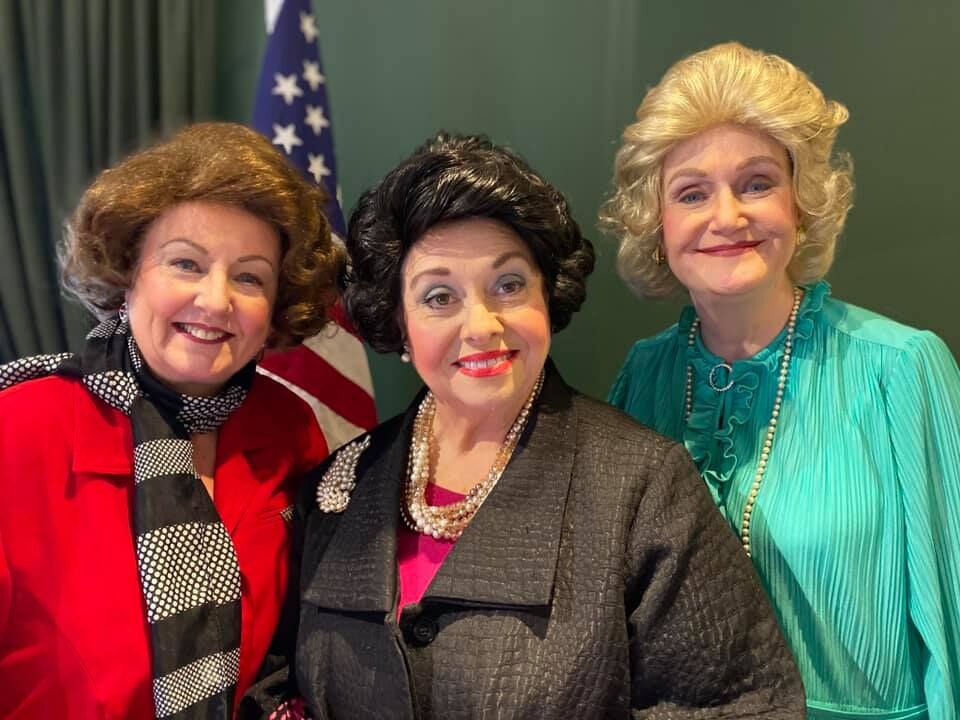 How considerate of the good people at O'Connell & Co. to provide a political palate cleanser on the weekends before and after Election Day. The online play "Tea for Three: Lady Bird, Pat and Betty" is a clever and sympathetic reminder that it isn't only presidents moving in and out of the White House – they almost always come with first ladies as their unpaid partners. (James Buchanan is the exception, our only bachelor president.)
The three women in Elaine Bromka and Eric H. Weinberger's one-act play give refreshing views of three particularly fraught presidencies: one that started with an assassination and was consumed by an unpopular war; another ending in disgrace and resignation, and the last concluding with a defeat at the polls for the only man ever to hold the office without being elected to it.
While history will judge presidents Johnson, Nixon and Ford in its own way, "Tea for Three" hands its microphone to the women who knew them best, pulling back the curtain on moments of pride, perseverance and pain that are rarely acknowledged publicly. 
Despite its title, the women are never together on stage, and one first lady, Betty Ford, doesn't even have tea, opting for some stronger stuff. Instead, we get three heartfelt monologues that provide minibiographies of a misunderstood position.
Mary Kate O'Connell, Mary Moebius and Pamela Rose Mangus bear almost no resemblance to the women they are portraying, and they don't try to do impersonations. They give us their characters' emotions and insights, not their faces and fashions.
O'Connell's Lady Bird shares bittersweet recollections of everything from Lyndon Johnson's proposal to her on their first date to that horrible day in Dallas that pushed them into the presidency. She makes it clear she didn't keep her marriage going through the hard early years of financial struggle to toss it over just because Lyndon was occasionally "taken by" some other women. 
That pales to the pain the nation and the first family experienced when protesters stood outside 1600 Pennsylvania Ave. chanting "Hey, hey, LBJ, how many kids did you kill today?!" day after day. Inside, Lady Bird stood by her husband and knew that "Vietnam is killing him, too."
In March 1968, LBJ told a stunned populace that he would not run for president again. That paved the way for Richard Nixon, whose wife, Pat, came with a quieter warmth and shunned the spotlight. As Pat, Moebius is almost embarrassed to admit she loved the travel part of the presidency. Other than that, she is proudly pragmatic, believing in celebrating simple survival in a world of troubles. And trouble is what she wound up with, quite unfairly, in her eyes. While much of the country saw Richard Nixon as a former loser who would do anything, legal or not, to win, Pat took the long view. She recalled the questionable election of 1960 that put JFK in the White House, and saw her husband as the victim of "the dirty, ugly business" that is politics, a description that holds up well today. Moebius doesn't have Pat's brittle quality, but she does her anger well.
The Ford White House was almost like an intermission in the national drama, with the war and Watergate both nearing an end. Gerald Ford was something like a place-holder as president, which also kept Betty in a little first lady limbo. Mangus plugs into Betty's spirit, ever flexible on the outside while self-medicating to ease the way in private. She is easy to like and, as with the other strong, supportive women here, we find ourselves a little sorry to see her go.
"Tea for Three: Lady Bird, Pat and Betty"
Biographical monologues from three first ladies of presidencies past, filmed by Dramatic Publishing Company at the Theodore Roosevelt Inaugural National Historic Site for O'Connell and Company. Available online at 7:30 p.m. Nov. 6, 7 and 8; tickets are $25 per household, at oconnellandcompany.com.