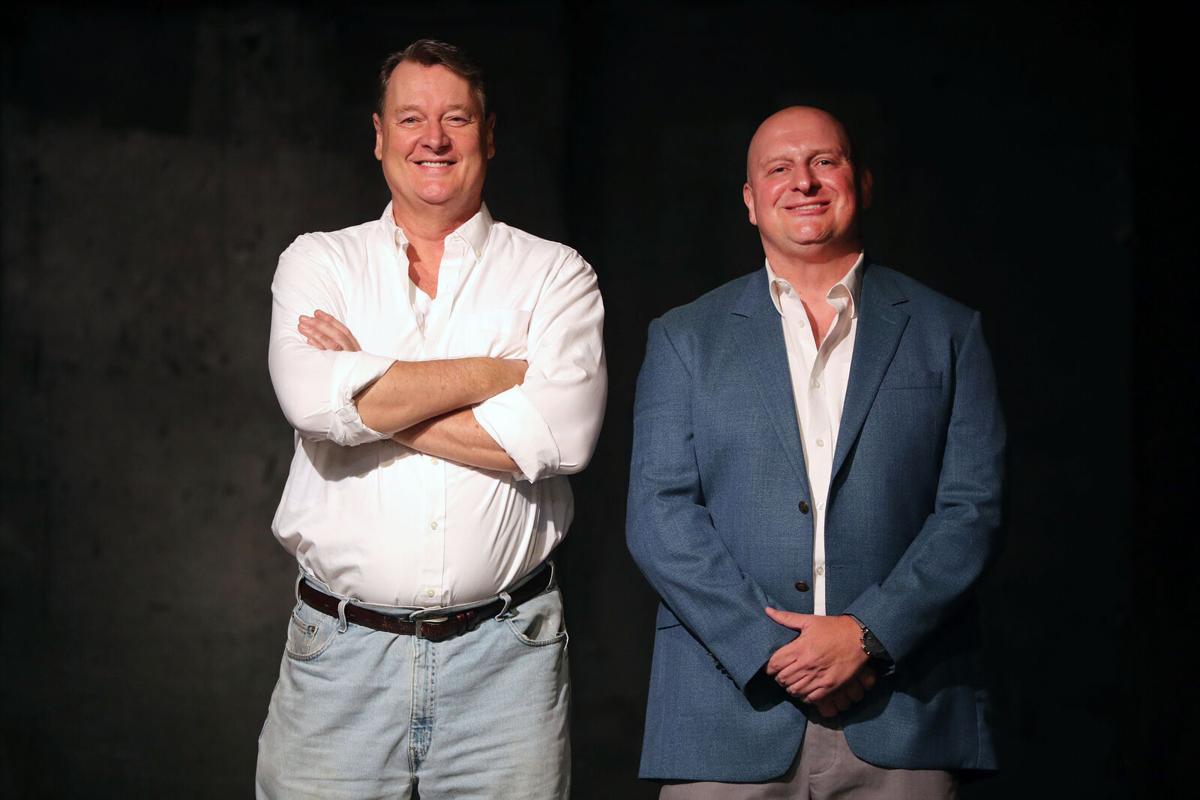 Give Richard Lambert a dollar for every superlative he uses when talking about the coming season at New Phoenix Theatre and he might have enough cash to take the audience out to dinner after every show.
Just about everything is glorious, gorgeous, exciting, unique, provocative, even more glorious, or, often, combinations of those and other things. His enthusiasm for the return of live theater is, in every way, the right kind of contagious.
That enthusiasm has translated into a season of exceptional collaboration. As New Phoenix says in its announcement, collaboration is "the word," "the mission," and "the goal and glue of our new season."
They aren't joking. Of the five productions coming up on the cozy stage at 95 Johnson Park, three are being presented by other theater companies. That includes the season opener, "To the New Girl" (Sept. 10).
Lambert said that he deliberately opened the doors to other theater troupes to help assure they, too, survived the long pandemic shutdown. Plus, he wanted to see his friends again.
"This year, more than ever, we said 'Let's look back and find the most glorious theatrical experiences that we had and get those people together,' " he said.
The result is quite a mix of overlapping talent. For example, Pandora Kew, is a producer for "To the New Girl," which is a First Look Buffalo collaboration. Kew will be onstage in that show and again in the final play of the season, New Phoenix Theatre's production of "Who's Afraid of Virginia Woolf?" (April 28).
The second collaboration (the title is yet to be announced) is with Subversive Theatre Collective, which lost its home at the Great Arrow Building before the pandemic and is still looking for a new, permanent space. It has been at New Phoenix before and Lambert said he was happy to offer his stage again.
Robert Waterhouse, who won awards for his adaptation of "All Quiet on the Western Front" at New Phoenix in 2014, will be directing a play from Red Thread Theatre, "The Children" (March 3).
"It's a thrill to have Bob back. I love to work with him," Lambert said. "Plus, I get the gorgeous bonus of having Eileen Dugan and Josephine Hogan back in the theater. I kind of get all 'fan boy' over these people, they are so wonderful."
In 2017, Lambert performed opposite Dugan in "My Old Lady" at New Phoenix. He previously directed Hogan in 2011 in her much-praised role as Vivien Leigh (another Lambert favorite) in another Red Thread production.
This season, Lambert directs another actress as another film legend when Julie Kittsley stars in "Looped" (Oct. 28), playing the great Tallulah Bankhead in the twilight of her career.
Lambert laughed as he recalled how the show came about. Kittsley had played a smaller role in a New Phoenix show and he suggested she pick another small show that they could produce, one she could star in.
"She said 'Hello Dolly!' and I said 'I am NOT doing 'Hello Dolly!' " It doesn't fall into the category of alternative theater fare by a long shot, so they settled on "Looped," a star turn about a fading star.
"It's not just rewarding people for sticking with you," Lambert said. "If you have an opportunity to put art together, you should take it. It's who we are."
There is one show that Lambert was determined to have in the season: "Who's Afraid of Virginia Woolf?," a show that has been in the planning for more than three years, including the pandemic shutdown.
"I knew that we wanted to get 'Virginia Woolf' in and if we did, I would be happy," Lambert said. He is performing as George, with Pamela Rose Mangus as Martha. Joking that, now that he is old enough for the role, he wants to do it before he's using a walker, he also did find a silver lining to the delay.
"We've been sitting on this for a number of years now, and has really given us time to know the characters, to nuance it," he said.
Meanwhile, Lambert is relishing the idea of new theater all around Buffalo. "We are blessed, he said. "I can't wait to see what everyone is going to do."
Performances are 8 p.m. Thursdays through Saturdays except where noted. Tickets at newphoenixtheatre.org and 853-1334.
"To the New Girl," Sept. 10-Oct. 3 (No Thursday shows; performances also Sundays at 2 p.m.). From First Look Buffalo in association with New Phoenix, a play by Samantha Macher in which 10 women offer advice to the "new girls" who are now with their exes. (Tickets through brownpapertickets.com).
"Looped," Oct. 28-Nov. 20. The legendary Tallulah Bankhead, long since overtaken by her fame, arrives drunk at the studio where she is to re-record a line of dialogue for her final film. Things do not go as planned.
The Subversive Project, Nov. 25-Dec. 18. To-be-announced production in association with the Subversive Theatre Collective.
"The Children," March 3-26. In collaboration with Red Thread Theatre, a disturbing and disturbingly comic story of two retired scientists whose isolation is interrupted by a nuclear power plant disaster.
"Who's Afraid of Virginia Woolf?," April 28-May 28. Edward Albee's ferocious masterpiece of a long-married couple consumed by conflict and, in a bizarre way, love, as witnessed by another couple who innocently stumbled into their way.