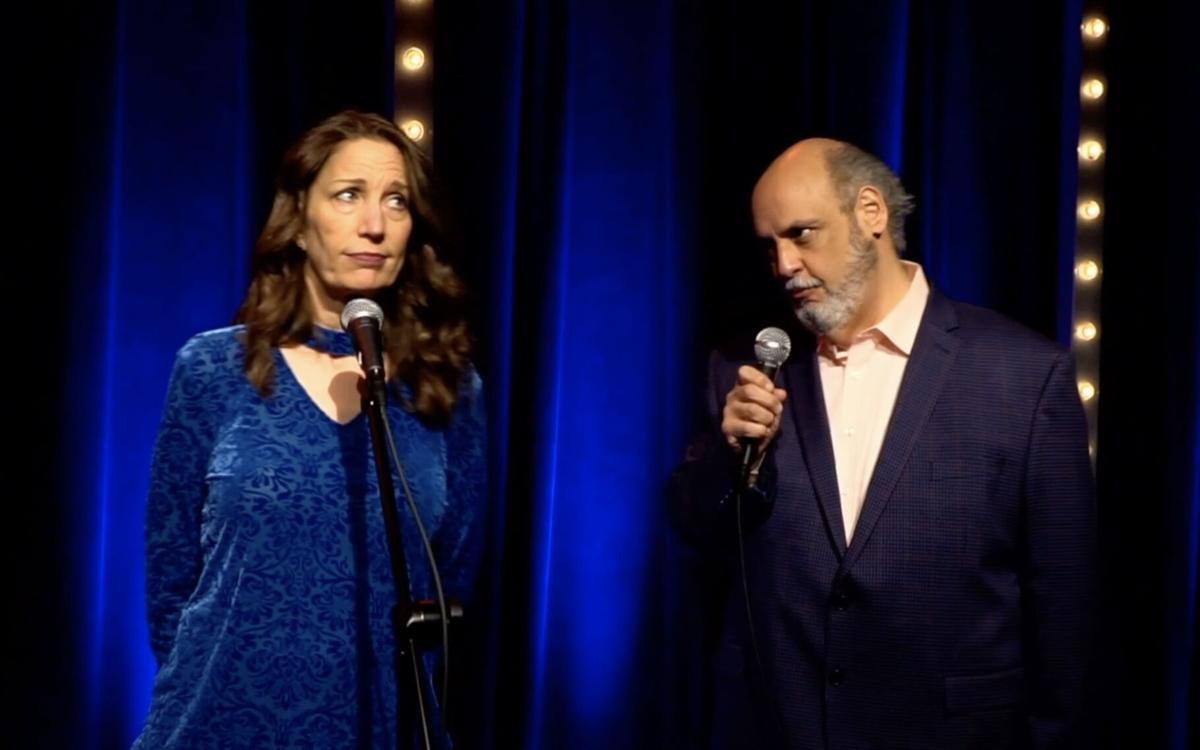 MusicalFare delivered a special Valentine to its fans over the holiday weekend – special because this is a gift to be enjoyed over and over again. Buy it now for $10 and watch as many times as you like for the next month (through March 13).
"Broadway Love" is a virtual cabaret of romance-inspired show tunes designed for repeated listening. In fact, one "study" has found that "Broadway Love" can transform an evening at home when played two times back to back, accompanied by refreshments of one's choice. It certainly worked for us.
Part of the pleasure comes from reconnecting with these 11 performers – familiar faces all from times of yore, when theater was presented live before audiences. There are also familiar tunes: Ricky Needham gives a ringing "Almost Like Being in Love," Raphael Santos is near ecstatic as the suitor is "On the Street Where You Live," and real-life couple Norm Sham and Debbie Pappas are totally in on the joke for "Do You Love Me?" from "Fiddler on the Roof."
Video visits with the performers are a nice bonus between the numbers. The Pappas-Shams are adorable as they talk over one another to describe how they at first did NOT meet despite being the same age, growing up within blocks of one another and hanging out in the same place while attending the same college. Then they finally did meet, and 21 years later – OK, we will let them finish the story.
K Art, housed in a beautifully renovated brick office building at 808 Main St. in downtown Buffalo, promotes itself as "the nation's first and only Native-Owned and Focused Art Gallery." 
Santos may be revealing one of the secrets of his marvelous voice in his story of love and mayonnaise, while Arianne Davidow's memory of a moment of acceptance and brotherly love is just plain sweet.
And trust Charmagne Chi (who sings "People Make Mistakes") to keep it real as she tells how Ryan Chi, the guy once known as her boyfriend, went on to become the fellow she slyly refers to as "my first husband." (A post he still holds, we should add.)
As intimate as some of the songs are, "Broadway Love" opens by taking a wider view, with Lorenzo Shawn Parnell in a solo rendition of "Seasons of Love" from "Rent." With the one-year anniversary of the first Covid-19 shutdowns approaching, hearing the familiar calculation of "Five hundred twenty-five thousand six hundred minutes" serves as a reminder of another epidemic, and of other loves and losses.
Dominique Kempf's defiant "I Can Do Better Than That" is a sassy counterpoint to the more lovey-dovey numbers. Michele Marie Roberts digs into her inner chanteuse for "Funny Honey" from "Chicago."
Holding it all together are Randall Kramer and Theresa Quinn on piano, providing a visual valentine just by being themselves. Their mid-show medley begins with a taste of "Wunderbar!" and includes Kramer taking a turn at "I Cain't Say No."
Links for the show can be purchased through the MusicalFare website to watch on a smart TV or other electronic device. The connection will remain live through March 13.
Also coming from MusicalFare: On Feb. 18, the public can join a free videoconference session to ask MusicalFare staff and performers any questions they may have about the theater company.