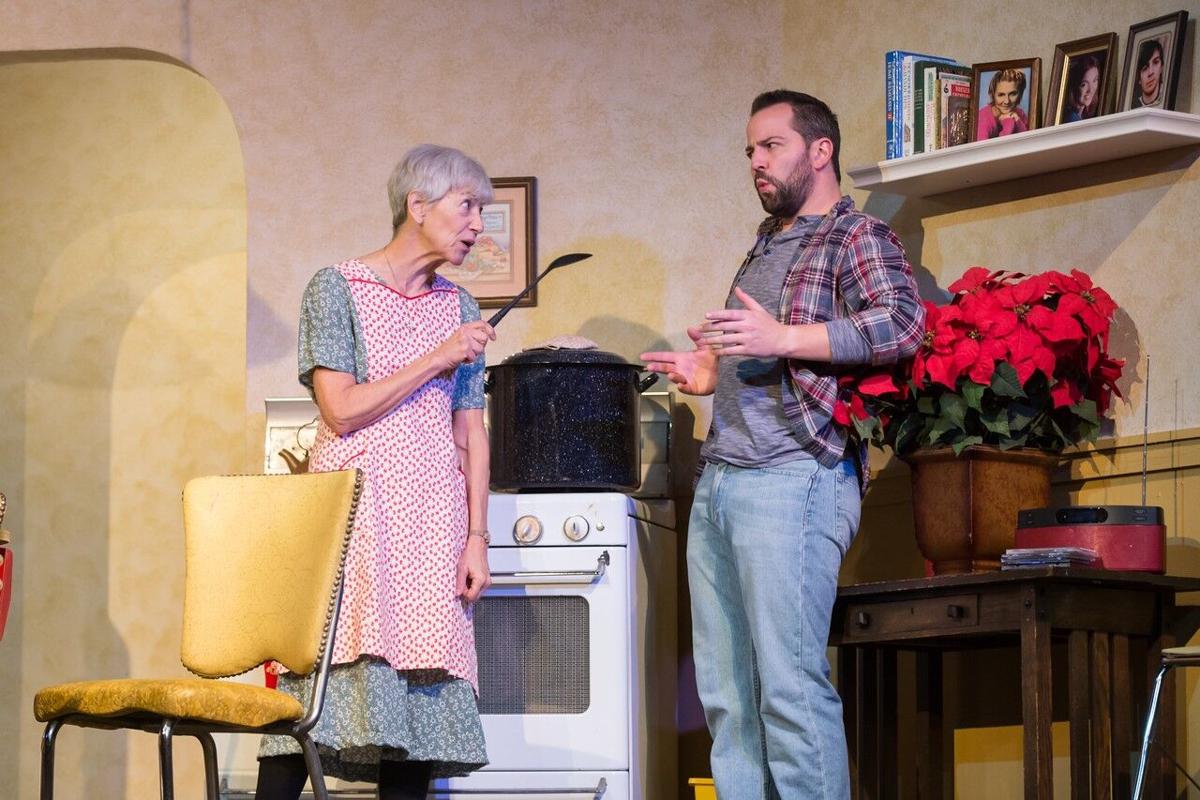 To be from Buffalo is to be the forever underdog, and playwright Tom Dudzick has made a career out of sympathizing with and satirizing the Queen City's downtrodden denizens.
Usually his stories center on the Pazinskis, a tight-knit Polish-American family living on the East Side in the 1950s, and most centrally on Randy – the youngest Pazinski, who is quietly rebelling against his Roman Catholic upbringing and nurturing a showbiz dream.
But sometimes Dudzick's purview extends further than the Pazinskis' cramped apartment, as is the case with "Miracle on South Division Street" – now playing at Lancaster Opera House, directed by Fran Landis – which introduces audiences to the Nowaks, another Polish family living in Buffalo, this time in the early 2010s. Dudzick remains true to the elements that made "Over the Tavern" and its sequels such charming hits: The softly vintage comedy, a playful attack on traditional religious mores, an optimistic sentimentality and local references galore.
The Nowaks have lived on South Division since settling in Buffalo, and their story is deeply entrenched in the lore of the neighborhood. Legend has it that the virgin Mary appeared as a vision to the family's patriarch, a barber recently emigrated from Poland, and compelled him to build a statue in her honor. The shrine now sits as proof of the event, and as a site of pilgrimage for other true believers to pray for a miracle of their own.
Or so maintains Clara (Tina Rausa), the barber's daughter and proprietor of a soup kitchen she claims is built on Holy Ground. Her late father's miracle was the defining story of her childhood, and half a century later, she still views it as her life's mission statement. Less can be said of Clara's three grown children – garbageman Jimmy (John Kaczorowski), ketchup bottler Beverly (Kate Mulberry), and would-be actress Ruthie (Lisa Noelle Miller) – who have been brought up to believe, though can't help but feel a little like the neighborhood wackos.
Dudzick centers the plot of "Miracle" on revelation. Ruthie has summoned the family on Christmas Eve to Clara's kitchen – perfectly outdated from set designer David Dwyer – to discuss a revision to the Nowak's mythologized history. Ruthie had a sort of "come to Jesus" moment while watching a one-man show at a local theater, and has decided to write a play about what she insists is the true story of the family's brush with divinity.
And so "Miracle" becomes a sort of shaggy dog tale of twists and sudden turns. I won't spoil any specifics here, but Dudzick is interrogating the stories we tell ourselves about our origins, and what happens in the moments where long-held beliefs are upended or shattered. Sometimes, you'll be a step or two ahead of his plotting – Dudzick has the tendency to set up big moments with just a little too much padding – but the playwright continually ups the ante, and even manages to subvert the comedy into a touching final moment that says as much about our prejudices as it does our capacity for tremendous change. (I do think the show lasts one scene too long, but I understand the emphasis on a tidy wrap-up for a Christmas play.)
This cast is doing excellent work, especially in portraying the sort of good-natured in-fighting that happens between siblings and parents. Kaczorowski has some killer one-liners, Mulberry's hard-edge works great for bratty Beverly, and as Ruthie – carrying the torch of her family's story, just like Dudzick – Miller brings a sweet softness to her arc as the sister with ambitions to escape her hometown.
But it's Rausa's Clara that emerges as the heart of the show. She's mostly gruff and no-nonsense, but occasionally drops into a well of sorrow and regret, where the facade cracks. There's a moment near the end where she sits alone, burdened with new knowledge of her history, and Rausa is able to convey something profound without a single word. It's moments like this that lift Dudzick's story beyond a tiny Rust Belt comedy, when his work becomes briefly miraculous.
"Miracle on South Division Street"
Performances are through Dec. 19 at Lancaster Opera House, 21 Central Ave., Lancaster. For tickets, call 716-683-1776 or visit lancasteropera.org.