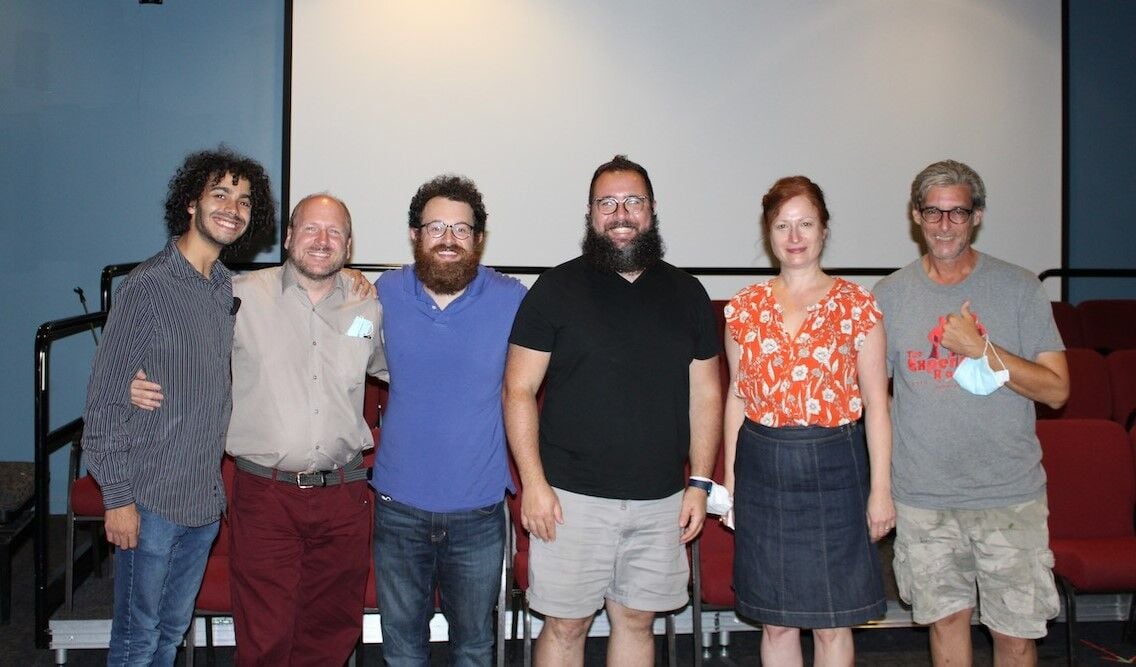 Saul Elkin, founding artistic director of the Jewish Repertory Theatre, did not expect last season – the company's 18th – to be a success.
When the pandemic forced JRT to shutter the doors on the Maxine and Robert Seller Theatre in Amherst, Elkin decided to give virtual productions a try – at first simple readings, and then fully staged versions of the previously scheduled plays, filmed and then sold as a package online.
And, to Elkin's surprise, audiences loved it.
"The amazing thing was that because [the productions] were online, they were seen everywhere," Elkin said. "And we had responses from across the country, from England, from Canada. It was really wonderful."
Now, 18 months after the pandemic paused live events in Buffalo and beyond, Elkin and his staff at JRT are preparing to open the doors of their intimate 100-seat theater and welcome audiences back to in-person performances.
The first show of the 19th season is Anna Ziegler's "Photograph 51," a historical drama about Rosalind Franklin, an English scientist whose groundbreaking work in the field of genetics is often overlooked. The play originally premiered in London's West End in 2015, with Nicole Kidman in the role of Franklin.
"It's an interesting play, because it really does depend on the central character, on whoever is playing Rosalind Franklin," Elkin said. "Kristen Tripp-Kelley is going to take on the role, and she's a wonderful actress, and we have a very strong male cast around her."
"Photograph 51," which opens Oct. 21, will be directed by Katie Mallinson, who previously worked with JRT as a designer. Elkin said it was important for the company to hire a female director for Ziegler's play – which deals with the struggles women face in the male-dominated world of scientific research – and that Mallinson was "very eager" to help bring the production to life.
The other two shows in the season, "The Treasurer" by Max Posner and "Modern Orthodox" by Daniel Goldfarb, will be directed by Elkin.
And Elkin is optimistic that both in-person and online theater can exist at the same time; after the positive response from audience members, Elkin and his staff are exploring ways to bring the virtual experience back.
"We're talking about the possibility of somehow doing that again," Elkin said. "Not for a full season, but doing a season of live theater, and perhaps a video version of one of the plays, and offering that on the internet as well. And I suspect we will do that in future."
The Maxine and Robert Seller Theatre, JCC Bender Family Building, 2640 N. Forest Road, Getzville.
Performances are 7:30 p.m. Thursdays, 3:30 and 7:30 p.m. Saturdays and 2 p.m. Sundays. Tickets are $42 general, $31 JCC member, $18 industry, $10 students. 688.4114, Ext. 309  or jccbuffalo.org/jrt/
"Photograph 51," Oct. 21–Nov. 14. The little-known true story of Rosalind Franklin, one of the great female scientists of the 20th century, and her quest to map the contours of the DNA molecule.
"The Treasurer," Feb. 3-27. A darkly funny, sharply intimate portrait chronicles the strained ties between a son and his aging mother.
"Modern Orthodox," May 5-29. A comedy about Ben, an Upper West Side financial consultant ready to propose to his longtime girlfriend, and Herschel, the diamond dealer tasked with selling him an engagement ring.