I want to confide something in you, dear readers. I did not expect to like "Six the Musical." Not at all. I expected this musical retelling of the story of the six wives of King Henry VIII by Toby Marlow and Lucy Moss to take egregious liberties with the historic facts, and it does. I expected it to bring a loud and anachronistic pop score to a kind of Tudor version of "American Idol," and it does. What I did not expect was that I would love, love, love it.
The conceit is that these six women, best known to most of us from PBS and that pithy mnemonic rhyme, "Divorced, beheaded, died. Divorced, beheaded, survived," are engaged in a competitive sing-off. The winner will be she who suffered most while married to King Henry. Each is imbued with a personality to match her fate and given a "queenspiration," from the world of pop music.
For example, Catherine of Aragon, the first and longest-lasting wife is inspired by Beyoncé and Shakira. Dressed in gold, she wails "No Way," in a powerhouse song opposing her divorce. Gerianne Perez delivers the number with unstoppable authority and imperiousness.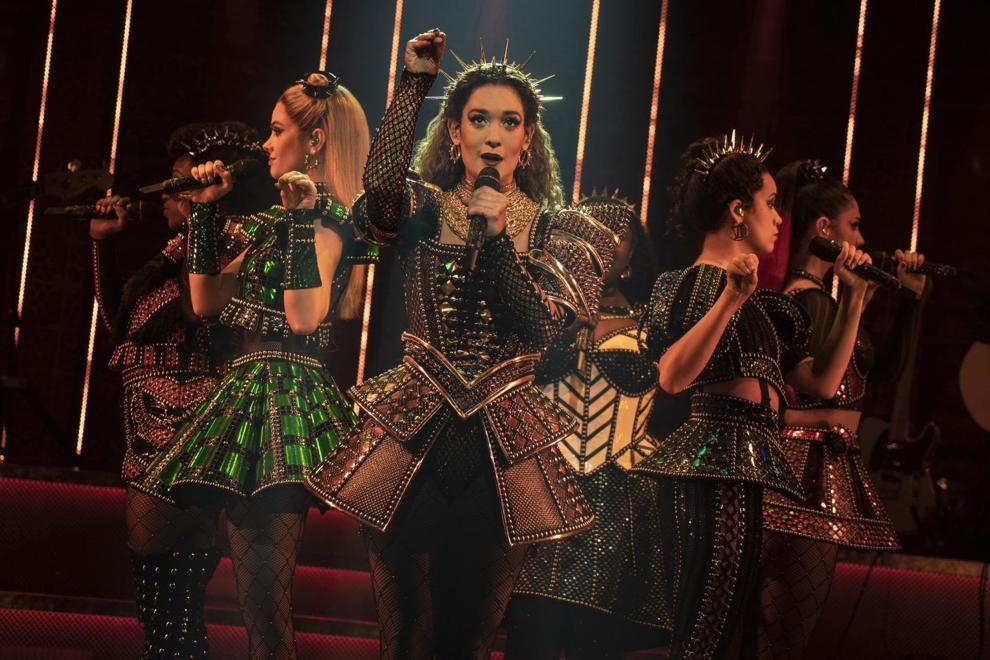 And so it goes, down the list from one to six.
There is an abundance of queenlike competition and catfighting, but this show is headed in a different direction. In no previous retelling of the six wives saga does Catherine Parr, the final wife, emerge as the most complex and interesting, but here, Taylor Pearlstein steps forward as the queen who survives and makes the case for the role of women in history, the nature of victimization, and the underlying sisterhood these six women share. The joyful affirmation sends the audience through the roof.
Pearlstein as Parr, with Alicia Keys and Emeli Sandé as her queenspirations, is divinely up to the task, with the confidential and maternal warmth of a rock and rolling Julie Andrews.
Zan Berube is adorably audacious as adolescent and self-absorbed Anne Boleyn, whose big number is, of course, "Don't Lose Ur Head."
Amina Faye is hilarious in her sanctimonious smugness as Jane Seymour, the only wife Henry "truly loved," who died after giving birth to Edward. She channels her best Adele to sing "Heart of Stone."
Terica Marie, all in red, tears it up as Nicki Minaj/Rihanna queenspired Anna of Cleves, the German wife who didn't live up to Hans Holbein's portrait of her, but was smart enough to slip out of the marriage and into a retirement of luxury. Her number, "Get Down," is a showstopper.
In my book, the saddest story is Katherine Howard, the teen bride whose past catches up with her. Aline Mayagoitia is transcendent in the role.
The show is a sublime 80 satisfying minutes with no intermission. Let them defy your expectations. This show is a blast.
Info: "Six the Musical" continues at Shea's Buffalo Theatre (646 Main St.) through May 7. It is recommended for ages 10 and older. Visit sheas.org.