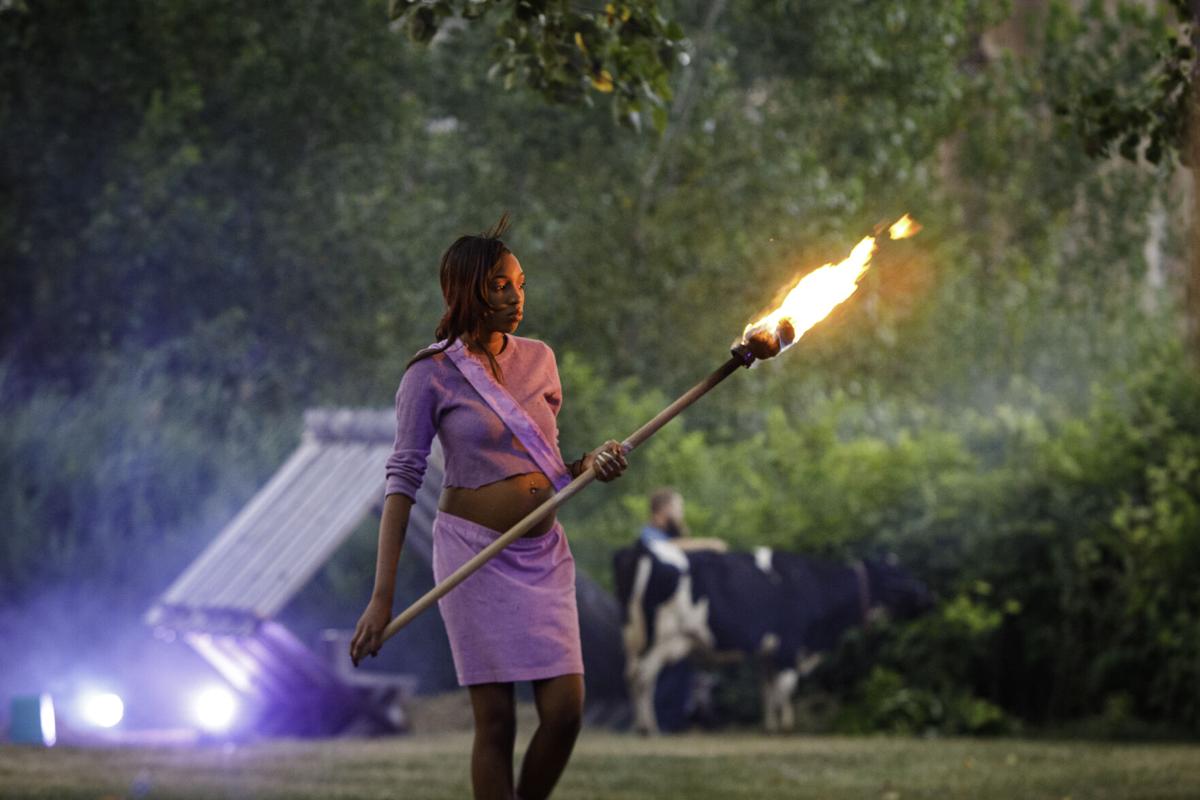 There will be masks and there will be distancing, but for three summer weekends there also will be – for the first time in nearly four months – live theater in Buffalo. "Silence," a new show from Torn Space Theater, will be presented over three weekends, beginning July 31, in the wide-open outdoor venue of Silo City.
Despite its quiet name, this is not a mime performance. The production is a combination of ritual, poetry, sound and visual surprises, performed in the meadow area of Silo City with the audience (no more than 50 people this time) part of the backdrop. 
Dan Shanahan, who founded the theater company with his wife, Melissa Meola, said "Silence" was conceived specifically in response to two of the major issues shaping American life today, the Covid-19 crisis and Black Lives Matter.  Works by the 13th century Persian poet and philosopher Rumi are part of the narrative.
"We focus on these two primary events, two massive issues that society as a whole is dealing with," Shanahan said. "Our performance is intended to articulate these ideas within a community."
It feels only natural that Torn Space is responding theatrically to a worldwide pandemic, social upheaval, political turmoil and personal isolation. Those topics are firmly ensconced in the Torn Space wheelhouse. 
After all, this is the theater company that brought us a virtual reality nuclear apocalypse ("Morning Dew") and a celebration of light in the winter darkness ("Light/Station"), and that shook its fist at a materialistic overlord's appropriation of cultural gifts and resistance ("The Gathering"). 
Plus, it has eight years of experience putting on summertime outdoor shows among the grain-elevator ghosts of Buffalo's industrial past. Past productions included films projected on the elevators, vignettes of transformative relationships, marching bands, dancing track-hoes and a variety of food and drink.
The facts of life with Covid-19 changed a lot of that this year.
"We had planned on a much larger production prior to the pandemic," Shanahan said. "Then we realized we had to adjust the scale. We reimagined the work and changed completely the direction of what we wanted to do."
That necessity helped them invent a show that Shanahan thinks audiences will find worthwhile, although they will have to do their dining before or after the show. 
"It's not that far a stretch from what we usually do," he said, with "Silence" building on the fictitious mythological society that has populated previous Torn Space productions at Silo City. The imaginatively costumed players exude a sort of "Mad Max"-meets-classically-educated-Druids vibe. Covid precautions have been built into the show's aesthetic. All the actors will be masked and audience members will receive custom-made Torn Space masks when they present their e-tickets for admission (no tickets will be sold onsite). Audience members are being asked to dress in black to provide the desired backdrop for the performance. 
Attendees also are encouraged to bring a small piece of natural fabric (cotton, wool, linen) on which they have written something that they want to burn away or something hopeful to sear into the future. The material will be turned in on arrival and some inscriptions will be incorporated into the show, Shanahan said, before being committed to flames.
These contributions will help make each performance unique, but it is a good guess that one wish will be present at every show, a hope for a better 2021 all around. 
A new performance by Torn Space Theater at Silo City at 85 Silo City Row (entry off Ohio Street). Performances are Fridays, Saturdays and Sundays from July 31 to Aug. 16. Site opens at 7 p.m.; performance is at 7:30. Tickets are $30; available online only at tornspacetheater.com or at the Torn Space Facebook page.