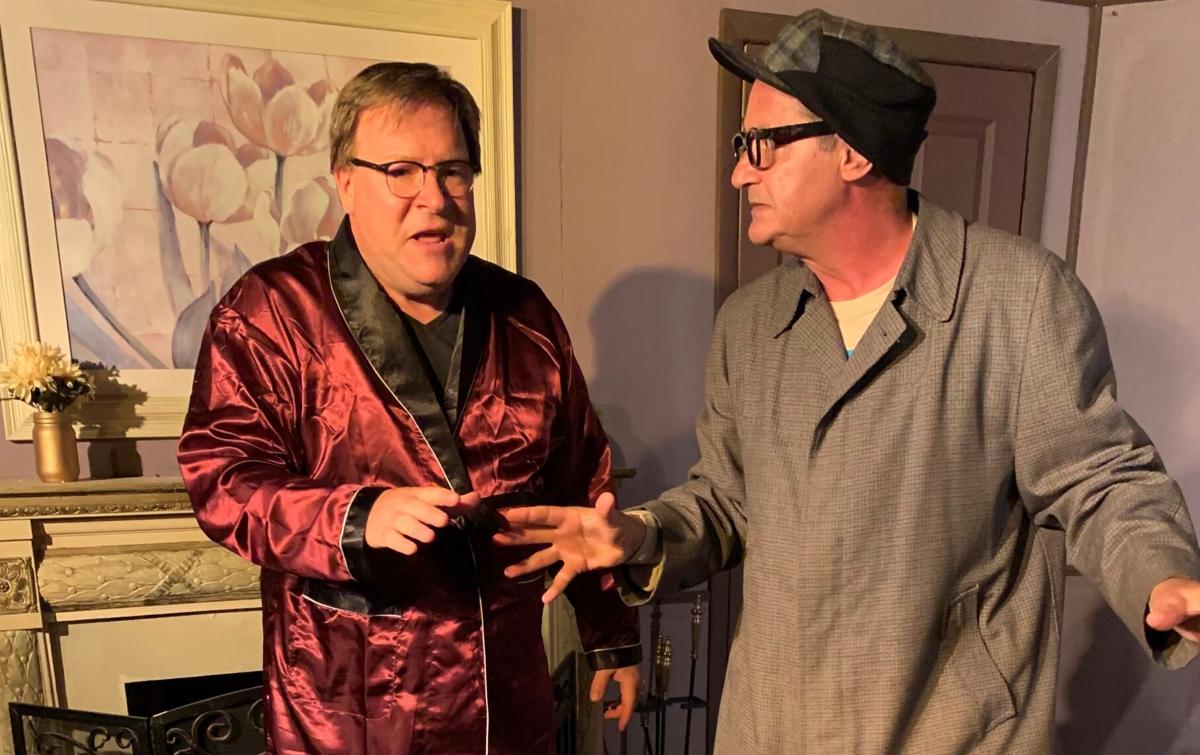 Enduring 15 months of a pandemic has required the patience of Job for many of us. How fitting that "God's Favorite," Neil Simon's 1974 take on "The Book of Job," should be the choice for Desiderio's Dinner Theatre in Cheektowaga as they emerge from this period of forced hibernation.
The play re-envisions the biblical Job as Joe Benjamin, a highly successful manufacturer of cardboard boxes on Long Island. One night, Joe is visited by a messenger from God, in the person of a myopic nerd named Sidney Lipton. Sidney informs Joe that he is God's favorite, and that God is about to test his devotion. Before it's over, Joe has lost his factory, his home, his health and his family.
Such a scenario might sound like unlikely source material for comedy, or the ultimate moment of schadenfreude. And yet, the past 15 months have taught us many lessons about what is truly important in this life. We have often been left to ponder why horrible things sometimes happen to very good people, and often, we have been saved by our ability to laugh.
It was an odd feeling walking into Desiderio's at Bobby J's Italian American Grille. This is a space very familiar to me and it is unchanged from when I was last there. Walking up the steps to the theater door, as always. Being greeted by Jay Desiderio, as always. I felt a bit as if I was watching someone else go through these actions.
I took comfort in being seated at a table far removed from other patrons, but also in hearing their laughter and happy conversation. This arrangement, with smaller seating capacity and increased social distance, has been approved by the Erie County Health Department.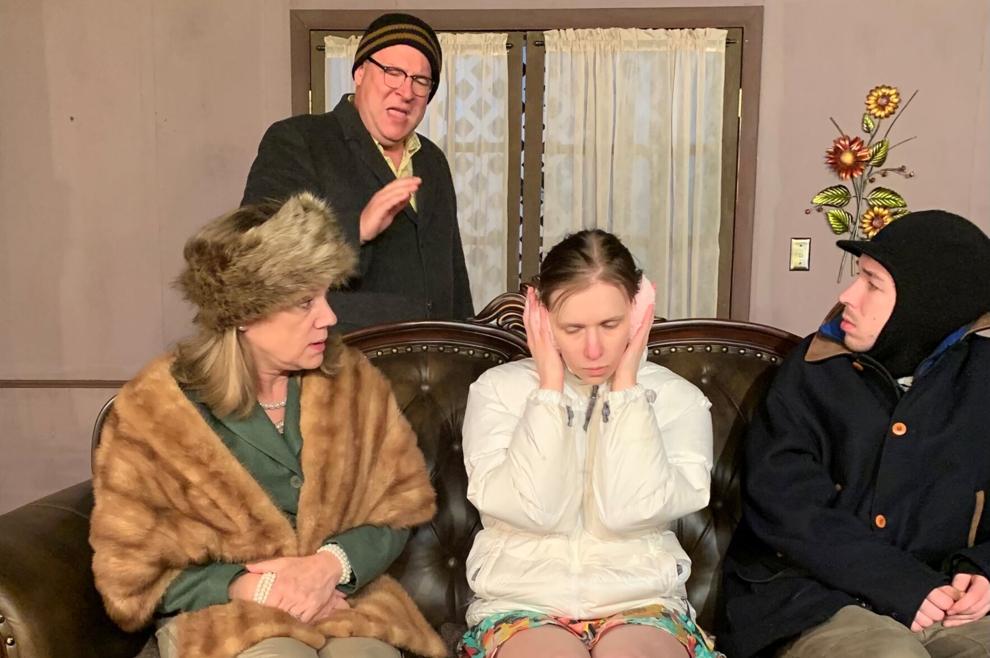 After the show, lingering to talk with Jay Desiderio at the Bobby J's bar, I recalled lingering in identical fashion, and talking with actor Marc-Jon Filippone after one of his performances. Filippone died from Covid-19 in December.
The pandemic continues to teach us lessons.
"God's Favorite" is not one of Neil Simon's most admired plays. Still, the author of such comic masterworks as "Barefoot in the Park," "The Odd Couple" and "Lost in Yonkers," provides his characteristic exaggerations of familiar human qualities and his unmatched skill with fast-paced, quick-witted dialogue. Joe Benjamin is overly devoted to God and uncommonly inflexible in his world view. His family and his maid provide foils for Joe's unbending ways and high-minded values. This is especially true of his prodigal son, David, played with prepossessing nonchalance by Jeremy Kreuzer, a bright young man who seems to be throwing his life away willfully.
The original production, directed by Buffalo's Michael Bennett, who was soon to be famous for "A Chorus Line" and "Dreamgirls," depended heavily upon a Tony-nominated set by William Ritman. This was an over-the-top mansion that collapsed before the eyes of the audience in what Clive Barnes of the New York Times called, "some of the most fiendish theatrical real estate we have seen in years."
You don't get that kind of thing at a dinner theater. You do get an excellent cast that lands the laughs with precision and the excellent food of Bobby J's, served by a personable staff.
David Marciniak provides a solid anchor for the comedy, setting up and knocking down jokes in the old-fashioned borscht-belt style in a role created by Vincent Gardenia. Jimmy Janowski, best known for playing the grand leading ladies for Buffalo United Artists, here proves a superior talent for Neil Simon, creating reality within the entirely absurd framework of Sidney Lipton, a character first played by Charles Nelson Reilly.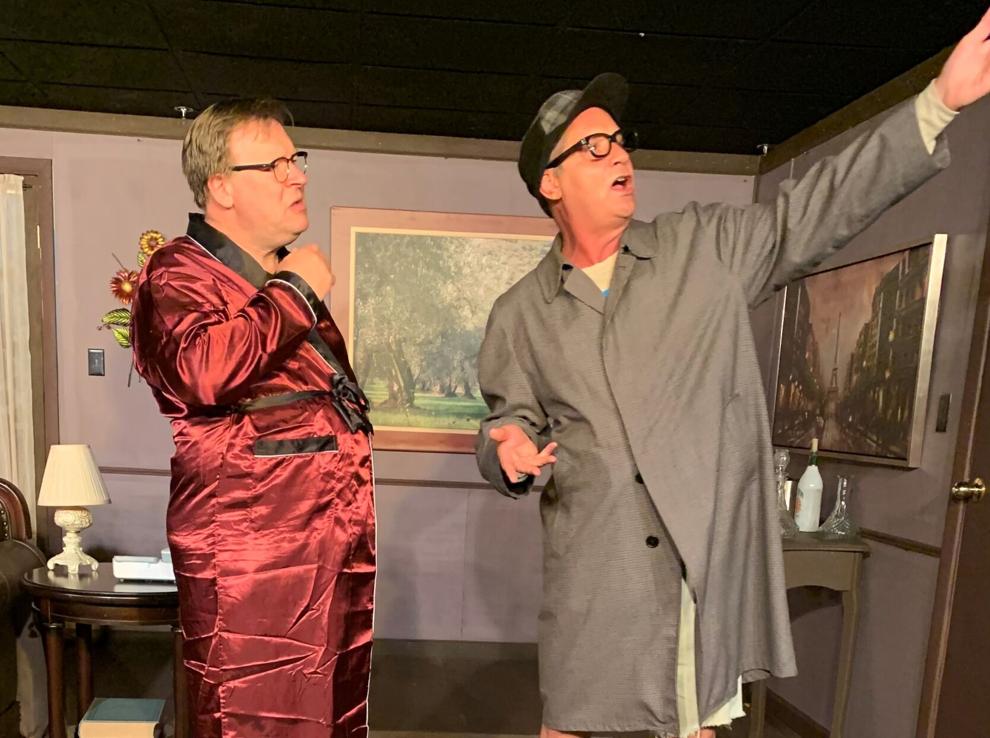 The other characters, cardboard cutouts who orbit around the poor suffering cardboard box manufacturer, include Jacob Marciniak (David's real-life son) and Bekki Sliwa as twin brother and sister Joe and Sarah Benjamin; Lisa Hinca as Joe's materialistic wife, Rose Benjamin; and Mary Moebius as maid/butler amalgam Mrs. Morris. All are in top form.
Be assured that Neil Simon will not end the play leaving us in a state of tragedy. All will be restored to Joe. The key to the plot is, of course, the resolution of Joe's problematic relationship with his son, David. When God zeroes in on David, Joe Benjamin faces his greatest test, and realizes that his disappointments with his son pale compared to his deep love for him.
As we return to the formerly familiar activities of communing with others, maybe we will all be more inclined to see past the nonsense, and to appreciate the simple things just a little bit more.
Through Aug. 8 at Desiderio's Dinner Theatre at Bobby J's, 204 Como Park Blvd., Cheektowaga. On Thursday, Saturday and Sunday evenings are 6 p.m. dinner and 7:30 p.m. show. Sunday matinees are 1 p.m. dinner and 2:30 p.m. show. Tickets are $56 to $66 depending on entrée, dinner and show included. Call 716-395-3207. mybobbyjs.com