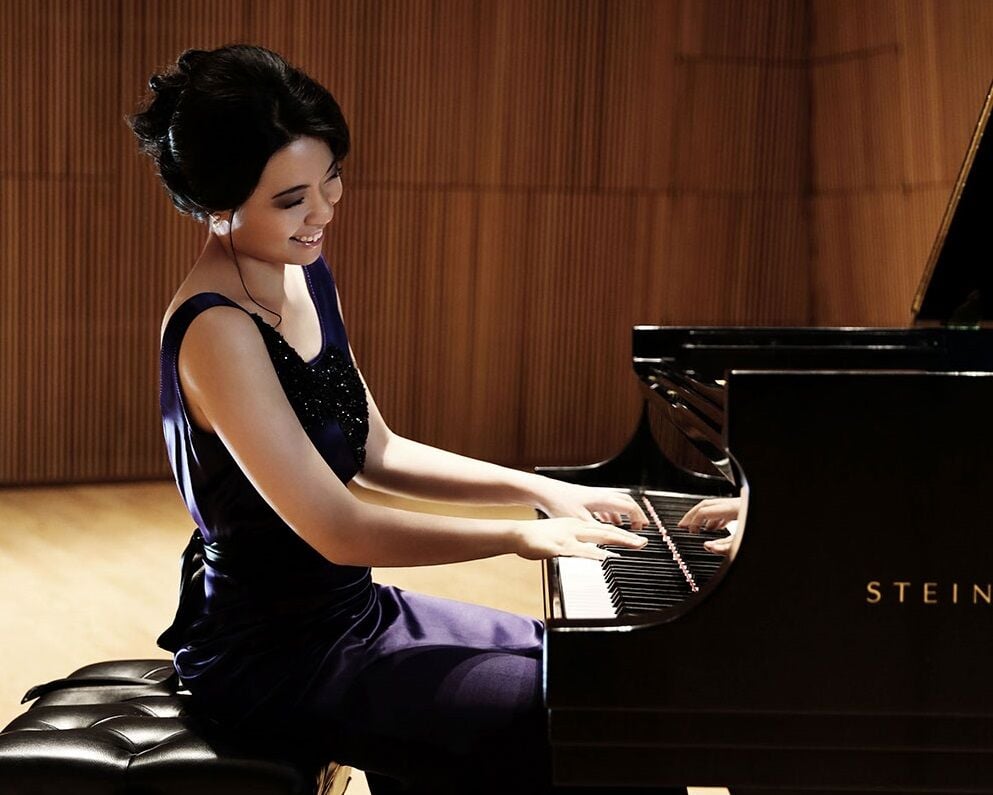 Programming classical music concerts is akin to creating a musical anthology, one where musical scores from today and centuries past are source material cherry picked with the goal of generating an enjoyable experience, along with a bit of enlightenment and a possible dash of excitement.
The Buffalo Philharmonic Orchestra was working all the angles in its latest offering in Kleinhans Music Hall, beginning with works by Sergei Prokofiev (Symphony no. 1 in D major) and Igor Stravinsky (the Pulcinella Suite). After the intermission, the BPO then delivered the concert's highlighted event, a performance of Edvard Grieg's lone piano concerto showcasing Joyce Yang, a talented pianist with an impressive resume.
The scores in the first half of the concert were neo-classical in scope, deriving much of their sonic profile by referencing musical predecessors.
In his autobiography, Prokofiev noted that "It seemed to me that had Haydn lived to our day he would have retained his own style while accepting something of the new at the same time. That was the kind of symphony I wanted to write: a symphony in the classical style."
Stravinsky, on the other hand, riffed on source material by the Italian Baroque master Giovanni Battista Pergolesi by writing the score for "Pulcinella" – a one-act ballet with 21 movements – and eventually editing that material into a suite of nine individual sections.
The BPO's season opens in September and features 18 Classics and 12 Pops concerts, including several rescheduled big-name performances from the abbreviated 2019-2020 season.
The BPO delivered fine performances of both pieces, with a slight edge given over to Prokofiev's symphony for its conceptual unity. The "Pulcinella Suite" had moments of brilliance, and that's probably one good reason for programming it, but there were times when the score sounded more like a resume of ideas than a unified whole.
Grieg's concerto was written when he was a quarter century into his life, and it has all the youthful energy packed into nearly half an hour that one could ask for. The melodies are there, influenced in part by Norwegian folk tunes as filtered through a budding young composer, but power and volume are the hallmarks of this concerto.
It started off with a bang (well, a percussive flurry of timpani), and then Yang delivered the goods with considerably nuanced force. It wasn't mere pounding of the ivories, this was flexible power.
Yang's instrumental approach was just what the piece needed to grab the listener's ears. While the composer's youthful exuberance drives the opening and much of the closing movements, there's a delicacy evidenced in the second section that helps explain why some folks think that many of Grieg's finest moments show up in the more delicate solo piano pieces of his oeuvre.
That last fact is why it was such a joy to hear Yang's encore, Grieg's "Nocturne," from the composer's "Lyric Pieces," op. 54.
On a somber note, prior to conductor JoAnn Falletta leading the BPO into the scheduled program, she delivered the news of the passing of Dmitry Gerikh, a member of the BPO violin section for 28 years. Gerikh's fellow musicians then performed J.S. Bach's "Air" from the Orchestral Suite No. 3 in D Major in memory of their colleague, which was followed by a moment of silence from the orchestra and the audience.
Buffalo Philharmonic Orchestra
Performing the music of Grieg, Prokofiev and Stravinsky on Nov. 5. Concert repeats at 7:30 p.m. Nov. 6 in Kleinhans Music Hall. Attendees will have the opportunity to hear Maestra JoAnn Falletta and pianist Joyce Yang speak about the program one hour before it starts. Visit bpo.org.