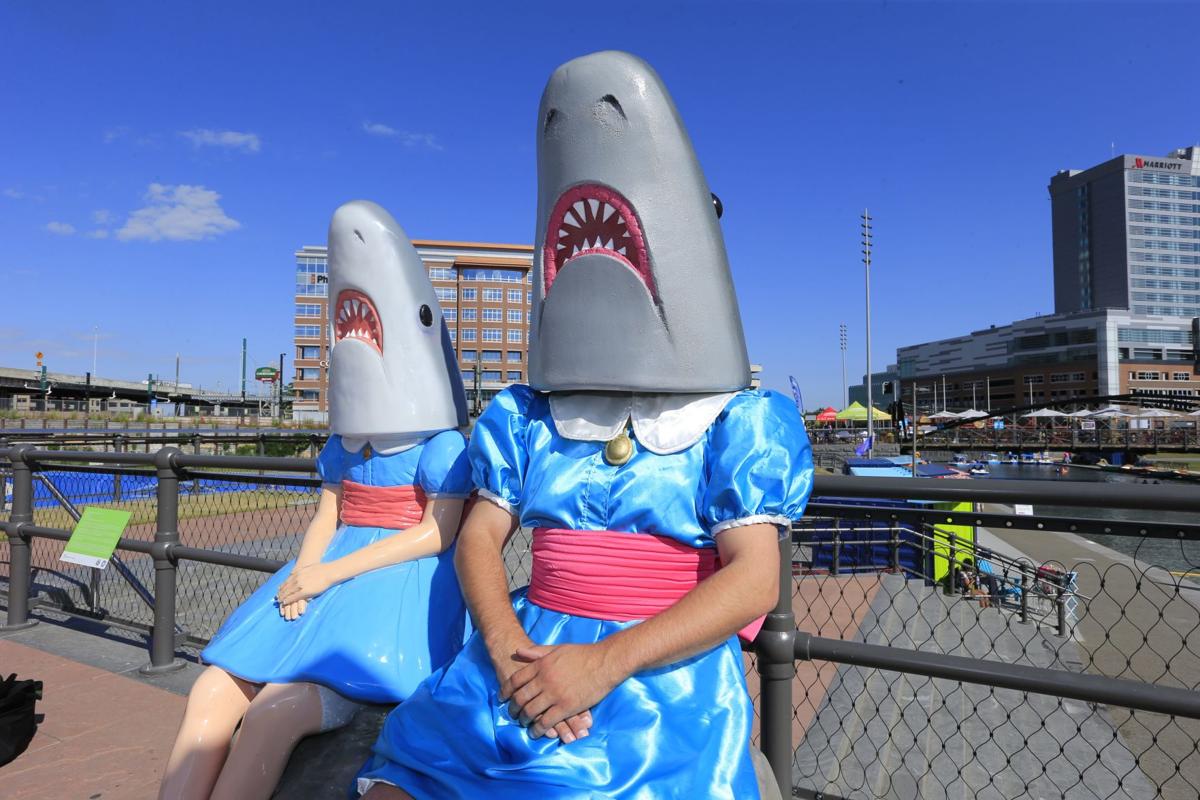 On a few recent afternoons at Canalside, where Casey Riordan Millard's popular "Shark Girl" sculpture hosts an endless procession of family photo ops, visitors did double-takes when they saw her taller twin.
With the same forlorn frown of jagged teeth, the same dainty dress and slightly hairier legs, this expert re-creation of "Shark Girl" by Buffalo art teacher and professional puppeteer Adam Kreutinger has been making a big splash on social media.
It's the latest evidence of the apparently boundless public interest in the sculpture, which was unveiled less than a year ago at Canalside as the first permanent project in the Albright-Knox Art Gallery's ambitious public art program. But more than that, Kreutinger's work is the embodiment of a lifelong passion to foster appreciation for visual and performing art in the classroom, community and far beyond.
Kreutinger, entering his third year of teaching art to students in kindergarten through eighth grade at St. Mark School on Woodward Avenue, uses his skills as a self-taught costume and puppet designer to make sure his kids never forget an important lesson.
"If we just talked about an artist, they'll probably forget about it. If I show them a picture of it, they're more likely to remember it. But if they see their teacher in a goofy costume, it's unforgettable, hopefully. That's what my plan is," Kreutinger said on Thursday night after posing for a few photos beside the sculpture at Canalside. "It really just gets the kids excited, which makes their art better. You can't really, in my opinion, make great art if you're not having fun."
Fun is the overriding theme in Kreutinger's art classes.
In one reliably crowd-pleasing activity, Kreutinger conducts hilarious Skype sessions – actually prerecorded videos – in which he interviews himself playing Lily, one of his puppet creations. With perfect timing and a little sleight of hand, Kreutinger banters with the puppet on the screen, sending his students into bouts of laughter and excitement over the lesson at hand.
In past years, he's created wearable paintings of Da Vinci's "Mona Lisa" and Grant Wood's "American Gothic," in which he and his students could insert their faces into holes where the subjects' faces would have been.
For his younger students, the gag is often enough to make sure they remember the lesson. Once you inch into middle school, where some of the students see themselves as "too cool to smile," Kreutinger swiftly changes gears and talks about the technical aspects of creating his puppets and costumes.
"This is a costume of a piece of art, but the process of making it is an art as well," he said.
As for his convincing take on "Shark Girl," Kreutinger said he'll read Millard's children's book based on the character to his younger students, and he'll try an exercise with his older students based on the concept behind the original sculpture: fear.
He'll ask his students questions, hoping to inspire them to create new pieces of art: "What if you were to create your own type of character like this? What kind of fear do you have? Maybe it's a spider, maybe you'd be a boy with a spider head, or a girl with a snake head." The approach is brilliant, and the possibilities are endless.
It is rare and heartening to run across someone with such a clear idea of his mission in life. Kreutinger said he decided he wanted to be an art teacher when he was in middle school, and he continues to pursue that career relentlessly, even while creating puppets for theater productions such as MusicalFare Theatre's "Avenue Q" and Theatre of Youth's "The B.F.G." He is earning his master's degree in art education at SUNY Buffalo State and is in the first steps of creating an art education-based children's show, hosted by a blue monkey named Arlo, as part of his thesis project.
His overall goal, he said, is "to make everyone – administration, parents and kids – realize how important art is, that almost every job in some way uses art.
"The chairs we're sitting in were designed by someone, the interior design of this room, of this café, this all starts as art. It starts out as a picture in someone's head, whether they sketch it or make a 3-D model in a computer, it's just everywhere. Making the kids realize that is part of what I try to do."