The play "All Through the Night" takes place some time after the end of World War II, when a German woman named Ludmilla tells the stories of friends and acquaintances who lived through the rise and fall of the Third Reich.
It may seem odd that Ludmilla wants to present these recollections as modern-day fairy tales, but playwright Shirley Lauro knows her German culture. The characters in her dark, disjointed play could have stepped straight out of the grotesque folklore of the Brothers Grimm to be part of the Brazen-Faced Varlets' production on the Alleyway main stage.
As in the tales preserved 200 years ago by Jacob and Wilhelm Grimm – "Rapunzel," "Cinderella," "Rumpelstiltskin," "Hansel and Gretel" and more – these true fables are filled with endangered babies, imprisoned women, grievous bodily harm, wicked witches and a distinct lack of happily-ever-afters.
Combined, the stories make for a heavy night at the theater. That is by design.
The Varlets' return from Covid intermission picks up where they left off, with a few adjustments.
The action begins with the rise of Adolph Hitler in 1933 and moves through his takeover as dictator, promulgation of "master race" policies, the Second World War, the obliteration of Dresden and, finally, der Fürher's suicide.
Though Hitler's name never is mentioned, his shadow stretches menacingly across the lives of four young German gentile women. One challenge (among several) of Lauro's drama is tracking them within an uneven time-shifting trajectory, starting in the post-war to set up its grim "Once upon a time" framework before dropping back to the characters' school days and progressing choppily from there.
One constant is Varlet veteran Kathleen Rooney, who is scary-fierce in four roles as the Fraus who embrace the Reich's cruelties at every step. Head of school, head of hospital, eventually head of "camp," she personifies the true believer with every bark and "Schnell!"
Her students/victims/quislings are less enthralled with the changes in their country, with Ludmilla kicking off the complaints about the "mean old man living up on a mountain."
"He started in mit his rules," she says, and soon "we couldn't do anything hardly what we wanted."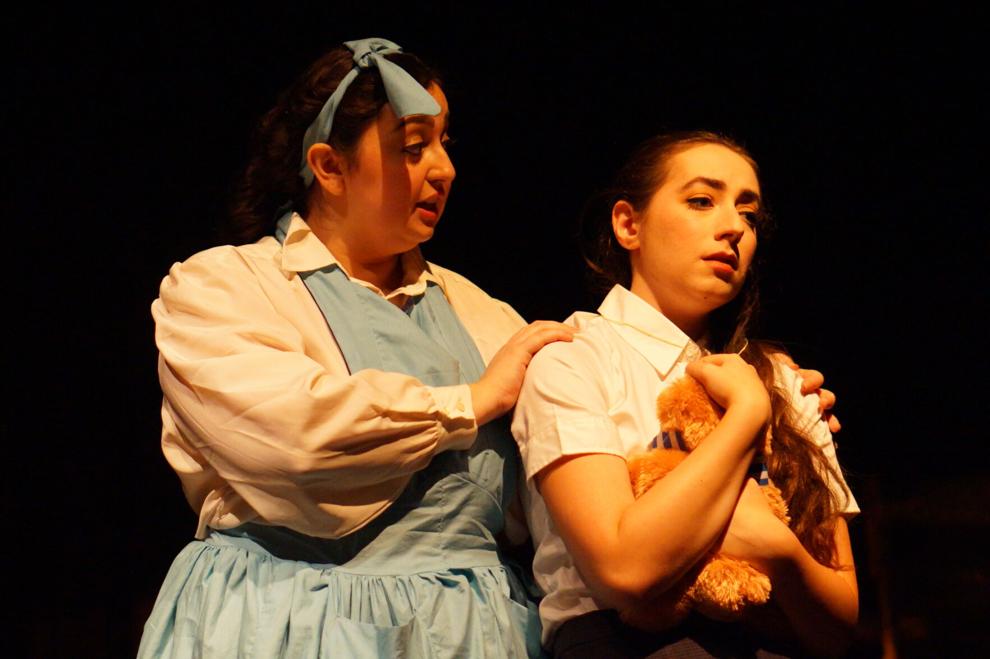 Over the course of the play's 2 1/2 long hours, the rules get tougher and the horrors of Nazi tyranny plunge each of the young wives and mothers into their own special, surrealistic nightmares.
It is hard to watch, made more difficult by dialogue that is a clunky mix of accented English randomly peppered with a few German words and unnecessarily ungrammatical phrasing. Add to that a plot that relies largely on "storytelling" descriptions of events rather than onstage action, and the assignment is even tougher.
We get help from a cast of fine young actors. Sarah Emmerling, Kaeli McGinnis, Jessie Miller and Stefanie Warnick take command of their roles and do their best to add clarity to the narrative.
Varlets cofounder and director Lara D. Haberberger explains in program notes that she chose this play to serve as a reminder of how easily hatred and evil can infiltrate a divided society, and as a warning of the consequences should that happen. Again.
In that regard, it works.
Presented by the Brazen-Faced Varlets through Oct. 24 on the main stage at Alleyway Theatre, One Curtain Up Alley (off Main Street. For tickets ($25; $20 for students and seniors) go to varlets.org or call 716-598-1585. Vaccines and masks are required.