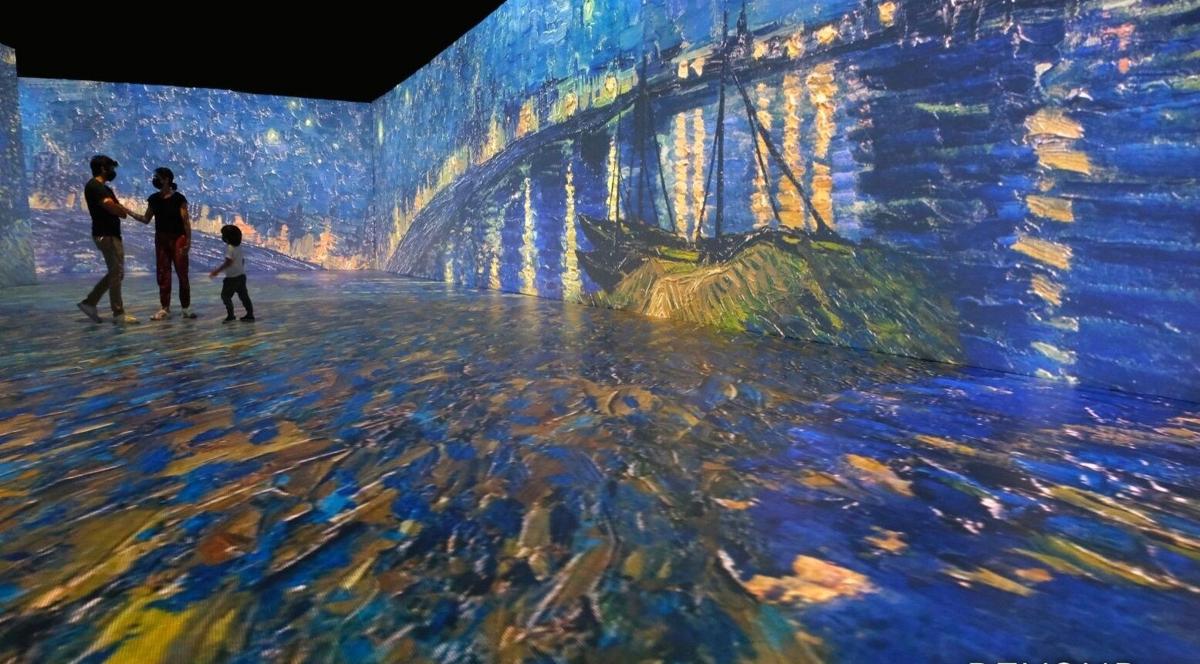 An international immersive art event coming to Buffalo will allow guests to step inside the paintings of Vincent van Gogh.
"Beyond Van Gogh: An Immersive Experience" is a traveling art museum utilizing more than 300 of the artist's iconic works including "Sunflowers," "The Starry Night" and "Café Terrace at Night" to surround guests in a 360-degree experience.
It will open in late summer for a 12-week run inside the Starry Night Pavilion, a 35,000-square-foot mobile museum with 35-foot high ceilings, air conditioning and heat that will take a week to set up outside the Eastern Hills Mall. Because of high demand in other cities that is leading to extended runs, the opening date is yet to be announced.
Instead of looking at van Gogh's work in a frame, attendees will be "inside" the art as it is projected onto walls, ceilings and floors. Moving lights and colors will add to the ambiance, as will a voice-over of van Gogh's words and symphonic music. In the walk-through exhibit, which takes about one hour to complete, guests can sit in seats or on the floor and be surrounded by van Gogh's artwork. Photos are allowed, but not video.
"It is as if you are in the entire painting," said David Taylor of Empire State Concerts, who is bringing the exhibit here along with Derico of East Amherst (McDonald's). "It is quite extraordinary ... just how rich and absorbing the paintings are, the whole experience of the education, music and words of van Gogh and how you are immersed."
Guests will enter an educational area about van Gogh and then go into the large immersion area. "The paintings will be all the way around the floors, walls and ceilings. All the paintings morph into each other as if he is painting them at the time," Taylor said.
The exhibition is the work of French-Canadian Creative Director Mathieu St-Arnaud and his team at Montreal's Normal Studio. It has just opened at the Ice Palace Studios in Miami where it has sold more than 100,000 tickets and has been praised by the Miami Herald. "Act as cynical as you want, but when that starry night starts twinkling, you're going to 'Wow!' just like everyone else."
"Beyond van Gogh" moves on to such cities as Austin, Texas, and Detroit before coming to Buffalo. The exhibit has also been in Vancouver and Toronto with plans for Japan and China in 2022.
Covid-19 safety measures will be in place including the cleaning of high-touch surfaces and multiple hand sanitizer stations through the venue. The walk-through exhibit keeps 6 feet of distance between attendees. Timed tickets will reduce congestion and arrows on the floor will mark separate entrances and exits. It will be wheelchair accessible.
To preregister for tickets and more information, visit vangoghbuffalo.com. On-sale dates and prices will be announced at a later date.