The night begins with a knock on a thick, black service door around the back of Pearl Street Grill & Brewery. An old-timey wooden sign above the doors tells me it's the "deli entrance" but I know it's more than that.
"Password?" asks a muffled voice.
A tall man in a black fedora and waistcoat – bouncer Vin, played by Rick Peresie – lets me in.
As if entering a time machine, Pearl Street Grill's basement bar is now Estelle's Speakeasy. The year 2023 becomes 1923. Everyone is wearing their Roaring '20s evening best: sequined shift dresses, fringed hems and feathered headbands. All the men wear fedoras and newsboy caps, even our photographer, to maintain verisimilitude.
Rachel Frase, house manager, hands me an envelope containing a mini notebook and a sheet of questions: "Do you know the other suspects?" "What was your relationship with Mr. Maggadino?" "Who do you think is the culprit?"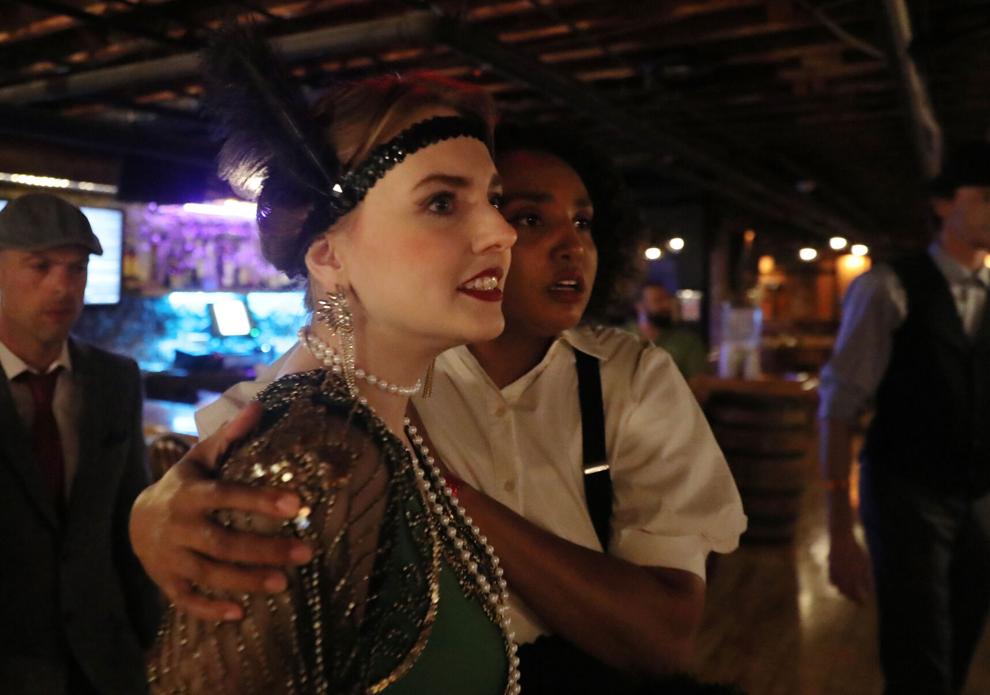 Erika Frase blends a murder mystery play with an escape room in the interactive theater experience "Murder in the CELLAR!"
Frase is an actress, writer, director and producer who grew up in Buffalo and studied theater at Buffalo State University. She moved back to Buffalo last April after spending five years in Hong Kong, where she worked in interactive theater.
"When I moved back here, I just really wanted to bring that interactive part of theater back to Buffalo," Frase said. "I took what I learned there and made my own twist."
She launched Eye Catching Events in December with a 1920s play she wrote that revolves around a "night of truce" hosted by Italian American crime boss, Stefano Maggadino (played by Geno Delmaro), for his family and frenemies at Estelle's Speakeasy (Rachel Henderson plays the bar's owner, Estelle Smith). The play is fiction, but Frase used the names of real people who were involved in the Buffalo mafia in the 1920s, like Maggadino (spelled differently) and Joseph Bonnano. The interactive shows are presented at various venues; in June Frase will present a new mystery based in the Wild West.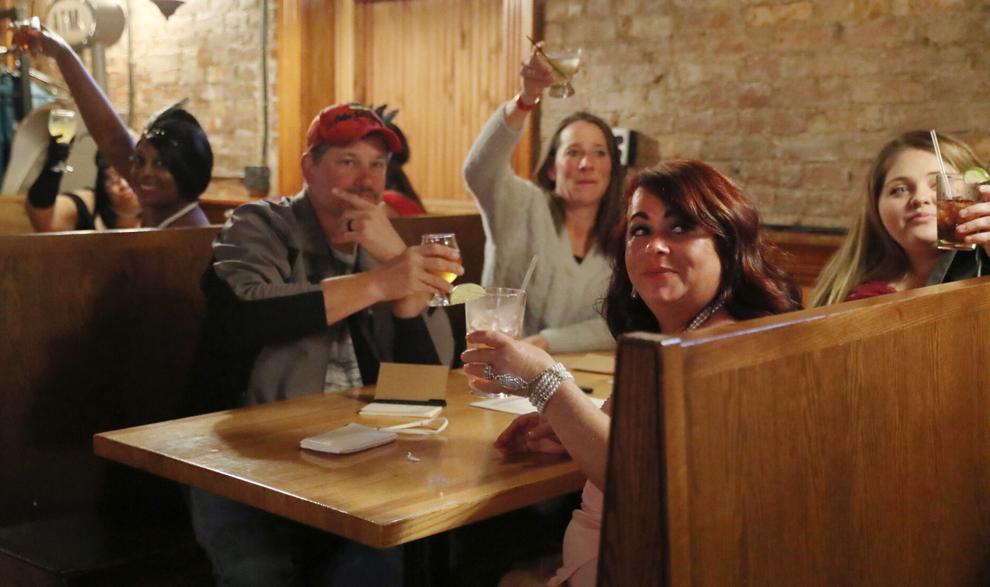 "I do think it's going to be a very popular style of theater," Frase said. "People want to be more immersed into the world, not just sit down and see a show."
Isabel Deschamps, an actress and Niagara University student, plays Constance, Maggadino's wife. Deschamps finds the improvisational element of interactive theater – going back and forth with audience members-turned-detectives – deepens her knowledge of her character.
"There's something different every night," Deschamps said.
The show's interactive nature is "invigorating" to Richard Fysh, an actor, writer and director who plays Maggadino's underboss, Cameron Pickins.
"The best guests are the people who really buy into it, who just go with the whole, 'OK, it's the '20s. We're doing an investigation,' " Fysh said.
And it doesn't feel like working to Will Nemi, who plays Bonnano.
"More like playing," he said.
There's a request at the end of Agatha Christie's "The Mousetrap," the longest-running play in the world: Don't reveal whodunit.
Without spoiling the show, here's what you can expect: The evening's gameplay begins with a scripted scene that triggers the plot, followed by immersive rounds of interrogation and puzzle solving. All audience members are detectives while the show's official detective, played by Justin Chortie, makes puns and meanders wielding a magnifying glass.
After questioning suspects about their love affairs, power struggles and other potential motives for murder (and after I set a clue on fire while attempting to use candlelight to reveal hidden writing), the evening was coming to a close. It was time for some finger-pointing.
"It's gotta be the least obvious," said Alyssa Penfield, attending the show with two longtime friends. "It has to be something that throws us off."
Each team writes the name of their top suspect on a piece of paper and hands it to Frase, who hosts the show as Karla Clue. The first team to submit the right answer wins. (But it's not the only way to win a prize. There's also an award for best dressed, which went to a woman in a jewel-toned flapper dress.)
A denouement ensues in classic whodunit style.
"You thought it was me?" said one wrongly accused suspect.
"How does it feel knowing you all were wrong?" said another indignant suspect.
The very last scene is a secret – revealed only in Estelle's Speakeasy.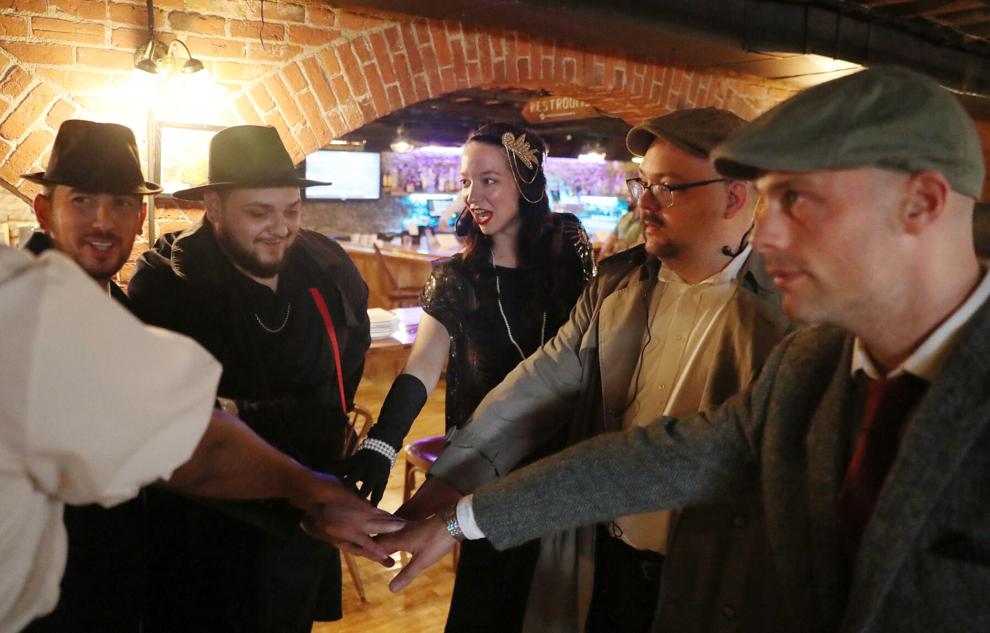 Tickets cost $55 and include hors d'oeuvres, desserts and prizes. Also available is a cash bar where even the bartenders are in character. Teams of at least two people are recommended. More information is at eyecatchingevents.com.
"Murder at the Brickyard," May 24 at Brickyard Brewing Company, 436 Center St., Lewiston.
"Murder at the Hiraeth House," May 26 at the Hiraeth House, 501 Delaware Ave.
"Murder in the Cocktail Lounge," May 31 at Ciao Ciao, 1368 Hertel Ave.
"Murder in the Wild West" opens June 8 at the Pearl Street Grill & Brewery, 76 Pearl St. It will be repeated on these dates:
June 22 at Nickel City Brewz, 5175 Broadway, Depew
June 24 at BellaRose Winery, 1243 Ridge Road, Lewiston
June 29 at Angelina's, 7901 Seneca St., East Aurora