Imagine if an Imax theater collided with an art gallery inside a cavernous warehouse and they had a big, beautiful baby.
The result might be something like "Beyond Van Gogh: The Immersive Experience." It is one of several popular art-meets-technology walk-through Van Gogh exhibitions now drawing crowds at venues around the country, and it has arrived in Buffalo.
"Beyond Van Gogh" incorporates about 300 works from Vincent Van Gogh into a multimedia experience celebrating one of the world's most popular artists. Exploded versions of his paintings are projected on the soaring walls, floor and pillars of the show's Starry Night Pavilion (a large tent set up at the south end of the Eastern Hills Mall parking lot on Transit Road). Ticket-holders stroll through and around the sprawling space, becoming part of the gigantic images spilling around them as a low-key musical soundtrack plays in the background.
Tens of thousands of people have visited the various Van Gogh immersion shows in cities around the world, a testament to their appeal. The question is, who is the target audience for these digitally dynamic walkabouts? Here are some possibilities: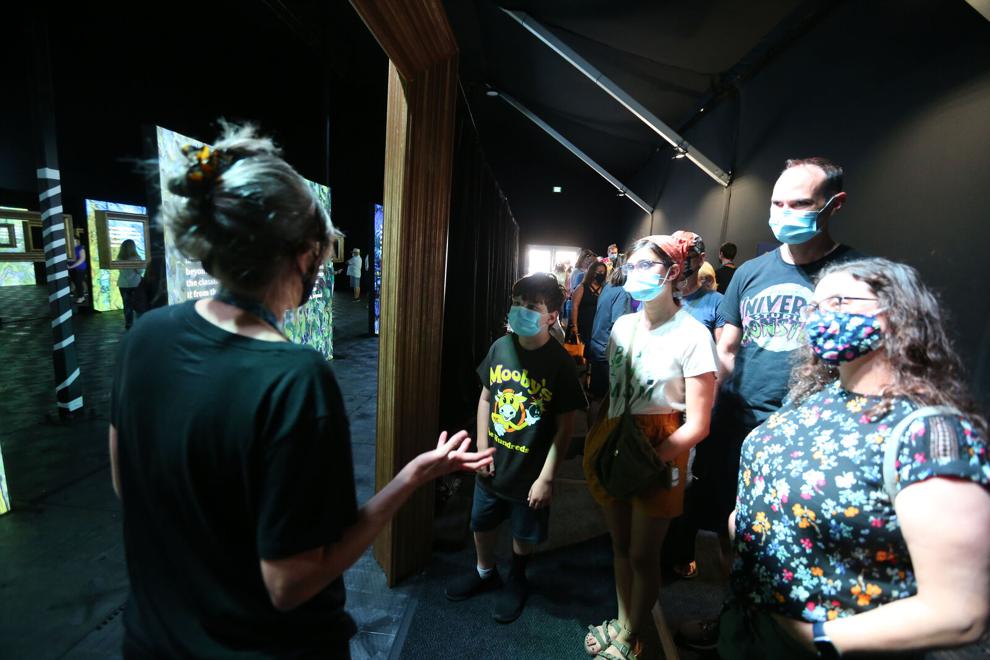 "Beyond Van Gogh" could be described as graceful, gentle and relaxing. They are even offering yoga classes there on some mornings. The flow of the images is well conceived and organically smooth.
It reminds me of a scene in the Van Gogh movie "Lust for Life," when Paul Gauguin (Anthony Quinn) tells Vincent (Kirk Douglas), "All I see when I look at your work is just that you paint too fast." Van Gogh snaps back, "You look too fast!"
The show's 35 minute-loop is nicely measured with deftly designed transitions, scrolling quotations, mood changes and a full and satisfied soaking in some of the pieces. Organizers say that most visitors like to stay for at least two rotations.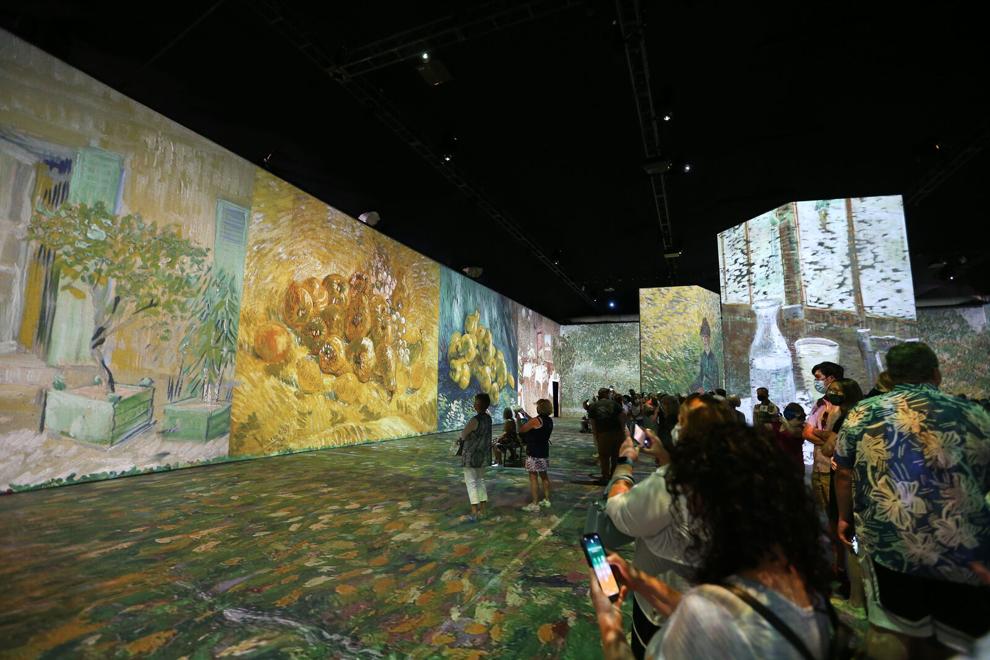 Children, like everyone else, will delight in scenes like the flurry of almond blossoms, the turning windmills and the shimmering waters when "A Starring Night on the Rhone" – my favorite – overwhelms the space. However, the show might not move fast enough for the TikTok crowd, so gauge their interest before plunking down for their tickets. (That's $24 and up for ages 5 to 15; those younger than 5 get in free.)
Also, this particular Van Gogh immersive experience doesn't allow sitting on the floor, as Emily did with her friends at "Van Gogh Alive!" on the Netflix episode. There are a few small benches in the projection space, but otherwise patrons are expected to remain standing.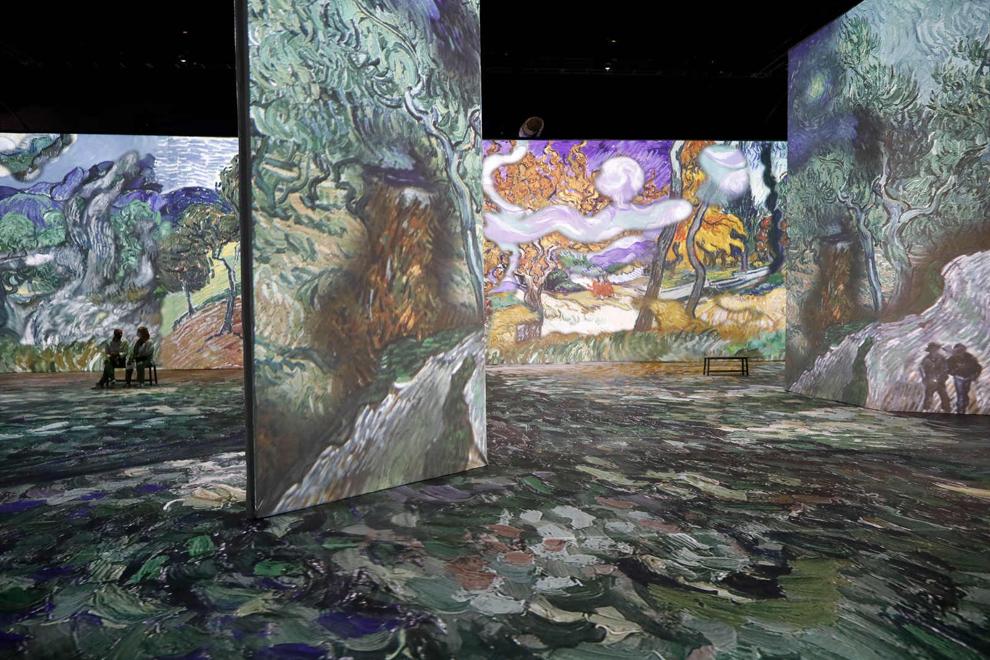 The experience is designed by Mathieu St-Arnaud and Normal Studio in Montreal, and includes two other sections. A "waterfall" wall of light separates the entry from the main exhibit space, and the entry contains large panels of text telling an abbreviated history of the artist, augmented with quotes from his letters.
What visitors may want to know ahead of time is that Van Gogh didn't start painting seriously until he was about 30, then struggled as an artist for nearly a decade without any public recognition. There's a touch of that here: There are no titles on any of the free-flowing images, so you may want to do a quick web search before going if you want to know what you are looking at.
Most of his best-known works came from a burst of creativity in the last two years of his life. In quotes from the show, Van Gogh says that he finally was finding "ideas in abundance" and "going like a painting locomotive" in 1888. The paint was barely dry on those canvases when he died of a self-inflicted gunshot wound at age 37 in July 1890.
His short life also helps explain the abundance of Van Gogh immersion shows now. Because he died so young, his art went out of copyright and into the public domain far sooner than that of many of his contemporaries. All those sunflowers, wheat fields and starry nights have been fair game for use on posters, tote bags, pens, coffee mugs, bookmarks, T-shirts, pajama pants, face masks, whatever, for decades.
His gargantuan productivity and commercial ubiquity made him a natural for the immersion shows. Sure, Leonardo da Vinci's famous art is also in the public domain, but Da Vinci completed fewer than 20 paintings in his lifetime – which would make for a very short show. And yes, Claude Monet gave us boatloads of water lilies, which would translate beautifully to an immersion, but, though he was born 13 years before Van Gogh, he didn't die until the 1920s, at age 86.
Art experts may quibble about whether the immersion shows can even be characterized as "art," since they contain no actual artworks, but Van Gogh was not so high-browed.
As he once wrote in a letter to his sister, when describing a "simple" painting he did of a building, "The people here probably don't see much in it, … however it has always been so much my desire to paint for those who don't know the artistic side of a painting."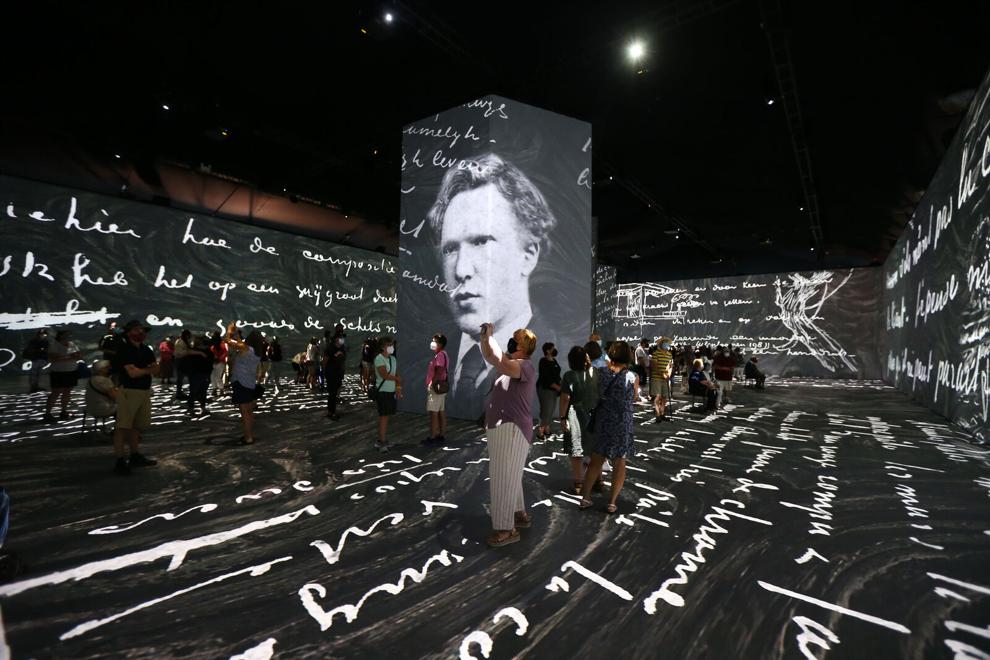 Masks are required inside the venue.
Wheelchairs, walkers, scooters, service animals and strollers are permitted.
You may take photos, but not video.
"Beyond Van Gogh" continues to Oct. 3. Entry is timed, but once inside patrons can stay as long as they like. Tickets are sold from 10 a.m. to 9 p.m. Tuesday, Wednesday, Thursday and Sunday; 10 a.m. to 10 p.m. Friday and Saturday. It is closed Mondays. Prices start at $37 weekdays for adults, with discounts for students under 25, seniors and military; prices are higher on weekends. Tickets are sold only in advance only at vangoghbuffalo.com, not at the door.