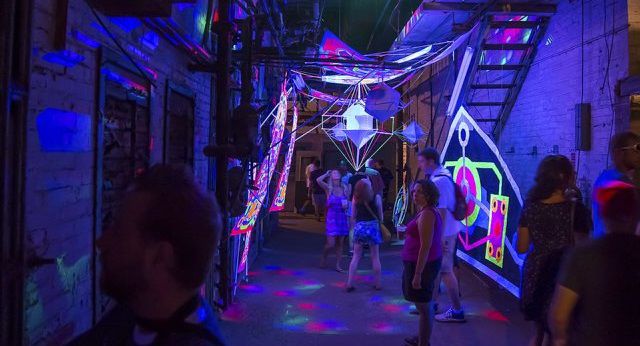 In the minds of many participants in Buffalo's great cultural renaissance, the 4-year-old City of Night festival has become synonymous with the riverside venue it helped to revive: Silo City.
But this year, the cross-disciplinary art, music and cultural festival – created by Emerging Leaders in the Arts Buffalo in 2011 as a showcase for off-the-radar work by young artists – is pulling up stakes from the gritty grain silos and moving a few blocks north to the Old First Ward.
The grass-roots arts event, which fuses the exploratory impulse of Torn Space Theater's site-specific projects with the quirky, egalitarian spirit of the Buffalo Infringement Festival, kicks off at 6 p.m. Saturday, with a VIP preview scheduled for 7 to 10 p.m. Friday.
"We realized that this is a creative place-making event, and it is helping to transform in a positive way the places that we go to. So we wanted to share the love in another place," said Dana Saylor, an ELAB member and one of the event's founders. "We wanted to keep it in a nearby area but work directly with the community."
Saylor stressed that the event organizers, who drew more than 12,000 people to last year's festival at Silo City, are not merely dropping into the neighborhood for a weekend. They've made a three-year commitment to the historic district, and will be leaving a new piece of public art behind every year as a thank-you gift to the community.
Since last year, ELAB members have been meeting community members in an attempt to weave their festival into the neighborhood organically.
"We've done everything from attend various community meetings, to flyering the neighborhood to talking to people at Gene McCarthy's. And they've embraced us," Saylor said. In addition to the Old First Ward Community Center's gymnasium, the event will be taking place in outdoor spaces throughout the neighborhood as well as in Our Lady of Perpetual Help (115 O'Connell St.).
For Laura Kelly, director of the Old First Ward Community Center, the festival will add another layer of excitement to a neighborhood already known for hosting a popular St. Patrick's Day parade and the annual Shamrock Run in March.
"Our neighborhood is used to and welcomes people all over the place on a particular day. You know that on parade day, if you leave your house, you probably can't get back. Shamrock Run is a similar thing," she said. "One of the best things they did is choose to support the local church. The fact that some of this is going to happen at Our Lady of Perpetual Help really helps get to the heart of the neighborhood."
Highlights of this year's City of Night Festival include installations and exhibitions inside several shipping containers that organizers are calling the "Art-Train," guided ghost tours of the neighborhood from 7 to 10 p.m., roving poetry and periodic "performance parades" and comedy, dance and music performances throughout the evening.
The "Art-Train," said ELAB president Tara Sasiadek, "embodies our theme of metamorphosis in its connection to the new site," adding that the organization "is striving to stay flexible and evolve with the artistic needs of our community."
When: 6 p.m. Saturday, with a VIP preview from 7 to 10 p.m. Friday
Where: Throughout the Old First Ward, bounded by O'Connell, Louisiana, South and Hamburg streets