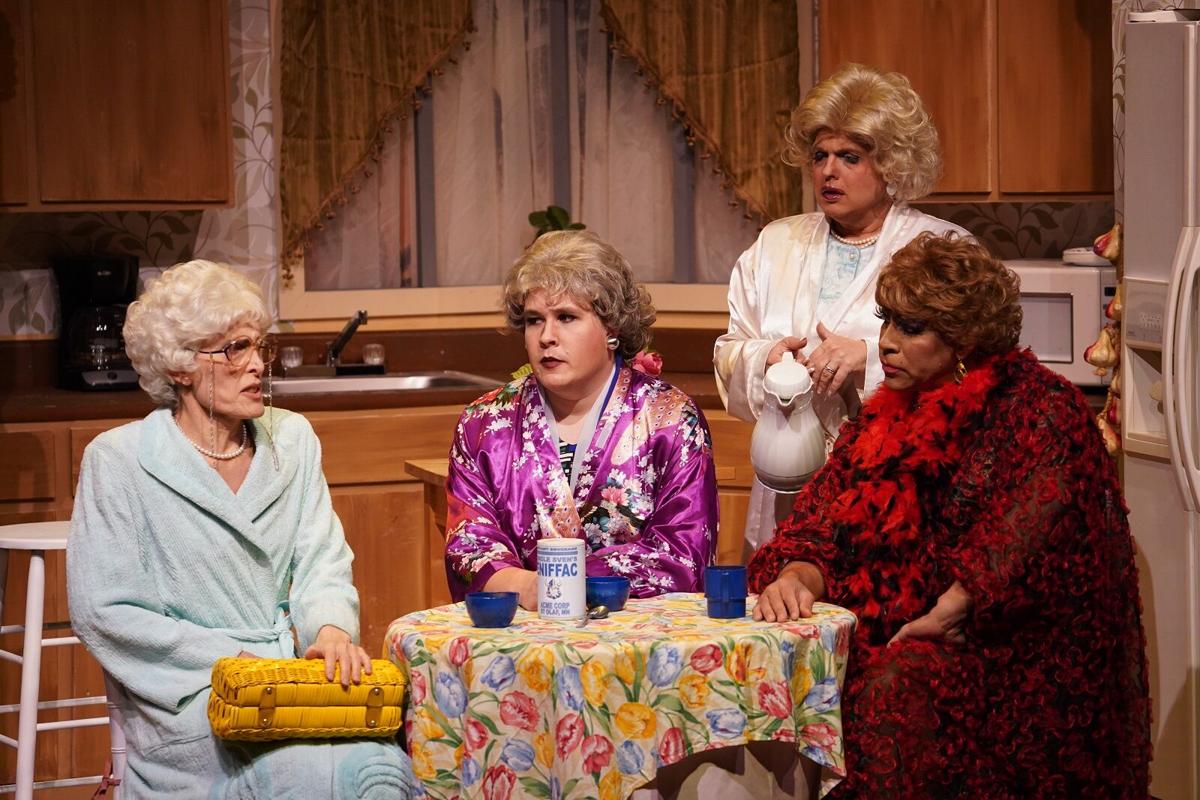 If imitation is the sincerest form of flattery, then Susan Harris, the creator of "The Golden Girls," would surely be blushing upon entering the Alleyway Theatre.
That's because the current production of "Golden Girls Lost Episodes: Vol 2" features a near-perfect re-creation of the sitcom's set, right down to the tropical print couch cushions and the copper knick-knacks on the kitchen wall. Christopher Rhoton's design is so faithful to the spirit of "The Golden Girls," that anyone familiar with the sitcom – which featured four older women living together in Miami, and ran for seven seasons between 1985 and 1992 – is liable to start humming the opening bars of that iconic theme song.
Though I doubt Harris would recognize much else from playwright David Cerda's drag parody take on Dorothy, Blanche, Rose and Sophia. For as much as Cerda clearly loves these characters – as the title suggests, this play is just one in a series of shows parodying the sitcom – his main mode of storytelling is irreverence. In other words, these are not your mother's "Golden Girls."
Consider the crux of the first "episode" of the night: Rose (Joey Bucheker) has convinced Dorothy (Michael Wachowiak), Blanche (Michael Blasdell) and Sophia (Jessica K. Rasp) to accompany her as chaperones on a girl scout camping trip, during which they encounter a bear and must figure out how to trap the animal and return the children to safety. The usual mild innuendo and sitcom high jinks are here replaced by persistent, R-rated vulgarities, a scene not-so-subtly implying statutory rape, and a climax involving one character urinating on the face of another.
That's more or less the way the night goes down, with a few games of trivia, a singalong, and some parodies of infomercials sprinkled throughout. Director Todd Warfield seems to have encouraged his actors to go full-throttle on the camp and the raunch, and they do it to great effect. On opening night the audience's laughter was at times so raucous the performers had to hold long after a punchline.
This is part of Gusto's local theater season preview.
And yet I struggled to figure out exactly who the intended audience was here. I'm certainly no "Golden Girls" expert, yet I've watched enough episodes to consider myself a casual fan. When it comes to Cerda's work, I'm not necessarily offended by the crude humor, and I quite like the way he exposes the inherent flimsiness of the sitcom as a genre. But it's just that for much of the night these four characters so barely resemble their television counterparts – by no fault of the performers, who each turn in genuinely comedic moments – that I was left wondering if "Vol 2" was meant to be a love letter, or some sort of theatrical hate mail.
Part of what's missing here is what's left out by design: a seriousness that the television show used to balance the humor. For as screwball as these characters are, Bea Arthur, Betty White, Rue McClanahan and Estelle Getty were four formidable dramatic actresses who were able to drop into the truth of a moment and infuse the absurd situations with warmth and weight. Cerda so often goes for the low-hanging fruit, resorting to the dirtiest pun or sight gag to stand in direct opposition of what, I wonder? The squeaky-clean-ness of the show? ("The Golden Girls'' was slyly transgressive in its own way, which made it all the more appealing.) Cerda does fall into a more reverential rhythm in the second act, where the plot and characters at least seem to be in conversation with their source material. Still, the overall impression of "Vol 2" is a bit like the cheesecake the girls like so much – good for a few bites, but soon you've had your fill.
Presented through Nov. 21 at Alleyway Theatre, 1 Curtain Up Alley. Performances are 7:30 p.m. Thursday through Sunday. Tickets are $30 to $40. Must provide proof of Covid-19 vaccination for entry.