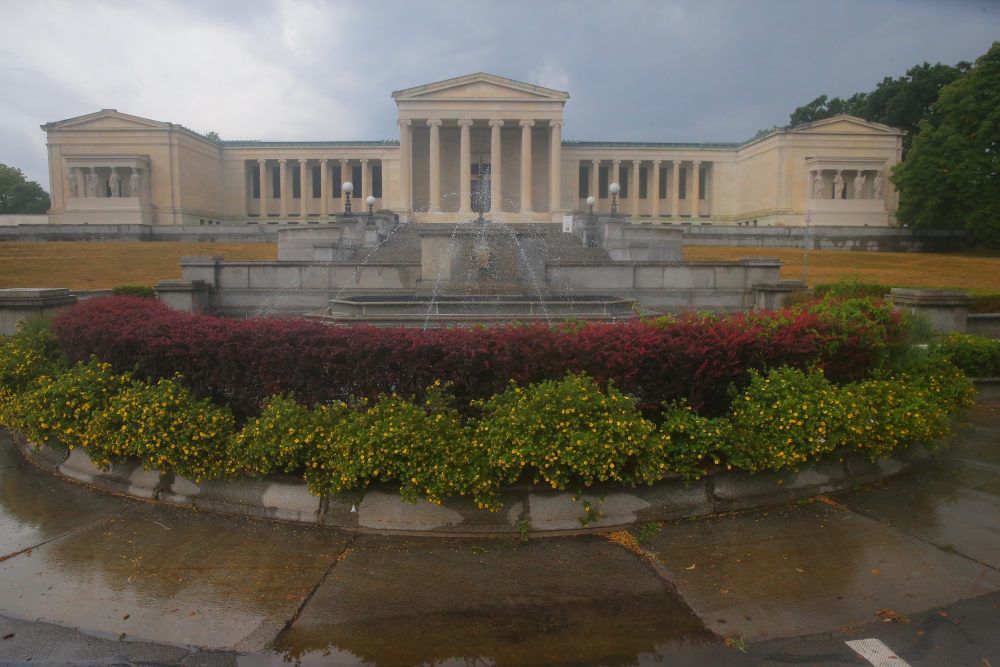 Albright-Knox Art Gallery has raised more than $100 million for its expansion project in less than three months, spurred in large part by a $42.5 million pledge from billionaire bond-trader and Western New York native Jeffrey Gundlach.
The commitment from the Los Angeles-based investment guru, set to be announced Friday, is likely the largest single private donation to a cultural institution in Western New York history.
In honor of the gift, the Albright-Knox board voted this week to change the gallery's name to the Buffalo Albright-Knox-Gundlach Art Museum, or the Buffalo AKG Art Museum for short, upon its completion.
Gundlach's gift was designed to flush out millions in matching donations from Western New York foundations, corporations and individuals as well as state, county and city government. It did just that, encouraging private donors to contribute more than $40 million and government sources expected to commit an estimated $20 million.
Gundlach's pledge has also pressed the fast-forward button on the gallery's expansion project, all but ensuring that construction on a new museum at the edge of Delaware Park will begin before the decade is out.
"This is the cataclysmic New Buffalo story, that Buffalo, the most unlikely of cities, does this and raises beyond our target if everything goes according to plan, in a matter of 11 weeks," said gallery director Janne Sirén, who spent most of his waking hours from late-June to mid-September making urgent pitches to the owners of Buffalo's biggest bank accounts.
Gundlach, an avid art collector who briefly entertained a bid to buy the Buffalo Bills in 2015, characterized his gift as an attempt to ride "the tailwind of civic pride" now sweeping Buffalo after decades of disappointment and decline.
"I said to Janne, this campaign cannot be another missed wide right. It just can't. It can't be that we end up failing at this," Gundlach said from his home in Santa Monica, Calif. "This is Buffalo flexing its muscle and its civic pride, and it did a fantastic job."
The gift was set up to encourage $30 million in private donations from largely local sources, which triggered his own contribution of $30 million. Gundlach also promised to contribute another $12.5 million if the gallery could line up $20 million in government funding from state and local sources.
Of the more than $40 million of private money raised for the project beyond Gundlach's gift, $20.9 million comes from the 32 members of the Buffalo Fine Arts Academy, the board that oversees the gallery. Another $15.1 million comes from local foundations and corporations, with an additional $4.7 million flowing from 59 individual donors Sirén called "friends of the Albright-Knox."
On the government side, Sirén said the gallery is in line for about $20 million in funding from New York State, Erie County and the City of Buffalo. Of New York State's $15 million contribution, Gov. Andrew M. Cuomo said in a statement that the project is "further proof of Western New York's renaissance."
Sirén estimates that he and Albright-Knox Development Director Jillian Jones had more than 120 conversations with potential donors since the capital campaign officially began in June. They started with the 32 members of the Buffalo Fine Arts Academy, then expanded the circle to foundations and Buffalo's tight-knit philanthropic class. In each meeting, Sirén said, mention of Gundlach's matching gift proposal was "a game-changer."
That was true for Oishei Foundation President Robert Gioia, whose organization is contributing $3 million to the expansion.
Gundlach's gift "has galvanized the Western New York philanthropic community," Gioia said, adding that the gift prompted a kind of chain reaction of generosity from Western New Yorkers and foundations. "When others incentivize us and we can incentivize others, it really improves the opportunity to have an impact in this community."
The gallery's haul from the silent phase of its capital campaign far exceeds the goal of $80 million gallery leaders announced in June. But Sirén said the additional funding will not alter the size or scale of the expansion project "even one millimeter," nor is it a license to spend for the gallery's chosen architecture firm, OMA.
Rather, Sirén said, the additional money will bolster the museum's anemic operating endowment, which currently sits at about $35 million. Sirén said he would like to double it.
"Our operating endowment supports 19.3 percent of our operations, and that's too low," he said. As the project advances, he added, "you expect to see an operating budget that's about a million or two million larger than it is now. That means that in a field of rarified resources, the way to bolster our ability to meet that challenge is by enhancing the operating endowment."
Gundlach, 57, is the CEO and chief investment officer of DoubleLine Capital, a Los Angeles-based mutual fund firm he created in 2009.
He was born in East Amherst and attended Amherst High School. According to an AOL News profile, he earned a bachelor's degree in math and philosophy from Dartmouth College and later enrolled in the theoretical mathematics Ph.D. program at Yale University, which he did not complete.
According to Forbes, Gundlach's estimated net worth is $1.66 billion, which puts him 423rd on the outlet's list of billionaires in the United States.
In addition to his personal fortune, Gundlach has also built a valuable art collection. It includes major works by Robert Rauschenberg, Jasper Johns, Andy Warhol, Cy Twombly, Willem de Kooning, Donald Judd and Piet Mondrian, whose work was the inspiration for DoubleLine Capital's logo.
Because of its speed and intensity, the capital campaign that tore through Buffalo's philanthropic community during the past 11 weeks resembled a corporate acquisition more than a non-profit appeal.
The structure and execution of Gundlach's gift owes much to the input of another Buffalo ex-pat, Amy Cappellazzo, regarded by many as America's pre-eminent expert on the modern and contemporary art market.
Cappellazzo, who has served as a close adviser to Gundlach for more than a decade, built her career at Christie's auction house, where she developed its post-war and contemporary art department into a dominant global force. She later co-founded a private art consultancy, Art Agency, Partners, that was recently acquired by Sotheby's.
The Albright-Knox deal with Gundlach, she said, was modeled on the more ambitious timelines of corporate campaigns.
"This is how business rolls. Not not-for-profit business," Cappellazzo said in a phone interview from Chicago. "We set it up on a business-like calendar, as if you were raising money for a deal or you were purchasing a company and had a period of due diligence to put all the funds together."
Gundlach's first began talk with Sirén about a potential contribution in April, and a proposal came together by the end of June. After that, Sirén and Jones set about seeking local donations, which flowed more easily when donors learned about the magnitude and historic significance of Gundlach's gift.
What's more, Sirén said, word of Gundlach's pledge set the fears of many well-off Buffalonians and foundation leaders at ease in an atmosphere where many local organizations are conducting or about to launch capital campaigns of their own.
"What we have done effectively is released a tremendous amount of philanthropic pressure on this community," Sirén said. "Our anchor donor and the people and entities that have participated, they have also given a symbolic example to other people who might wish to contribute to Buffalo."
As a Buffalo native with a fondness for her hometown museum that mirror's Gundlach's, Cappellazzo said she is proud of the campaign's success.
"Any moment where Buffalo looks strong and shines is like, hell yes," she said. "We just need the Bills to win, frankly, and we'll sort of get our mojo back."
Stay up-to-date on what's happening
Receive the latest in local entertainment news in your inbox weekly!