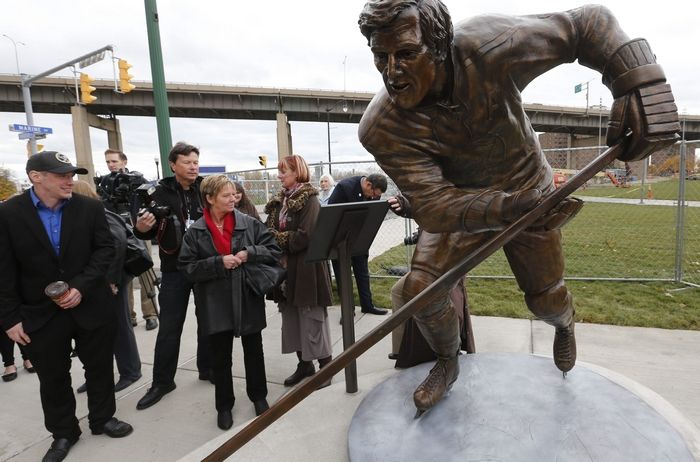 Amid a flurry of blue and gold balloons and hoisted iPhones, HarborCenter officials unveiled a bronze sculpture of NHL Hall of Famer and former Sabre Tim Horton Thursday afternoon across from HarborCenter's tricked-out Tim Hortons that opened earlier in the day.
The statue was officially given to the City of Buffalo, on whose land it sits, by Tim Hortons USA and the local owners of the new Tim Hortons location at HarborCenter. It's a de facto advertisement for Horton's coffee chain, dispenser of Timbits and gallons of double-doubles to the masses.
Though the city might not be setting the best precedent by accepting what is essentially a corporate advertisement into its official public art collection, it would be tough to argue that sculptor Jerry McKenna's newest work isn't appropriate to its physical and cultural context. (It's worth noting as well that no public money went into the sculpture or its installation, according to the Buffalo Arts Commission's Catherine Gillespie.)
The accompanying plaque announces the site of the sculpture as the place where Horton played his first game as a member of the Sabres, in Memorial Auditorium, on Oct. 8 1972.
"Horton capped off his professional playing career with the Buffalo Sabres, playing defense from the start of the 1972 season until his untimely death on February 21, 1974," the plaque reads, going on to detail his stats, the 1964 founding of the first Tim Hortons and the opening of its first U.S. location in Amherst in 1985.
If Buffalo's waterfront is transforming itself into a nexus of hockey culture, and there's little doubt that it's doing so under the direction of the Pegula family, a sculpture of a revered hockey player makes a kind of inescapable sense. Buffalo's new homage to Tim Horton may be part and parcel of a plan to get you to buy more donuts or tickets to Sabres games, yes. But take commerce out of the equation for a moment, and the sculpture's presence on the waterfront makes a positive impact on the visual landscape of the emerging district.
As recent sculptures of local icons go, it's more compelling than William Koch's rendering of Jimmy Griffin throwing out the first pitch at a Bisons game, which looks like it might topple over at any moment. And it's in line with McKenna's fine sculpture of the famed French Connection, which sits near First Niagara Center nearby.
By the standard of "is it better than the concrete slab that was there before it appeared?" McKenna's sculpture passes with flying colors. By the standard of "Does it measure up to Giacometti?" well, you can probably guess where it falls.
Horton is paused in mid-skate with his left leg back and his stick close to the ice, as if concentrating intently on some invisible puck. The piece has a compelling sense of motion, is about as selfie-ready as "Shark Girl" and brings Buffalonians face-to-face, whether they like it or not, with an important figure in the sports and food culture of the region.
Stay up-to-date on what's happening
Receive the latest in local entertainment news in your inbox weekly!