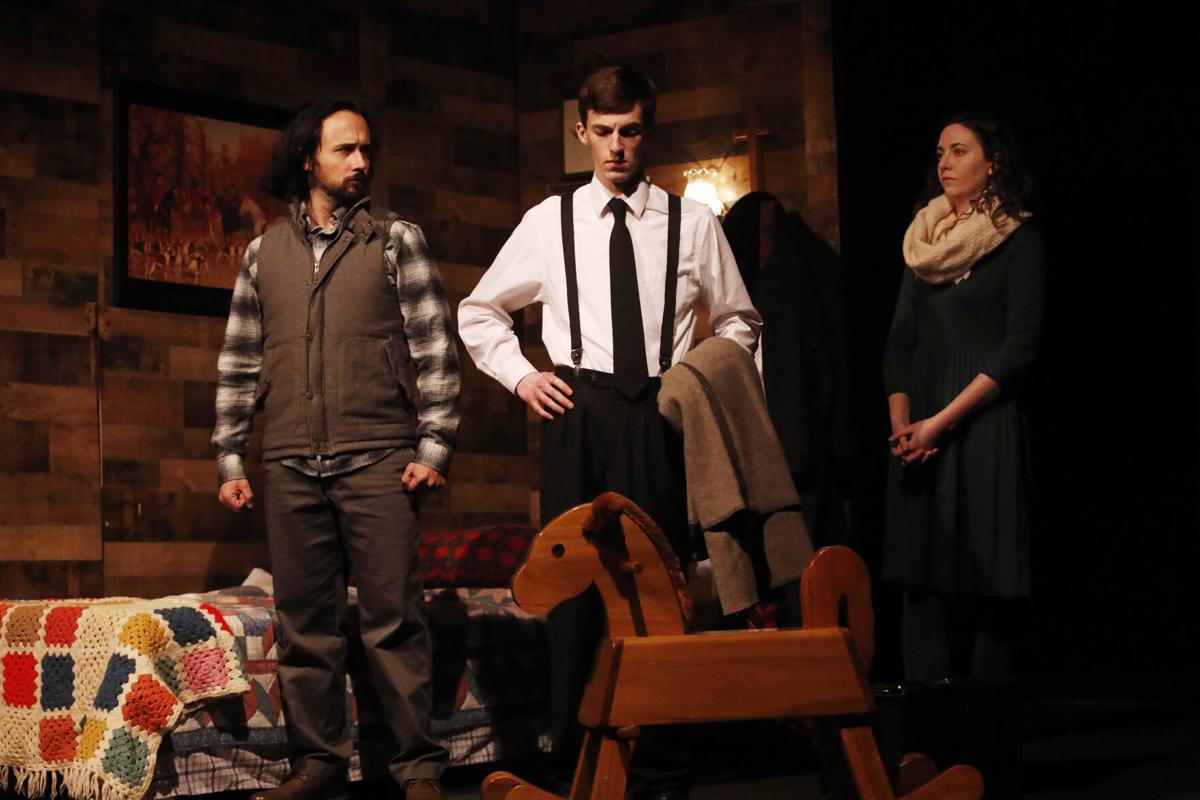 Was there ever a time when the threats of "Foxfinder" would have been unbelievable? When it would seem impossible that a desperate populace would buy into the Big Lie their leaders are using to keep them in check? When truth would be a cause for fear?
Perhaps. But that would be another time, and another place.
In the here and now, New Phoenix Theatre's fine production of "Foxfinder" resonates in our current atmosphere of alternative facts, climate change denial, false allegations and suppression of dissent. Whether you want to keep your vote, your guns or both, the message is troubling.
If you told Richard Lambert he could get a play from his New Phoenix Theatre in front of the…
We've been here before. Echoes of "1984's" Big Brother and Margaret Atwood's "The Handmaid's Tale" ricochet around the small farmhouse in a near-future England when the action takes place. There we meet Sam and Judith Covey (Rick Lattimer and Stefanie Warnick), whose very bad year is about to get much worse. Unprecedented flooding has destroyed their crops. They've gone through a devastating personal loss. And now, they have received a letter from the government. A Foxfinder is coming.
Playwright Dawn King builds in tension right from the start, as the anxious couple await the knock on the door. Few fears can equal that of the innocent – those whose fate lies entirely in the hands of others. When their nemesis finally arrives, they barely know how to behave.
Lattimer and Warnick are suitably nonplussed when the Coveys' nemesis arrives in the form of a rather robotic 19-year-old, dressed like an exorcist in his long overcoat and wide-brimmed hat, and clearly unpracticed in social customs.
He is William Bloor (Zach Thomas), a scarecrow of a young man who was given up as a 5-year-old to an institution that trains children to hunt foxes and those who conspire with them to overthrow civilization.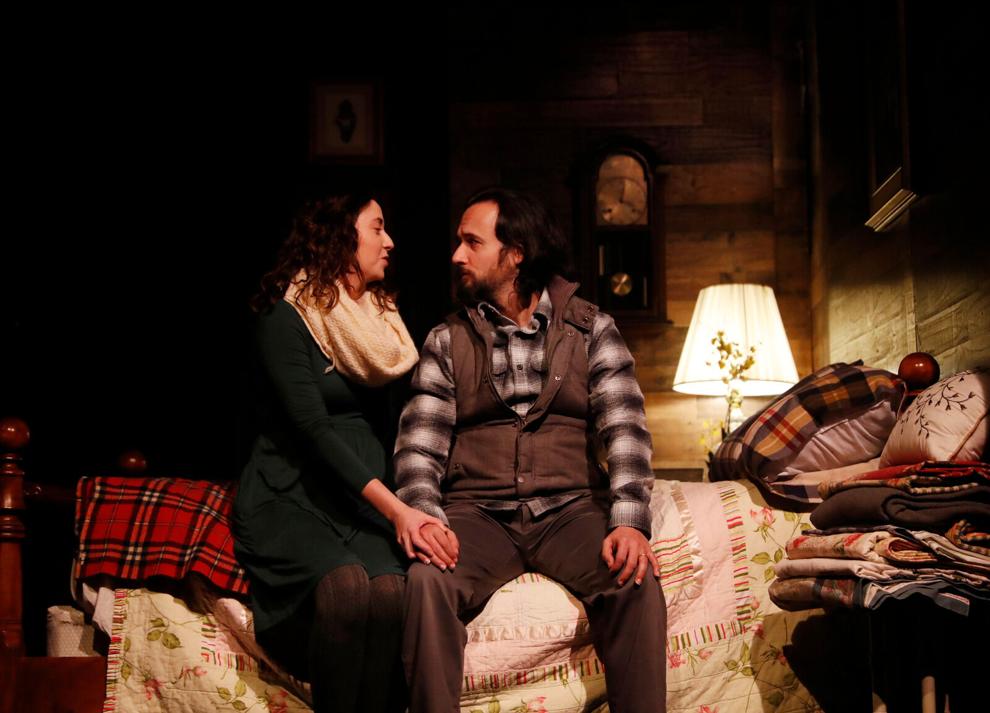 The Coveys have every aspect of their agricultural and intimate lives probed by the tactless Bloor, an exercise in overreach made even more absurd by its purported motivation. In Bloor's world, the fox is the archenemy of England's food supply. (Sam's observation that rabbits are far more damaging to his crops than a fox, which he has never seen, is brushed away.)
In a triumph of zeal over reality, Bloor pulls his victims into a fantasy world where foxes that are more than two meters long will steal babies and tear them apart with five-inch fangs. Lose a cat? It was a fox. Have a child drown? Rain wash out your wheat? The foxes did it. And that guilt you are carrying, that you cannot shake? It's all the foxes' fault.
Rachael Buchanan plays Judith's friend Sarah, a voice of reason who learns that fighting the obsession of a true believer comes with a price. Her decisions underline the inevitability of the outcome as the play's momentum takes a downward shift.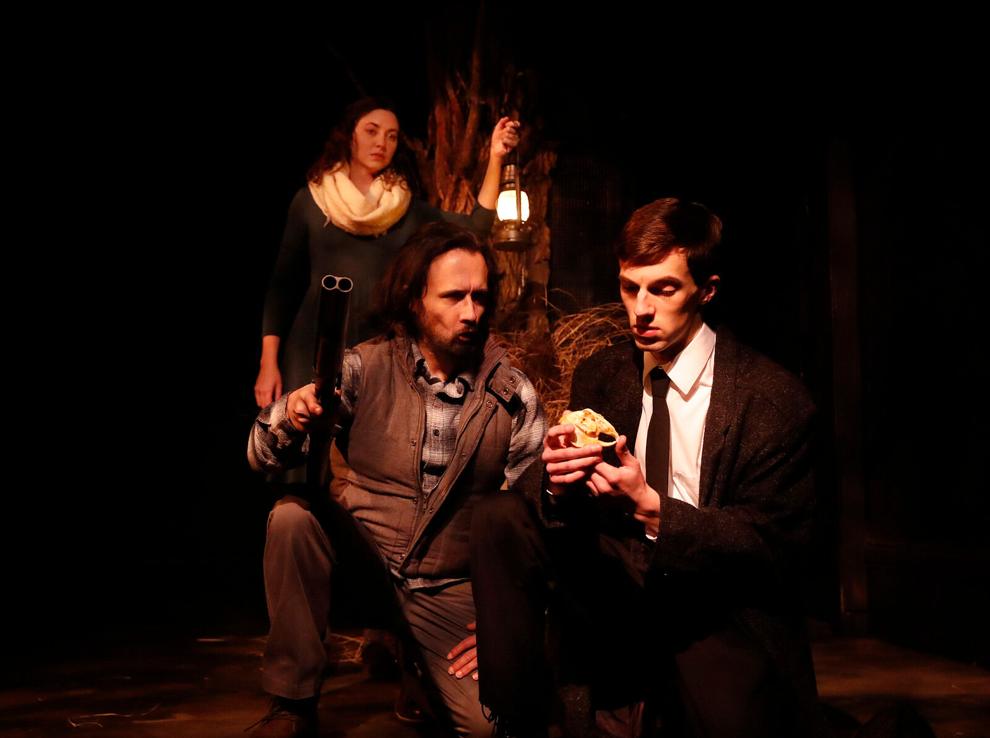 Director Mike Doben did a great job working with the camera and stage personnel to maintain the sense of live performance. Ominous thunder in the background adds to the foreboding; stuffed rabbits accent the absurdity; and four fine performances from his actors make us look forward to being in the theater again.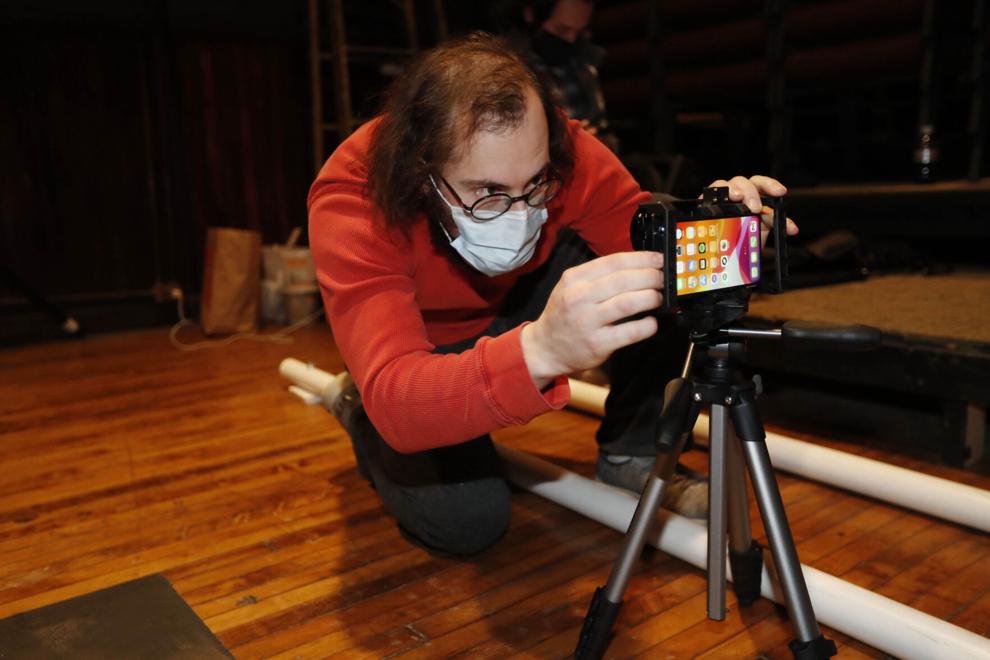 Dawn King's prize-winning fable about a future fascist government using fear of an unseen enemy to dominate and control society. Presented online via Vimeo by New Phoenix Theatre on the Park, through May 8. Tickets are $20 per household at newphoenixtheatre.org.