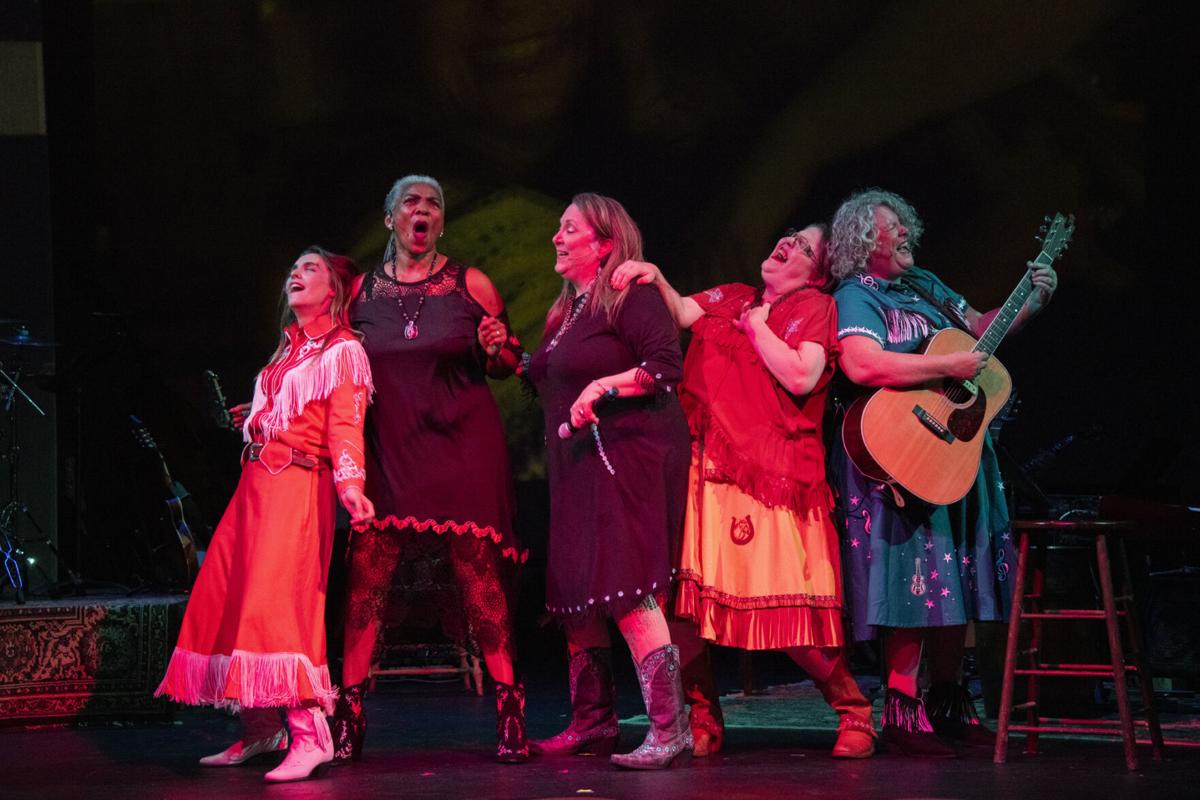 The concept for "From Honky Tonk to Protest: A Woman's View of Country Music" at the D'Youville Kavinoky Theatre is clever. This is the story of how one woman overcame major misconceptions about country music.
The evening is populated with first-rate country singers: Dee Adams (who doubles as music director and plays guitar), Kathryn Koch (guitar and harmonica), Renee Landrigan (keyboard), Annette Daniels Taylor and Loraine O'Donnell, backed up by a terrific country band and augmented by dancers on video.
The life of O'Donnell, executive artistic director of the D'Youville Kavinoky, took some difficult turns during the pandemic. Central to these was the illness and death of her father, requiring her to make frequent trips between Buffalo and her hometown, rural Boonville, N.Y., in the foothills of the Adirondack mountains.
In Boonville, young people listen to two types of music: classic rock and country. The genre you prefer is a clear indicator of how desperately you yearn to escape to a bigger town. O'Donnell high-tailed it out of there the minute she turned 17, leaving country music behind forever. Or so she thought.
During the shutdown, O'Donnell's frequent drives to Boonville reconnected her with her rural roots, while her car radio connected her to the country music she had eschewed. In "Honky Tonk to Protest," she shares this musical journey with us.
O'Donnell realized that she had associated country music with everything that had been holding her back as a young woman in the 1970s and '80s. Now, however, the female voices of country music began to call to her.
O'Donnell found that women of country were exploring everything from reproductive freedom to Black Lives Matter. Artists like Maren Morris, Shania Twain, Miranda Lambert, Elle King and the Dixie Chicks (now the Chicks), ignited O'Donnell's interest in early golden age country stars like Kitty Wells, and reminded her that longtime favorites like Patsy Cline, Bobbie Gentry and Jeannie C. Riley were country.
The springboard is Wells' 1952 hit, "It Wasn't God Who Made Honky Tonk Angels." The song is a musical response to Hank Thompson's hit from earlier that year, "The Wild Side of Life," which blamed women for the increase in divorce and general moral decay. This begged for female rebuttal.
The song is performed with straightforward simplicity by Landrigan. Indeed, simplicity is the order of the day in a show that seeks to present a lovingly curated roster of great country tunes without frills or gimmicks. O'Donnell provides bits of background and autobiography. Other cast members provide the occasional quotations from the country artists. Other than that, the music speaks for itself.
After Wells, O'Donnell was also amazed to discover Loretta Lynn's 1975 hit, "The Pill," about a housewife rejoicing, finally, to have control over her reproductive choices, and ready to make up for lost time. She was delighted to discover Linda Martell, the first black female solo artist to play the Grand Ole Opry. Landrigan gives a mirthful rendering of, "The Pill." Taylor sing's Martell's 1969 hit, "Color Him Father," tenderly.
Director Lynne Kurdziel Formato efficiently rolls out the talent, showcasing each to fine advantage. Early on, Adams and Koch share duty on a tribute to Patsy Cline, Adams taking on "Crazy," and Koch giving her all to "Walking After Midnight." These are charismatic performers with impeccable musicianship. Koch makes a fast return to deliver a compelling "Harper Valley PTA."
O'Donnell, known for her commanding singing voice, stays back until six songs in, when she wails Dolly Parton's "Jolene."
Social issues alternate with pure fun in this well-balanced evening. The Black Lives Matter movement is given a powerful voice in numbers sung by Taylor, notably "At the Purchaser's Option" and "Black Like Me." But Taylor also gets to deliver Bobbie Gentry's haunting "Ode to Billie Joe."
A Shania Twain "Man! I Feel Like a Woman" sequence features a mini costume parade in which the topper is O'Donnell's comic entrance in Twain's iconic leopard print hooded cape and gloves, a moment that made me wonder what Ethel Merman might have been like as Catwoman. Andrea Letcher designed the costumes.
Another clever aspect of this show is that it was developed and conceived at a time when gathering for live theater was prohibited and restrictions required for reopening were unsure. An original script could be altered as circumstances demanded. Four dancers, a dominant feature of the evening, appear only on a large backdrop video screen: Evan Mathew Stewart, Aurora Hastings, Christina Tribo and Kurdziel Formato. Brian Milbrand designed the elaborate video. Musicians Helen Butler-Ceppaglia (violin, accordion), Elton Hough (drums), John Martz (lap steel guitar, banjo, dobro) and Charlie Gannon (bass, electric guitar) lend personality to the show.
The event does bear some of the features of being a newly developed evening. "Down to the River to Pray," an a cappella hymn is gloriously performed, but is an oddly downbeat choice to close the first act. The narrative connections are sure to smooth out. Still, the message is clear and timely. Country music demonstrates that there is more uniting this country than dividing it. In that light, "Crowded Table" by the Highwomen, and Maren Morris' "Better than We Found It" emerge as joyful anthems to a more perfect union.
"From Honky Tonk to Protest: a Woman's View of Country Music"
Presented by D'Youville Kavinoky Theatre through Oct. 3 at D'Youville College. Performances are 7:30 p.m. Thursdays and Fridays; 3:30 and 7:30 p.m. Saturdays; and 2 p.m. Sundays. $45 ($40 for seniors over 65); 829-7668 or kavinokytheatre.com. Proof of vaccination or negative Covid test within 48 hours; masks must be worn throughout the performance.