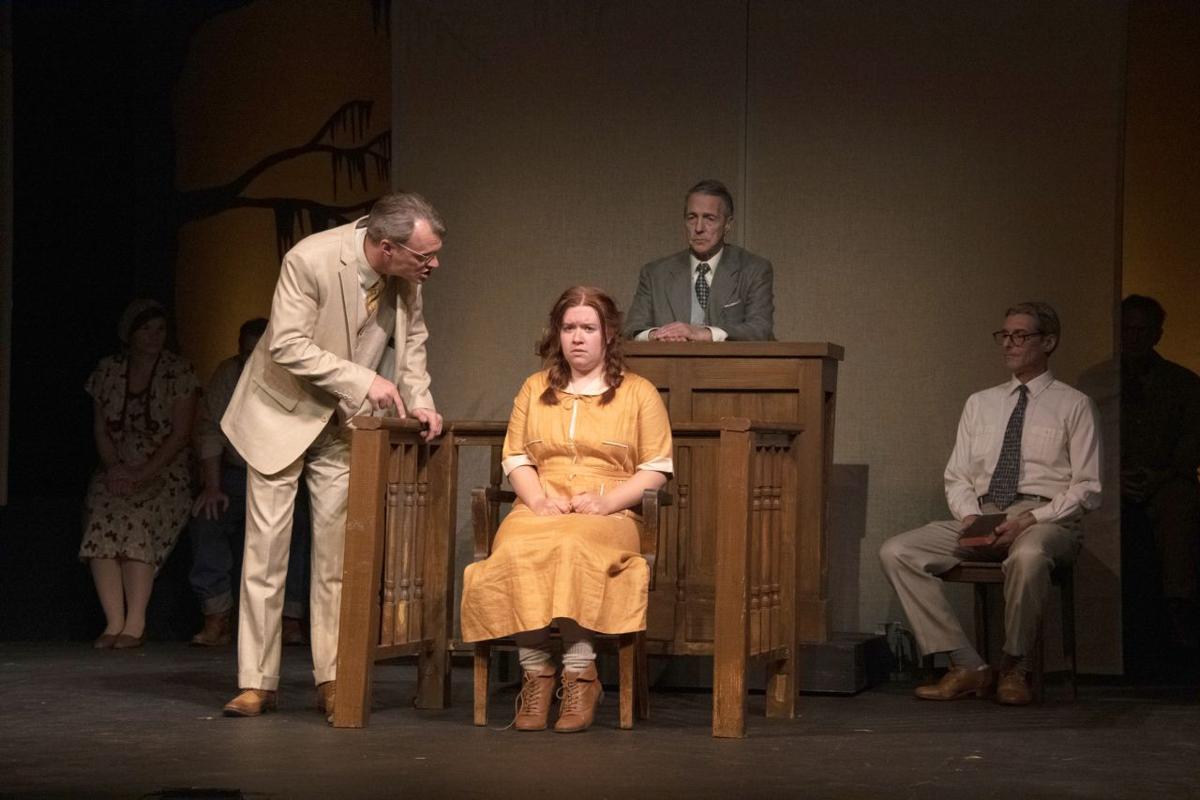 The Kavinoky Theatre, through an exclusive and unlikely deal, has opened a production of Aaron Sorkin's brilliant adaptation of Harper's Lee's 1960 novel "To Kill a Mockingbird." This event is unlikely, because the play is still being performed to sold out houses on Broadway, where Ed Harris has just replaced Jeff Daniels in the central role. Nonetheless, after getting caught in crossfire of a Broadway legal fracas (another story for another day), the Kavinoky has emerged triumphant with a smart and compelling production.
Told from the point of view of 6-year-old Scout Finch, "To Kill a Mockingbird" recounts the events of summer 1935, when the girl's father, Atticus, a lawyer in a small Alabama town, was called upon to defend Tom Robinson, an African American man, against a white woman's false accusation of rape. The book became an immediate American classic and was made even more beloved by the 1962 film version, written by Horton Foote and starring Gregory Peck.
The Kavinoky had planned to perform an earlier adaptation of the novel last year, but the opportunity to do the Sorkin version turns out to be a lucky break for audiences. Sorkin's script is superior to the earlier version, and director Kyle LoConti has approached the material with a steady hand.
The Sorkin script captures the spirit of the novel while highlighting issues that resonate most vividly today. The courtroom scenes are less driven by Perry Mason-style melodrama. Calpurnia, the Finch family's devoted African American housekeeper, is more fully drawn, as is Tom Robinson.
In the earlier version, child actors played the children. In the Sorkin version, adult actors tell the tale. Adults playing children can be an icky business.
On Broadway, I saw remarkable Cecelia Keenan-Bolger, who often plays children, in her Tony Award-winning performance as Scout. She navigated the transformation between adult and child convincingly. By contrast, I cannot imagine a more womanly actor than Aleks Malejs, who assays the role at the Kavinoky.
Arguably miscast, it is a testament to Malejs' skill as an actor that while her physicality and demeanor don't match the character, she nonetheless wins us over with an act of theatrical alchemy. I only realized subsequently that this magic had been accomplished, in part, through actor Shanntina Moore's fabulous performance as Calpurnia, and her reactions to Scout. Ultimately, we see Scout through Calpurnia's eyes.
The play shows us a broad range of the Maycomb, Ala., population, and we are treated to great character playing here by Paul Maisano, Marie Costa, Mary McMahon, Kevin Kennedy, David Lundy, and John Profeta.
Michael Seitz as Scout's brother, Jem; and Jacob Albarella, as his best friend of the summer, Dill, also give endearing performances in critically important roles. The children provide this otherwise harrowing story with heart.
Of course, "Mockingbird" rises or falls on the character of Atticus, here played by Chris Avery, who imbues the man with dignity, goodness and paternal wisdom. The script also cleverly makes this dogged goodness a liability. Again, it is Sorkin's use of the Calpurnia character that drives this home, as she reminds Atticus that in respecting everyone, you risk showing disrespect to those they hurt.
Robyn Baun is especially good as victim-turned-assassin Mayella Ewell. Her frightened fluctuations are nuanced and formidable. Patrick Moltane plays her odious father with terrifying conviction.
Xavier Harris gives a strong performance as Sorkin's reinvented Tom Robinson. From the moment he first appears, we recognize a man who is fully aware of the world around him and determined to protect his dignity.
Peter Palmisano provides dry wit and detached perspective on the proceedings as wise Judge Taylor. His droll interactions with the hilariously irritating prosecuting attorney, played by Ray Boucher, are priceless.
The set by David King, a montage of panels and projections, is best when it is most modern. Old-fashioned silhouettes of Alabama flora are distracting. Jessica Wegrynzn's costumes are most effective on the adults.
The contemporary resonance of "To Kill a Mockingbird" is haunting and disturbing. The overall story, however, is hopeful and inspiring, as we are reminded that we should all rise to fight injustice in the world.
"To Kill a Mockingbird"
3 and a half stars (out of four)
Presented through Dec. 8 at Kavinoky Theatre (320 Porter Ave.). Performances are at 7:30 p.m. Thursday and Friday; at 3:30 p.m. and 7:30 p.m. Saturday; and t 2 p.m. Sunday. Tickets are $40 and $45. Call 829-7668 or visit kavinokytheatre.com 
Stay up-to-date on what's happening
Receive the latest in local entertainment news in your inbox weekly!