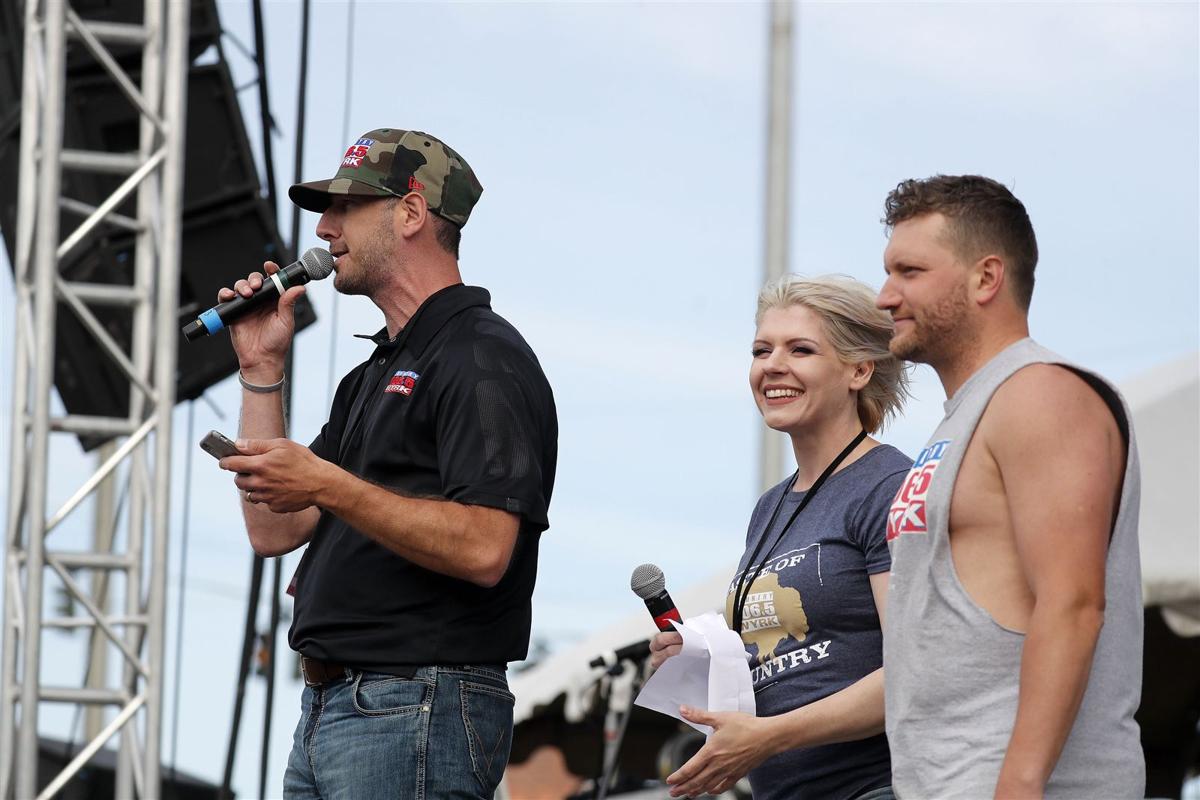 Former WYRK-FM morning personality Val Townsend has landed on her feet after being fired in late May.
She is going to teach communications courses full-time Medaille College.
"It seems like a fairy tale," she said of teaching at her alma mater.
She also is becoming a curriculum consultant in the communications department at Genesee Community College in Batavia.
Townsend took those jobs after getting a real education and experiencing some painful lessons about working in local radio.
Her story is a cautionary tale about being too honest with people you think are your friends and in human resource surveys.
Townsend, who has worked in radio since 1999, was fired after five years with Townsquare Media stations. The last two years were on the WYRK morning show "Clay & Company" with Clay Moden and producer Rob Banks. She has been replaced by Kadie Daye, whose station biography says she is from Indiana.
It was quite a fall for Townsend, since the program won awards in 2019 and 2020 from the Academy of Country Music and the Country Music Association, respectively.
"Clay & Company" is No. 3 in the mornings here, behind WBEN-AM and WBLK-FM in audience 12 and over.
Townsend said her immediate boss, Chris Crowley, told the team two weeks before she was fired that the show sounded so great it could be ready to transition to a national audience.
The week of her firing, Townsend said Crowley made a giant plaque commemorating the show's awards. "I got to take that out to my car and the next day, 'You're fired,' " she said.
She was offered a one-month severance if she signed a nondisclosure agreement. She declined so that she would be able her to speak her mind.
And did she ever speak her mind on social networks.
Mark Plimpton, president and chief revenue officer of Townsquare Media in Buffalo, issued this statement when asked to respond to specifics of Townsend's complaints: "In regards to Val's departure, we don't comment publicly on personnel matters, but we have always and continue to wish Val the best."
Moden, Banks and digital media editor Patrick McMahon haven't responded to requests for comments, resulting in Townsend's claims going unanswered.
According to radio sources, Townsend is talented but like many in the industry can be self-absorbed. She disputes that assessment.
"I don't think I ever went in a show with a very big ego," said Townsend. "I think it is part of my demise. My role as a second banana was the perfect spot for me."
A source who doesn't know her nonetheless believed her version of events, adding "her story is not shocking" to anyone in radio.
Some of Townsend's tweets after she was fired were shocking.
According to Townsend, she was fired after putting her name on a human resources survey in which she voiced comments about management and working conditions. She said she signed the survey in order to speak to someone else about the issues further.
"I had written a lot of honest things about my recent experiences, being given instructions like, 'You're not to speak until spoken to,' and generally not feeling very respected to or listened to at work and that there was a huge communication breakdown that needed to be mediated," she said.
She added that led to "a great conversation" with someone from the legal department.
She also criticized Townsquare in a private message she sent to McMahon, whom she thought was a friend, after being told he was hired.
"I want to say congrats, but mostly I want to ask you are you sure you want to work for Townsquare," she wrote McMahon. "It is not good here. I am only reaching out because I generally care about you as a person. It is bad for me. We can talk if you want. Maybe it will be different for you because you are a guy. It is not a respectful workplace."
She said McMahon relayed the message to Crowley, and later sent her a text saying he was "very sorry."
Crowley appeared to reference the McMahon text in explaining to her why she was fired.
He wrote: "While you are a thousand percent entitled to how you feel and how you think, when you start openly talking about these things and thwarting the efforts of us the company to recruit people to the company and to the cluster that crosses the line and that is why we are letting you go for cause."
She said she hasn't heard from Moden since her ouster. But she heard from him before her firing, even though he was unaware of it.
During the Covid-19 pandemic, she had a video and audio feed working at home while Moden and Banks were in the studio. A button in the studio needed to be pushed for Townsend to talk. However, she said Moden and Banks didn't realize that Townsend could hear what they were saying at all times.
"I was horrified by the things that I heard," she said. "Even now I get sick to my stomach thinking about it because I had no idea that either of them felt this way about me."
She said she heard Moden and Banks plotting ways to box her out of conversations and then claim she wasn't contributing enough.
"I felt like I was listening to the sabotage of my career," she said.
She heard Moden suggest he could get rid of her by going to human resources and accusing her of sexual harassment after she gave him a gift – a cross-stitch of his favorite swear word. Townsend claimed the gift was intended to create an intimate relationship with a team by creating inside jokes.
"It took a whole week to sew," said Townsend. "That really hurt because it was one of the things that I totally did with love."
After hearing what was being said about her, Townsend said she had to go on the air acting like everything was fine.
"If they gave out Emmys for radio, I could have qualified," said Townsend laughing.
In hindsight, Townsend said she might have gotten a hint about Moden's feelings after she earned a "40 Under 40" honor from Business First in 2019. She said that Moden and Banks were overly enthusiastic at the ceremony. But afterwards, Crowley asked where she was going to keep it.
When Townsend replied it was going in the office, she claims Crowley told her, "I don't think it is a good idea. … It might make Clay feel insecure, it might make it look like you are boasting."
After getting a radio education, Townsend said she is happy to switch careers.
"I'm definitely done with local radio," said Townsend. "Radio is not going to be a thing for me in Buffalo."