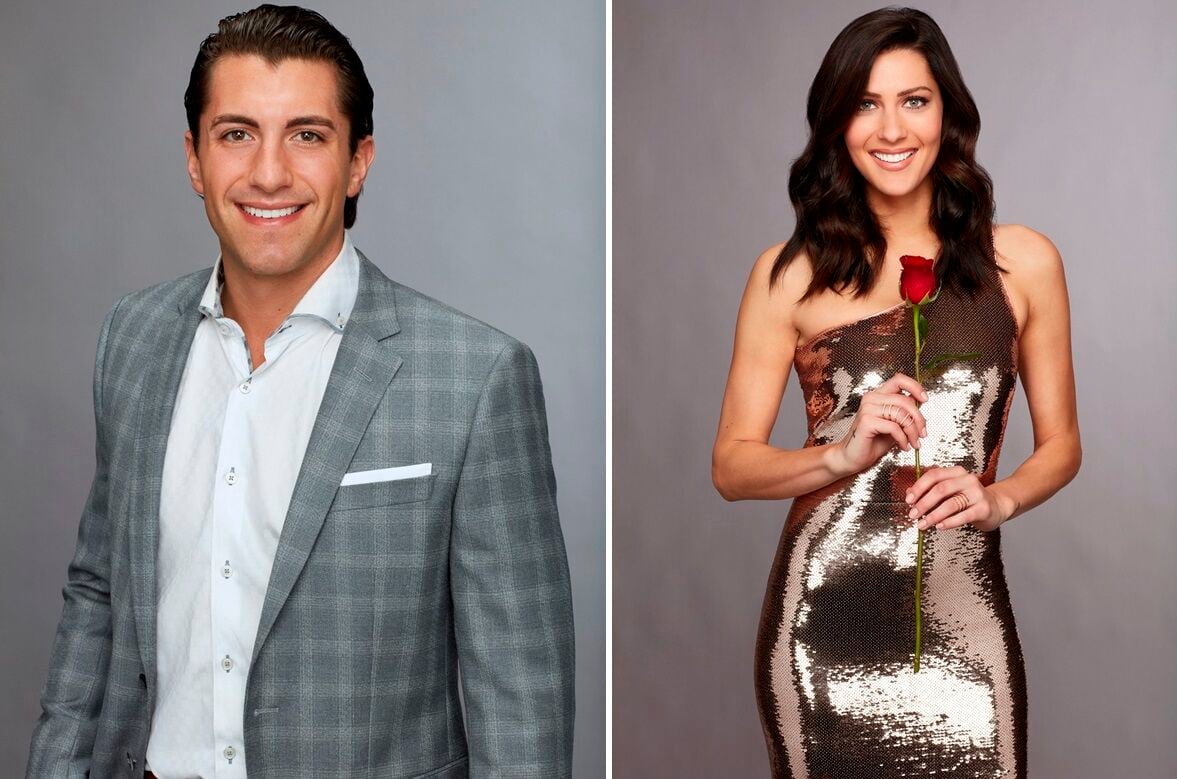 When Jason Tartick came to Western New York recently to be in a friend's wedding party everybody wanted to know about his appearance on "The Bachelorette."
The Buffalo native couldn't say much beyond that it was a great experience and Becca Kufrin, the Bachelorette, was amazing.
But after his elimination on Monday night's episode, the 2006 Williamsville East graduate can tell all about how he was chosen for the popular reality show, the lessons he learned while watching it the past several weeks, whether he would be willing to be the next Bachelor, and what a famous friend told him at the wedding.
The friend was New England Patriots star Rob Gronkowski, who also was in the Buffalo wedding party of John Ticco III and Tori Nappo.
"We are all good buddies, we are all childhood friends," Tartick said in a telephone interview Monday night.
And what did Gronkowski say?
"He said, 'I feel like now I am more of a romantic because of you and I thank you for that,' " Tartick said with a laugh. "He was kind of joking around."
Gronkowski had another good line.
"He said, 'Now when I am out with you, all the girls are going to go to you and not me,' " said Tartick. "He is always having fun."
Tartick always was having fun with Becca on the program until Monday night when she got up from a romantic spot in Thailand to gather her thoughts. She returned and told Jason he wasn't the one and she had stronger feelings for the final two survivors – Garrett and Blake.
"Everything was going well, the energy is high, I thought everything is going in good direction," Tartick said. "I was candidly very blindsided, I had no idea what to expect."
He came back later in the episode to present Becca with an album of their memories together.
"We ended things with class and character," said Tartick. "It was something I was planning to give her that night and didn't have the opportunity to do so. The purpose was to give her the gift but also to say we had a really deep relationship, we had intellectual chemistry, emotional chemistry, physical chemistry. The way we ended things was so abrupt I wanted to say a very formal goodbye."
Tartick, 29, got the opportunity to be on the program because of an appearance in a charity event in Rochester, one of four cities he has worked in for KeyBank.
"I certainly knew of the show, but I would never consider myself an avid watcher," said Tartick. "My mother is a huge fan of the show, my father, eh …"
With KeyBank's support, Tartick was part of a bachelor charity auction with 26 or 27 other guys for Gilda's Club in Rochester.
"I was fortunate enough to earn the most money at the charity," said Tartick. "I came out dancing to (Bob Seger's) 'Old Time Rock n Roll' and had fun with the crowd and it is my understanding that video was sent to ABC."
When ABC called, he initially thought it was a fake call. He said he agreed to be on the program because he spent his 20s focused on his career – relocating four times for the bank while getting his MBA – rather than his personal life. When the opportunity came up, he told himself "the time is now."
"I need to give myself an opportunity that is unorthodox, maybe a little but unconventional. It is that time. And it worked out. And I was so glad I did it," he said.
Tartick has worked in Seattle since October and was originally identified on the program as being from that city. But he asked one of the showrunners, Buffalo native Bennett Graebner, to change Seattle to Buffalo after the opening episode.
"Buffalo has always been near and dear to my heart," said Tartick, who hasn't lived here full time since graduating high school.
"Obviously I grew up there. And even in the time I spent traveling around for work, I spent a ton of time in Buffalo. I belonged to Transit Valley (Country Club) when I lived in Rochester. Buffalo is who I am and what our family represents. We obviously love the city. It was an honor that I called him and said you better change that and you better change that now."
The switch paid off for the community when Tartick made it to the Final Four and brought Becca here to sample chicken wings and to show her the city. He went into the Buffalo bag of famous quotes when he brought her here.
"Right before we walked into hometowns," Tartick said, "I said, 'Becca there is no place in the world I'd rather be than right here, right now than with you. Let's go.' "
Of course, she didn't get the Marv Levy reference. If she had, half of Buffalo would have proposed to her right on the spot.
Getting to the Buffalo hometown episode as one of the Final Four was Tartick's Super Bowl, he said.
"That was probably the most nervous I was," said Tartick. "And when you think about it, you are talking about a journey which has been exciting and full of love and fun, but now you are talking about a journey to your hometown and your family. And that takes things to such a different level."
"It was beautiful. To be able to take her back to Buffalo and showcase the city in that manner on such a televised show, meant the world to me. And for her to meet the most important people in my life – my family – it was the culmination of a lot of things. It was my Super Bowl. It was great."
However, it also was very cold in April for the visit.
"I loved that it was cold," said Tartick. "We went from 80-90 degrees in the Bahamas (the previous week) to snowy Buffalo. It was snowing and it was really cold and I'm OK with that because cold and snow is a big part of the city, it is a big part of us. I thought it was fun. It showcased the versatile weather we face and regardless of it we make the most of it. I was totally cool with it."
"She was freezing," laughed Tartick. "Yet again, she is a Minnesota girl. She was so excited to be in Buffalo. And I think one of the biggest takeaways from my producers and my crew and her producers and her crew is everyone had an expectation coming into Buffalo and our hometown blew it away. Everyone speaks so highly of it they want to come back to Buffalo Bills games and Sabre games, for wings. It was fun to see everybody A to Z so excited to see what Buffalo had to offer and then want to return."
Getting to the Final Four was an accomplishment for Tartick, who was under the radar for several episodes. That was part of his game plan.
"In general, I certainly stayed out of the drama and when I had time with Becca I wanted to make sure that the time was well spent and it was between what her and I had going as opposed to what was going on in the house," he said.
"I did have a late start," added Tartick. "The first week I was two of 21 who didn't have a date with her. The next date she forgot my name but that night we hit it off and there was no looking back. My joke is she didn't forget my name again after we had our first kiss."
Becca repeatedly spoke of Tartick's kisses, which undoubtedly will help him in the future. "She sure did," he laughed.
Tartick said he became very close with several suitors, noting that he spent more time with them in two months than he has been able to spend with his closest friends in years. Of course, they all have to deal with jealously, knowing that Becca is dating and kissing others.
"The guys are pretty respectful," said Tartick. "What happens with her we didn't really talk too much about. They weren't divulging where relationships were. Is jealously a part of this scenario? Absolutely. For me, how I dealt with it, I just focused on what she and I had. And it started to really grow … We had deep discussions about her family, loved ones that are no longer with us and troubles we overcame to get us where we are today. I just stayed true with what we had and worried less about what others had.
"You have to be disciplined you have to be mentally tough, it is not easy but that was my strategy. It was tough. We have thick skin in Buffalo though."
He has learned a good deal by watching the series along with the nation.
"What I learned is how deep some of the suitors' connections and feelings were so quickly," said Tartick. "I didn't realize the extent some of the people were falling for her. And in addition, the extent she was falling for them. It is tough to get a read on that. Part of it is refreshing in a way you see the connection she does have and it helps you cope with the outcome that I dealt with."
His parents were concerned about their son's ability to cope after he was eliminated.
"They saw I had a deep connection with her and spoke so highly of her," said Tartick. "I also think they were impressed with the way I was able to grow and open up and communicate my feelings in a deeper manner that will inevitably put me in better position to find that special someone whoever it may be."
The show ended filming several weeks ago, so Tartick has had time to recover. "I am definitely happy for whatever happens to Becca, I am rooting for her happiness," said Tartick. "But I have made a full recovery from the breakup, I'm single and I have yet to start dating."
He understands that some people think finding a spouse on a reality program is crazy, but he notes it can work and work well.
"In 2018, the manner in which people meet is ever changing," said Tartick. "There are dating sites, apps, TV shows. I can respect and understand that opinion but I also say if you look at history, history usually proves itself. There have been successful relationships to come out of this that have turned into marriages and families with children. Do I understand that it is a different manner to find someone? Absolutely.
"It can work. And I will say when you are so dialed in to the situation and what is going on and you don't have any distractions, it definitely expedites the process and manner in which you get involved."
"I went into this saying I don't want to leave anything on the table. I want to be the best version of myself every time I am with her and I don't want to have any regrets. And I look back at it, and I feel like I checked every box. I wanted to be open, vulnerable, open to the process, lead with my heart and not a calculated mind. I think I did all that. It was a very positive experience, start to finish. It exceeded my expectations in every department. I loved every bit."
He loved it to such a degree that he would consider being the next "Bachelor" if it was offered.
"Because of how fond I was of the experience I would absolutely consider the opportunity to take on the lead if that was offered," said Tartick.
If chosen, Tartick would have a much bigger opportunity to make Gronkowski more of a romantic.