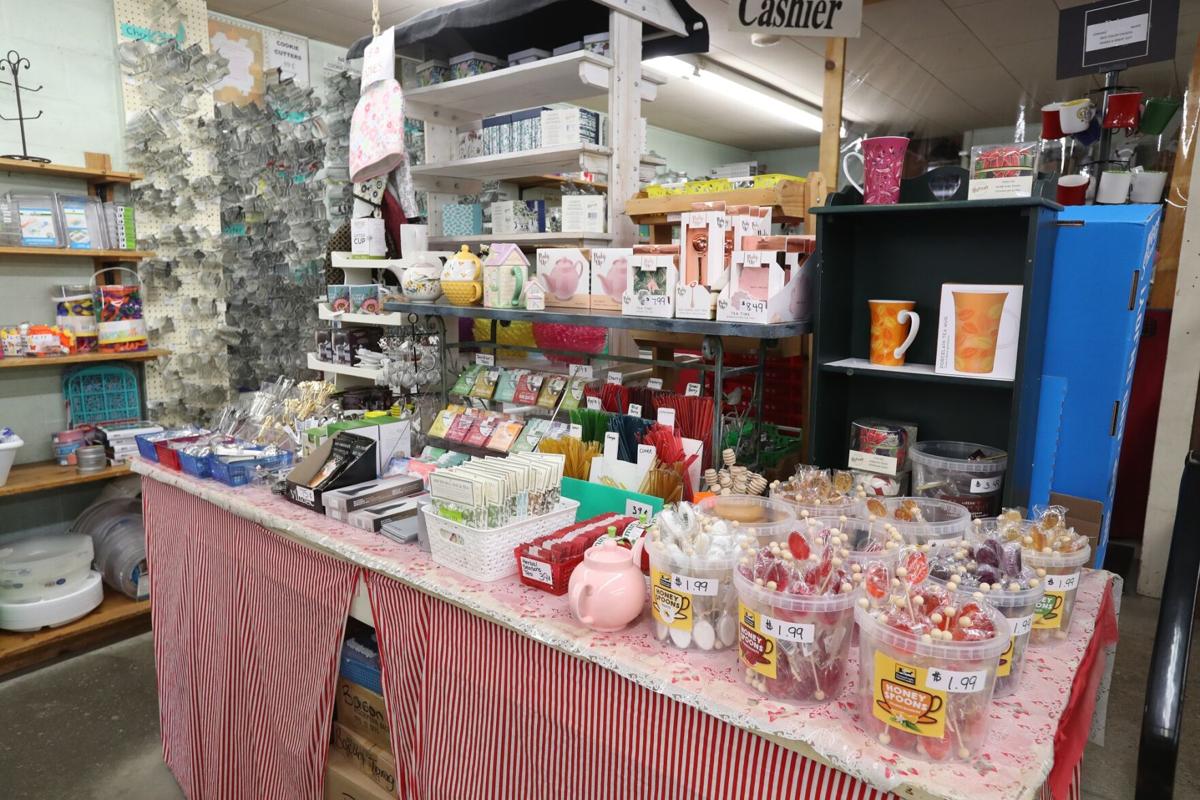 In a Covid-world especially, it's great to be reminded that fun and adventure can happen without advance planning. One recent Saturday, three adults and a teen ventured to East Aurora from Amherst to get some first-of-the-season local blueberries at the East Aurora Farmers Market stand of Child's Blueberries — a vendor based on a hilltop farm in Humphrey, N.Y. — and to enjoy a relaxing drive. 
Taking the back roads instead of the Thruway (Wehrle, Harris Hill, Broadway, Bowen and Seneca) meant passing through the Village of Lancaster which also begged for a closer look.
At the farmers market we snagged the last of the blueberries and items from other vendors including perfectly sweet cherries, fresh-from-the-pot kettle corn, and an outstanding iced cinnamon apple pecan bread from Schwab Farm of Gasport.
The market is at the Aurora Village Shopping Center on Grey Street, allowing for welcome air-conditioned breaks inside TJ Maxx, Aurora Liquor and Valu. Since shopping during the pandemic tends to the sporadic, this convenience was a plus.
Having skipped breakfast to arrive early enough for blueberry inventory, hunger pangs necessitated a lunch stop. Some Main Street restaurants had extra long wait times due to capacity restrictions and social distancing measures.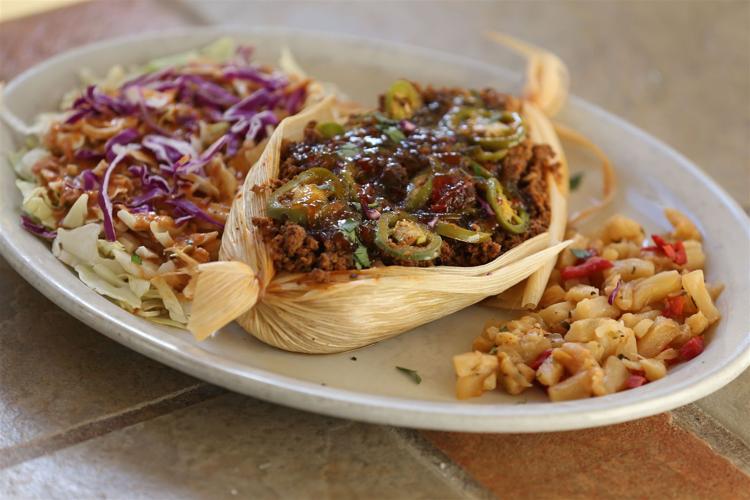 A fortuitous discovery was the Tex-Mex restaurant Arriba Tortilla, tucked into a lot at 40 Riley St. A door sign made it clear they respected the value of mask wearing and the gregarious staff and a friendly restaurant regular immediately validated our dining choice.
The margaritas were strong and the food was fresh, inventive and delicious. Of particular note was a Parmesan-crusted veggie quesadilla ($11) with goat cheese, portabella mushroom, corn salsa, zucchini and added chicken (an additional $4). Steak tenderloin tacos ($10.78) housed tender and tasty beef. Highly recommended as a side is corn pudding, a comforting dish reminiscent of the sweet corn cake once served by the dearly departed Chi-Chi's restaurant chain. We dined indoors to escape the humidity but the secluded back patio looked charming and ideal for when we return to explore the large menu further.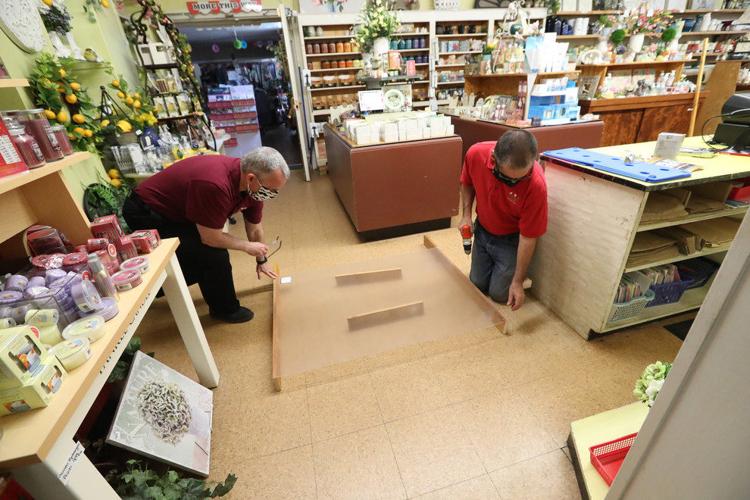 No trip to East Aurora can be complete without a browse through Vidler's 5 & 10 (676-694 Main St.) so our full bellies took a shopping detour. With directional arrows on the floor to guide customer traffic, Vidler's did its best to encourage social distancing despite the narrow winding nature of the sprawling variety store. Even a quick jaunt with no agenda led to several purchases, from novelty socks to body lotion, car coasters to heating pads.
Before leaving Main Street, an impulsive decision was made to stop at Aurora Brew Works (191 Main St.), a craft beer bottle shop we had heard a lot about but never visited. Greeted upon entering by two adorable dogs and their owners — regulars, all — it was another worthwhile call. Thanks to the ability to buy single bottles or cans, we left with an assortment of beers we had long wanted to try as well as new-to-us varieties that caught our eye.
When looking for a lunch spot, it was impossible to miss the colorfully painted Elm Street building that once was an auto body shop but now is home to MUSEJar, an eclectic store for creative gifts and art supplies which also offers art classes and private event space. The rainbow bright building beckoned us to see what it held within. Unique Cavallini + Co. decorative paper sheets to use as wall décor were only $5 each and an array of quality drawing supplies was also reasonably priced.
On this same funky side street is Kornerstone Café and Juice Bar (33 Elm St.). To help sustain a day of spontaneous wandering, Kornerstone's locally roasted coffee enhanced endurance and one of the many original smoothie concoctions was a healthy treat and much-needed energy boost.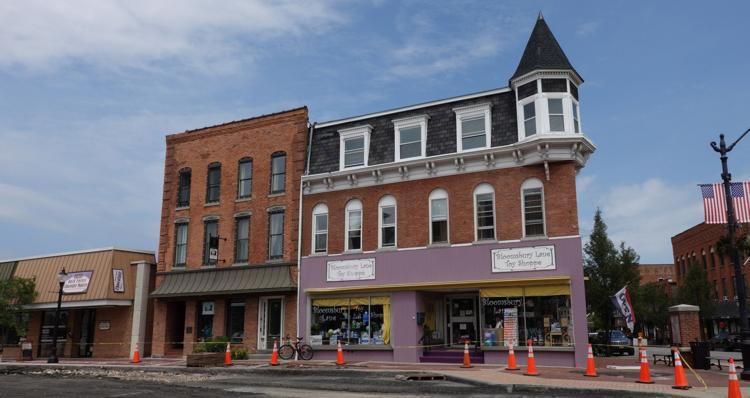 Quirky shops in Lancaster
Driving back via Lancaster, we hoped to visit Gilded Maple (4 W. Main St., Lancaster), a home and lifestyle boutique in a historic brick building. Sadly, it had just closed for the day so a return trip is in order. But by stopping there, we discovered the unique little stretch that is West Main Street, currently being extended and improved as part of a multi-use business district project. Other independently owned businesses along West Main Street include Bloomsbury Lane Toy Shoppe, the all-natural healthy pet food store Purely Pets and Dark Forest Chocolate Makers, a "bean-to-bar" chocolatier. 
While some of these places had closed by 4 p.m., Lilly Belle Meads (11. W. Main St.) was still open. Mead is an alcoholic beverage created by fermenting honey. (Beer is fermented from grain starches and wine is fermented from the sugars extracted from grapes.) Despite the use of honey, not all meads are super sweet and signage helpfully identifies the sweet to dry characteristics, ABV, and flavor profiles of their many offerings.
The friendly staff is adept at introducing mead to new drinkers and can recommend appropriate meads for each palate since no samples are being offered at the bar during the pandemic. Thanks to COVID rules, we got lidded to-go cups of draft mead as well as beer from its in-house, small-batch brewery, TIL Brewing. (When asked what "TIL" stood for, the brewer said it can vary, including "Things I Like" to "Tapped in Lancaster.")
When we finally returned home after the longest, most serendipitous farmers market stop ever, Lilly Belle Meads 6% ABV New England IPA "Little Room" with guava and Cascade and Mosaic hops was a tasty and refreshing finale to our excursion.
Stay up-to-date on what's happening
Receive the latest in local entertainment news in your inbox weekly!