County elections, Bills stadium deal looming for WNY
Big issues include homes, health care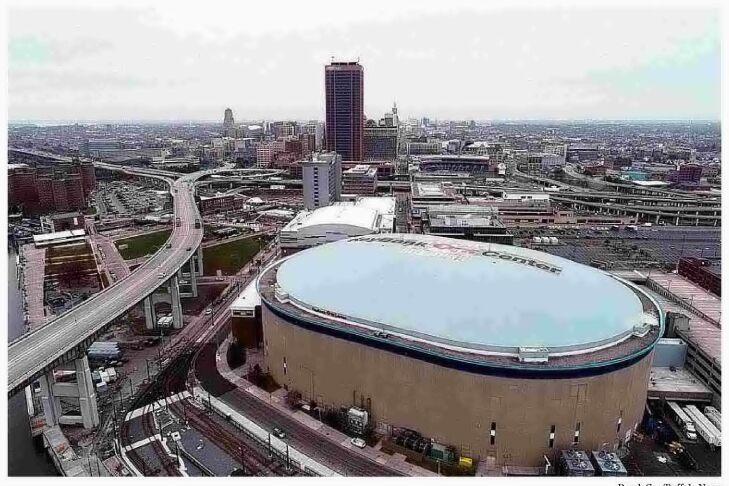 A LOOK AHEAD AT 2023
When it comes to the future, columnist George Will may have said it best: "The future has a way of arriving unannounced."
The year that still has more than 11 months in it will indeed eventually reveal itself unannounced, but Buffalo News reporters can see a glimpse of what is to come on a variety of topics:
Politics and government
• Political attention shifts to the county level in 2023 as elections for Erie County executive and the County Legislature are slated.
Mark C .Poloncarz, the Democratic incumbent county executive, is expected to seek an unprecedented fourth term. No Republican has yet declared (and for that matter, neither has Poloncarz), but possible candidates include former State Sen. Edward A. Rath III, former Rep. Chris Jacobs, and County Clerk Michael P. Kearns, a Democrat who won re-election in 2022 on the Republican line.
The entire County Legislature will also stand for election in November.
– Robert McCarthy
• In 2022, the once-a-decade process of drawing legislative districts turned into a nightmare for state Democrats. The coming year will be a test of whether a different kind of system can work.
Last year's problems began when a new, bipartisan commission could not agree on consensus maps, leaving the Democratic-controlled Legislature to draw their own, the state Court of Appeals to rule those gerrymandered and a court-appointed special master to draw lines instead.
The 10-person commission is back and unanimously released a draft map for new Assembly lines, emphasizing good-government concepts over the needs of incumbents. Even if the panel reaches a final compromise this spring, however, the Legislature could seek to draw its own – or push a constitutional amendment doing away with the current commission.
– Chris Bragg
• The major event involving Erie County in 2023 involves football.
With all sides coming closer together on a final deal for the new Buffalo Bills stadium, local approval for many parts of the deal will come before the Erie County Legislature.
Once the Bills, state and county negotiating teams all shake hands on the full terms for the stadium deal, which is expected to be soon, the County Legislature will have 30 days to consider drafts on the completed deal and vote yes or no on the final documents. Then comes deliberation over when to borrow money to cover more than half of the $250 million the county is expected to pay toward the new stadium.
– Sandra Tan
Health care
The region's health care system will continue to be significantly challenged in 2023.
Most of the area's hospitals are bleeding red ink and struggling to recruit and retain workers. Employees are burned out. Patients are waiting for care. There are several relatively new chief executives at the region's hospitals who will look to execute improvements.
Still, there is some growth ahead.
Roswell Park continues to expand. And Catholic Health is on pace to open Lockport Memorial Hospital by late summer, at which time Eastern Niagara Hospital will close.
– Jon Harris
Real estate and development
It's been a remarkable decade for both the commercial real estate market and the regional housing market, but the boom times are coming to an end with Federal Reserve's efforts to slow the economy and tame inflation. The sharp rise in interest rates has made it more costly to borrow money, so that's giving pause to both developers and homebuyers.
The frenetic pace of housing has already dropped off, and the rate of increase in home prices has slowed, although values aren't expected to drop locally, since they are still much lower than in many other cities.
On the commercial front, new development and construction activity has still been strong, and existing projects are likely to continue to fruition. But developers may put some of their larger new projects on the back shelf until interest rates come back down to make the financing more affordable.
In Amherst, the Northwest Amherst Community Center, revamped Audubon Public Library and Roswell Park Comprehensive Cancer Center's Scott Bieler Amherst Center all will open in 2023. And Amherst should close on its purchase of the former Westwood Country Club and complete design work for new site venues.
In Tonawanda, the town is pursuing eminent domain for the former Huntley generating station and is hoping to extend state payments that began with the plant's 2017 closing but end in 2023. And the town expects to see significant progress at the former Tonawanda Coke site, now largely cleared of its abandoned buildings.
– Jonathan D. Epstein and Stephen T. Watson
Tech and startups
43 North will welcome its eighth cohort of startup companies to Buffalo at the beginning of January.
These companies – coming from cities like New York, Chicago and London – will hit the ground running in Western New York, making keyhires and acclimating to the local startup and technology ecosystem.
Bitwise Industries, a technology training firm that came to Buffalo in2022, plans to open its temporary headquarters this year in East Buffalo. It will continue training people with the in-demand skills they need to work in well-paying tech jobs.
– Natalie Brophy
Primary education
There should be no complaining from school superintendents with this year's state budget, since Gov. Kathy Hochul has committed to fully funding the foundation aid formula that provides money for most school operations. But look for local districts and statewide organizations to ask for a change in the formula, which has used outdated demographic information for years.
Local schools continue to grapple with safety measures and making schools more secure. And with that, there is expected to be continued emphasis on mental health and well-being.
Lots of attention will be paid on graduation requirements this year, as the 64-member Graduation Measures Blue Ribbon Commission explores "what a state diploma should signify to ensure educational excellence and equity for every student," according to the Board of Regents. The commission will look at what measures of learning and achievement should be used to show readiness for college, career and life. It is to present its recommendations in spring 2024.
– Barbara O'Brien
Higher education
The big issue facing Western New York colleges and universities will be how to stay relevant – and for some, afloat – in this age of declining numbers of traditional college students.
Expect to see more partnerships: colleges and universities teaming up with industries to train workers in specific skill sets needed to fill local jobs. Or they may team up with more health care, social and government agencies to address nursing, teacher and other worker shortages. Or even partnering with each other, as Trocaire College and Medaille University announced they will do in the next year.
Meanwhile, SUNY Erie Community College and SUNY Buffalo State, will conduct searches for new presidents. ECC's last president, David Balkin, resigned after 11 months in office in 2022, and Buffalo State President Kate Conway-Turner is retiring in June.
– Janet Gramza
Manufacturing, banking and workplace
The national labor contracts between the United Auto Workers and the Detroit Three automakers are set to expire Sept. 14.
Those negotiations will impact workers at some of the largest manufacturing plants in the region: General Motors' plants in the Town of Tonawanda and Lockport, and Ford Motor Co.'s plant in Hamburg.
M&T Bank is preparing for a change in a top role. Richard Gold will retire as president and chief operating officer after the first quarter, wrapping up a career at M&T that began in 1989.
Meanwhile, companies with significant office space in the Buffalo Niagara region will take a fresh look at how much space they need, and whether to bring workers back into the office more often.
–Matt Glynn