Education
With lessons of the pandemic still fresh, some schools offer a valedictory to class rankings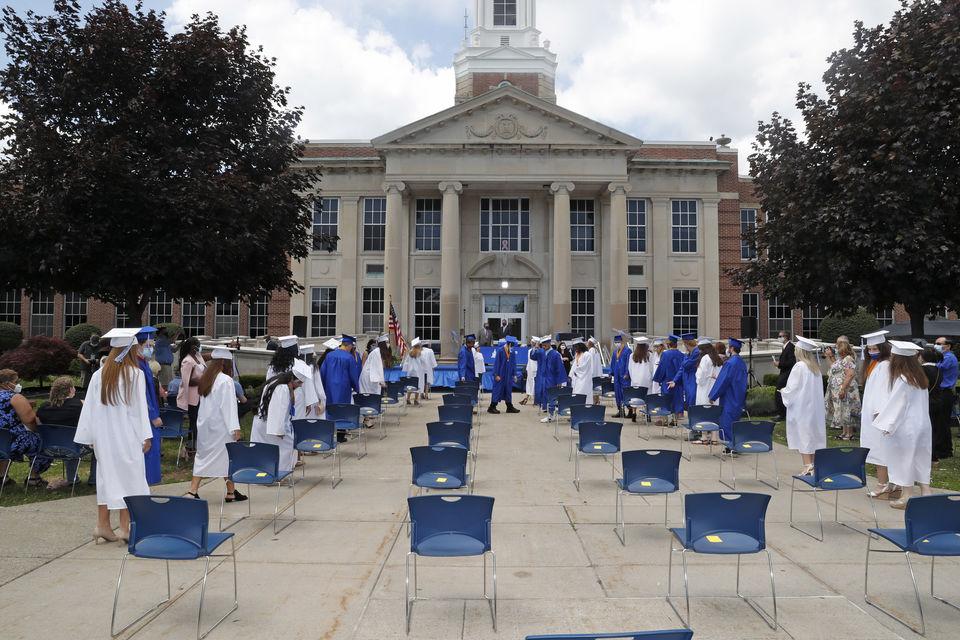 The difference among top ranked seniors in a high school graduating class can be a sliver of a fraction.
But maybe not for long. Some local schools are rethinking the use of class rankings, and a few have already eliminated them.
Williamsville Central's three high schools and Alden Central High School no longer rank students according to their grade point averages. Depew High School is looking to add its name to the list.
"Getting away from class rank will eliminate the student-to-student competition for the rank to be number one or be number two," said James Lupini, executive principal at Depew Middle and High School. "Typically when that occurs, the difference between one, two, three and four are fractions of a point."
Under the traditional system, the student with the highest grade point average becomes the valedictorian, the second ranked student is the salutatorian, and they usually address their classmates during graduation ceremonies. These students may have been competing academically for years, and both make their parents proud.
Lupini has also suggested that to recognize academic success, the high school move to the Latin honors system, with three levels of academic distinction. He said he has been thinking about the change for several years. And he believes that after schools shut down during the pandemic, the last thing high school students need is to stress over who is No. 1 and who is No. 2.
"Our top students are very good at math," Lupini said. "So they're kind of figuring out percentages when they're competing with one another to figure out ways to try to preserve their GPA. It might actually disincentivize a student from taking a more challenging course."
Class rankings also are not as important to admission into college as they once were. In 1993, 42% of colleges placed "considerable importance" on class rankings when considering which students to admit, according to the National Association for College Admission Counseling. By 2018, only 9% of institutions said class rankings were important to admission.
Overall high school GPA, grades in college prep courses, strength of curriculum and admission test scores were considered more important factors. 
And the common application for SUNY does not require class rank except for one institution, Lupini said.
He wants to eliminate the competition that has the potential to bring stress to students, since it may not translate to an advantage when applying to colleges anyway.
Parents, students, faculty and staff can cast their votes through the Williamsville Information Tracking System (WITS) portal. 
Williamsville did away with class ranking for the graduating class of 2021 after years of discussion.
"Often in Williamsville, a student with a 95% grade point average is not even ranked in the top 25%. Our students may be overlooked for admission to colleges or scholarship consideration due to their rank," the district says on its website.
Alden Central's Class of 2022 was the first in that district to go their entire high school career without being ranked academically. Alden also instituted the Latin honors program recognizing student achievement with the collegiate system of cum laude, magna cum laude and summa cum laude distinctions.
"This way we actually recognize more students," said Superintendent Adam Stoltman. 
He said there was a time when families and students could strategically choose course work that could give them an advantage to becoming the valedictorian or salutatorian, rather than taking courses because of a passion for the subject.
"I want kids taking challenging work and things that are interesting to them," Stoltman said.
Alden also created the Crystal Bulldog award, given to a graduating senior who exhibits the collective values of the Alden High School community, including integrity, respect, compassion and service to others. Ten candidates were chosen by high school staff. The winner was chosen by students and staff, and addressed the class at graduation.
Eliminating class ranking gained widespread approval in an anonymous survey of Depew teachers, Lupini said. The survey showed 41 in favor, nine undecided and two opposed to adopting the Latin honors system. 
"I believe the pressures and the social-emotional needs after the pandemic are not just affecting our at risk students, they are impacting all students, including our top performers," Lupini said. 
Academic averages from 90 to 92.99 would be designated cum laude, with distinction. Magna cum laude, with great distinction, would encompass averages from 93 to 95.99, and summa cum laude, with highest distinction, would be designated for averages of 96 to 100.
The school would consider an appeals process for students with averages in the high 80s who are taking higher level or honors courses and are active outside of class. 
Depew would like to start the phase-out with the Class of 2027 when freshmen enter school this fall. If the board supports it, the school would conduct a parent information night for students and parents. The school would have four years to come up with a system of how to recognize them and how to select a student speaker at commencement, the principal said.
"So our students are not competing against one another, they're competing against the curriculum and the course work and their grades and they know the threshold they need to hit with their GPA to achieve cum laude, magna sum laude and summa cum laude status," Lupini said.
When he looked to the future, Grayson Hart always saw a college degree. He was a good student at a good high school. He wanted to be an actor,…