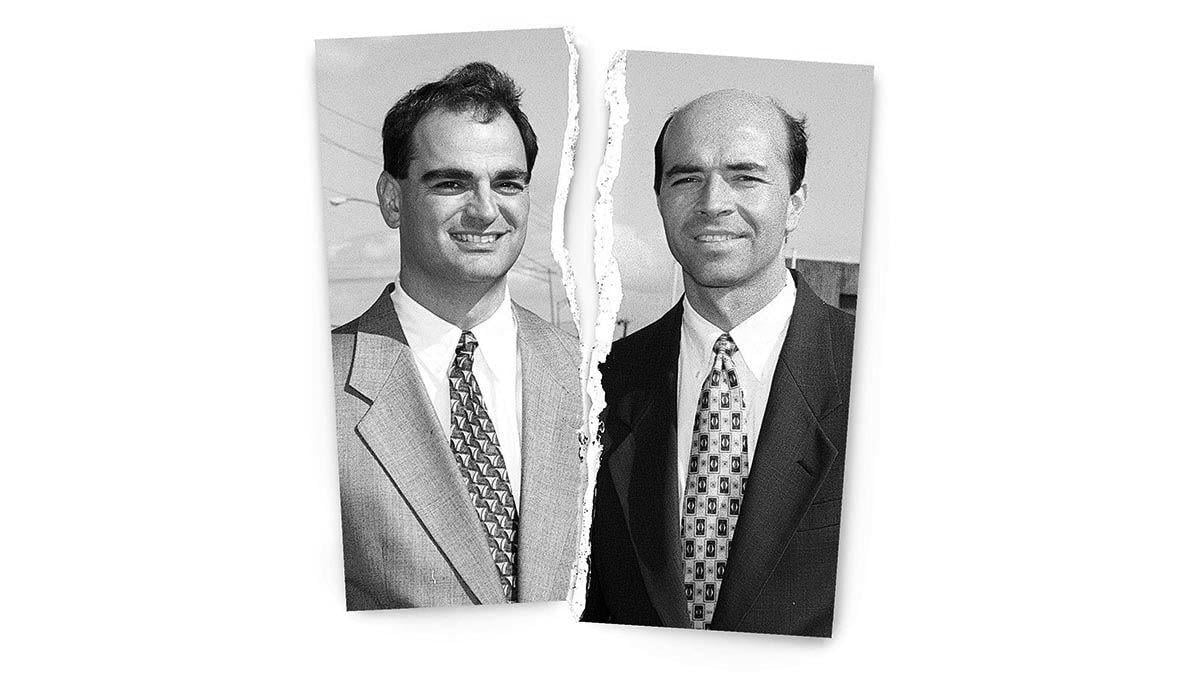 Those ubiquitous "Don't Wait, Call 8" Cellino & Barnes commercials will disappear from local radio and TV stations in October.
But get ready for a bombardment of new commercials for two new law firms as Ross M. Cellino Jr. and Stephen E. Barnes end their business partnership and start their own operations in New York State.
After a long and sometimes ugly battle in State Supreme Court, details of the Cellino & Barnes breakup are emerging.
For a period of 18 months beginning Oct. 10, potential clients who call the firm's (800) 888-8888 hotline will be connected to the new Cellino Law firm one week, and The Barnes Firm the next.
The Cellino & Barnes flagship office in downtown Buffalo – and most of its attorneys – will stay with Cellino. Barnes and the Buffalo attorneys in his firm will have to relocate.
The law firm's profitable New York City office will become a Barnes Firm office, and Cellino will open his own office there. The Rochester office and two Long Island offices of Cellino & Barnes will become Cellino Law offices.
Those are some of the key changes that will come over the next three months with the breakup of Cellino & Barnes, one of the nation's busiest and most profitable personal injury law firms.
The changes were confirmed in recent days for The Buffalo News by reliable sources on both sides of the Cellino & Barnes dispute, which erupted in 2017 when Cellino filed a lawsuit seeking to break up the firm.
Cellino, 62, and Barnes, 61, each earned $1 million a month as partners, court papers revealed.
Their battle raged for more than three years before Barnes – who had fought to keep the law firm together – ended those efforts last month and agreed to dissolve the firm.
Marketers for both Cellino and Barnes are already recording new commercials featuring the two longtime business partners as solo acts. And the sources said both new firms will be buying plenty of air time to establish their new identities.
"Our commercials will be frequent and often," said Gregory V. Pajak, who will be the managing attorney for Cellino Law. "We're extremely excited to build on the success Ross has had in the past, and to implement his ideas for a brand new firm."
Barnes and Robert J. Schreck, managing attorney for the Barnes Firm, declined to comment, saying a court order prohibits them from discussing the breakup until the two new firms are up and running.
Cellino told The News he could not discuss details of the breakup, but did reveal that two of his daughters, Jeanna and Annmarie – will be joining Cellino Law. He said his daughters will dissolve the law firm they began last year with their mother, Anna Marie Cellino.
"As a young lawyer, I was able to work several years for my dad, and that was a very special time for me," Cellino said. "I hope my daughters will have that same feeling working with me."
Cellino added that he holds no bitterness toward Barnes, despite the rancor that surfaced during the lawsuit.
"I have no ill feelings toward Steve. We were partners for 25 years. He's a good guy," Cellino said. "Despite all that has happened, I consider him a friend."
In recent weeks, all 53 lawyers employed in New York State by Cellino & Barnes had to decide whether to join Cellino Law or The Barnes Firm when the breakup becomes final in October. According to sources on both sides of the dispute, 30 lawyers elected to go with Cellino and 23 with Barnes.
"Ross was gratified that so many of the lawyers elected to follow him and embrace the philosophy of his new firm," said Terrence M. Connors, the attorney who represents Cellino in the lawsuit. "In a few short months, Ross will be able to realize the vision he has carefully crafted for Cellino Law."
The law firm's five New York offices are in Buffalo, Rochester, New York City and in the Long Island communities of Melville and Garden City. The New York City office will be occupied by The Barnes Firm, while the rest will be occupied by Cellino Law.
The Barnes Firm's new Buffalo office will be downtown, at Ellicott Development's new building at 500 Pearl St., sources said.
The "All 8" hotline number, reportedly worth millions of dollars, will disappear from advertising in October. After that, anyone who calls the number will be redirected to the new Cellino firm one week, and the new Barnes firm on alternating weeks for a period of 18 months.
For his offices in New York City and Long Island, Cellino will use a new hotline number, (800) 555-5555. The Buffalo and Rochester offices will be reached at (716) 888-2020.
All of Barnes' offices will use the phone number of (800) 800-0000, which will be advertised as "1-800-8million."
At the end of the 18 months, Cellino and Barnes will decide what to do with the "All 8" number.
According to Cellino and Barnes, their firm has obtained more than $2 billion for their clients in verdicts and settlements. The law firm currently has about 10,000 ongoing personal injury cases in courts all over the state.
What will happen with the proceeds of those cases?
"Some of the proceeds will go to Cellino Law and some will go to the Barnes Firm, based on a formula that includes how long the Cellino & Barnes firm worked on the case, and which lawyer litigates the case to its conclusion," said one attorney closely familiar with the dissolution details.
The road to settling this case has been bumpy, with Cellino and Barnes trading insults and accusations of misconduct numerous times.
The case was scheduled for trial several times before State Supreme Court Judge Deborah A. Chimes, but the judge repeatedly delayed the trial so settlement talks could continue.
Those talks moved into high gear after an important August 2019 appeals court decision that went in Cellino's favor.
Buffalo attorney John G. Schmidt Jr. has monitored – and will continue to monitor – the Cellino-Barnes dispute as a referee appointed by the judge.
"I'm dealing with smart, talented professionals, both the principals of Cellino & Barnes and their attorneys," Schmidt told The News on Thursday. "From my perspective, things are going smoothly. In the near future, you will see one law firm replaced by two."
Cellino said he and Cellino Law will continue to support local charities, including animal adoption programs, the Thurman Thomas Family Foundation and the Buffalo Real organization that is raising money to build a Jack Nicklaus golf course in Buffalo.