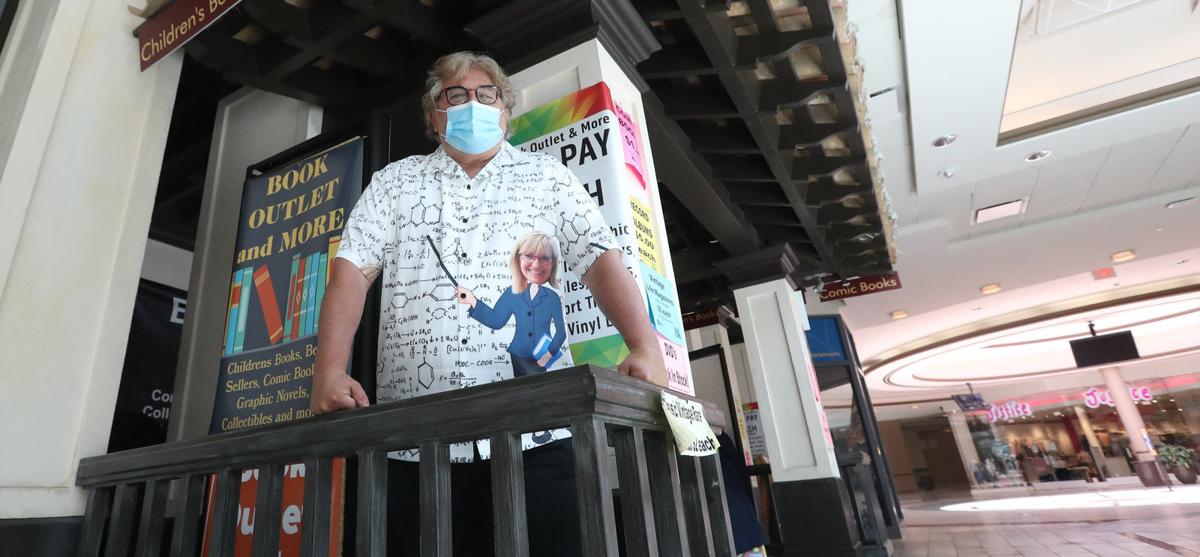 It's the latest blow to shopping malls: A new state proposal to require malls to install high-quality air conditioning equipment capable of filtering out coronavirus particles before they reopen.
But the expensive, complicated upgrade has some, such as Boulevard Mall owner Douglas Jemal, warning it could be the death knell for shopping centers already struggling with declining sales and departing tenants.
With so many people traveling malls' enclosed corridors each day – and breathing its recirculated air – it is too risky for malls to reopen without high-efficiency filters to rid the air of the virus, Gov. Andrew M. Cuomo said Monday.
But as large retailers such as Walmart operate without the filtration overhaul, malls are left wondering why they're being singled out.
"Big box stores have been open through the entire PAUSE with the same filtration system as us. They, by far, see more shopper visits per year than Eastern Hills," said Russ Fulton, general manager at the Eastern Hills Mall.
At the same time, heating and cooling professionals say switching to new filters is a much bigger job than it seems, and that there are simpler, less expensive ways to clean the air safely.
It could cost as much as $750,000 to retrofit a mall the size of Walden Galleria, which could have as many as 15 HVAC units, each the size of a tractor trailer. The upgrades may be out of reach for struggling malls such as McKinley, and could be impractical for those such as Eastern Hills and Boulevard, which have major redevelopment projects on the horizon.
Jemal, a Washington, D.C.-based developer, bought Amherst's Boulevard Mall last year with plans to redevelop it into a small, walkable community on the 63-acre site, incorporating apartments, retail and recreational space.
He said Cuomo's proposal will likely spell the end for many shopping centers.
"It's going to put the nail in the coffin for every mall," Jemal said Tuesday.
Although it's expected to take 10 years to complete, Jemal's plans to redevelop the site at Niagara Falls Boulevard and Maple Road would make it impractical to invest such a huge amount of money in the current mall's HVAC system, he said.
He also questioned the need for it, calling the requirement another "knee-jerk" government reaction to the coronavirus pandemic.
"Why pick on the mall?" he said. "Why not purify every bus? Every plane? Every house? Every office building? Where does it stop? It's ridiculous."
Cuomo has said it's too risky to reopen enclosed malls without upgrading their air filtration systems because the mall environment encourages large groups of people to gather and linger in common areas. Cuomo said Monday that the state recommends all businesses and offices "explore the potential for their air conditioning air filtration system."
"We have been looking at this issue because we look around the country and you're seeing malls, you're seeing air conditioning systems, indoor spaces that have been problematic. And we think this offers promise," the governor said.
Infectious disease experts at Harvard University said air conditioning could be furthering the spread of coronavirus throughout the Southern United States as more people move indoors out of the heat and breathe recirculated air.
Richard Carrow, a filtration expert at John W. Danforth Co., a commercial heating, ventilation and air conditioning company in Tonawanda, knows HVAC is a confusing topic. But he hopes the governor is open to input from the HVAC industry before handing down a HEPA filter mandate to shopping malls. He wants the state to know that it's a much bigger job than it sounds, and that there are simpler, less expensive remedies that are just as effective at ridding the air of coronavirus or the droplets coronavirus clings to.
"It's more complex than putting another filter in there," Carrow said.
Making malls' HVAC systems compatible with HEPA filters requires things such as on-site surveys, in-depth engineering work, maybe stronger fans and new motors to pull enough air through the thicker filters.
"It's not a one-size-fits-all solution. You can't just put HEPA filters into anything," Carrow said. "You need to work with the equipment you have and how much airflow capacity it has."
For malls willing and able to tackle the mandate, the price tag is just the first obstacle. The summer construction season is HVAC companies' busiest time of year. With businesses across the country and around the world already beginning to upgrade their ventilation systems, malls will be competing with them for the manpower, materials and expertise to get the job done.
Other problems could delay the upgrades by months. Many parts are already on back order, and the material used in the filters is of the same scarce variety as that used in masks and gowns for health care workers.
In the meantime, mall tenants suffer.
Larry Silver's the Book Outlet would have reopened four weeks ago except for one thing: it's located inside the Boulevard Mall.
"For me it's very difficult. I have no money coming in and there's nothing I can do about it," he said.
The mall has done everything it can, but the stores inside are "at the mercy of the government," he said.
"Hopefully they're doing what's right for the country, what's right for the population," he added.
For the health of mall-goers and the sake of business owners such as Silver, Carrow and others in the HVAC industry encourage the state to consider a phased approach they say would allow malls to reopen with short-term solutions while they work on longer-term ones. They also urge the governor to look at alternatives to HEPA filters they say could be more easily or less expensively implemented, but that would be just as effective toward fighting coronavirus.
Those options include portable HEPA air purifiers plugged into tenant spaces, bipolar ionization systems that use positive and negative oxygen ions to neutralize particles, and solutions involving ultraviolet light.
"There are a number of different solutions I think that would be more reasonable to expect," Carrow said.