Last month's Amherst Planning Board meeting began at 6:30 p.m. and didn't end until 11:50 p.m., after hours of debate over several contentious developments in the town.
Twenty-nine residents criticized a proposal by Benderson Development Co. to tear down two buildings along a block of Main Street, in Snyder, and construct a mixed-use replacement.
Seven people criticized a plan by Cimato Enterprises to build, over several phases, housing and commercial space on part of a 67-acre site along Millersport Highway at Smith Road.
And nine neighbors blasted a proposed patio-home subdivision on a narrow strip off Klein Road near the Great Baehre Swamp.
The five-hour-plus meeting is the latest sign that – after years of go-go development – housing and other proposals in Amherst are now running into fierce, well-organized opposition from some neighbors.
The News' Buffalo Next team covers the changing Buffalo Niagara economy. Get the news in your inbox 5 days a week.
"All of the people who are frustrated in Amherst are starting to coordinate and we're talking to each other," said Jonathan Rich, who is fighting the Cimato project. "There's a lot of overlap in what we're seeing."
And that coordination is also easier today. "To a certain degree, it's easier to be organized now, because of technology," said Sean Hopkins, an attorney who frequently represents developers on projects in Amherst and other suburbs. In the late 1990s, he said, fewer people had access to email. "I think that's a huge part of it."
But there's another big factor: For many years, Amherst's leaders promoted a growing tax base, seeking to attract more residents and businesses, and encouraging investment in new housing and commercial space. That created sprawl but usually didn't face heavy resistance.
Now, though, the southern and central parts of the town have become so developed there isn't as much land readily available for new construction. So most of these recent projects are filling in tight gaps between existing buildings in well-established neighborhoods, and butting up against uneasy residents.
"Encouraging infill development makes perfect sense. But from the perspective of neighborhood opposition, it's going to trigger more," Hopkins said.
A frequent source of tension concerns residents' expectation that their strenuous opposition – coming from voters and taxpayers – should weigh heavily against the projects. Residents say they don't seek to ban all development but, instead, they want it sized appropriately for the surrounding neighborhood. And they demand that town leaders listen.
"We wanted the town to realize, look, at some point, when is enough, enough? I know it's so cliché to say but it seems like, literally, every day you drive there's some sort of new building going on," said Brian Koziol, a Kingswaye Drive resident who, with his wife, Christine, objects to a patio-home subdivision planned behind their home.
They cite petitions with scores of signatures, or surveys showing significant opposition to proposals. For example, according to a town survey cited by critics, 71% of residents are concerned about the loss of agricultural land – up from 42% in a survey more than 20 years ago.
But that often clashes with the developers' state and even constitutional rights as property owners, within the confines of regulation under zoning and planning laws. And developers have demonstrated a willingness to go to court to enforce those rights – and win – if a governing body makes a decision not solidly grounded in law.
"I empathize with homeowners," said Elliott Lasky, a veteran builder and developer. "But the world doesn't stay stagnant forever."
Developers say they are meeting a need for additional housing in Erie County's most populous suburb, which grew by 6%, to 129,600 residents, over the past decade. Even more, they now cite Gov. Kathy Hochul's new "housing compact," which calls for municipalities statewide to increase their housing stock by 1% over the next three years. 
As busy as Amherst is, people still clamor to move to the town for its highly rated schools and proximity to the University at Buffalo North Campus, officials said.
Amherst Supervisor Brian J. Kulpa has received $13,000 in campaign donations from Benderson, Cimato and Bliss Construction – and their executives – which residents have noted. But he said the money doesn't sway his views.
"I would tell you I'm going to do what I think is best for land use in Amherst, period. It turns out that that is also good for the development community," said Kulpa, who noted development is often a political issue in Amherst and this is a local election year.
Here's a closer look at four new developments that have stirred up neighborhood opposition.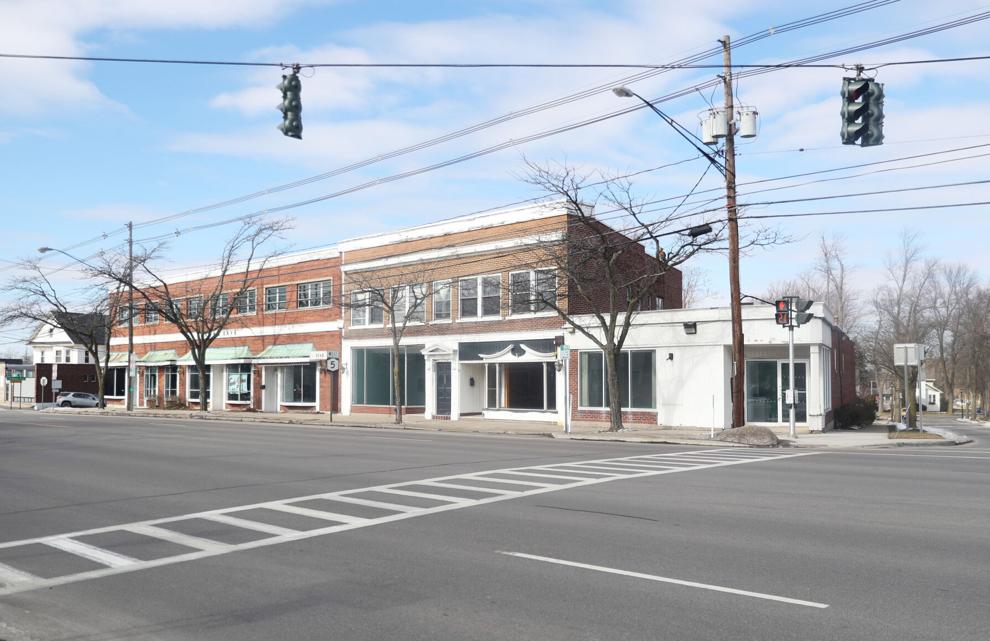 In Snyder, Benderson wants to demolish the two-story former Squire Shop complex on Main Street near Harlem Road, and an adjacent century-old house, to put up 48 apartments, ground-floor retail space and two levels of parking.
The proposed 65,000-square-foot building at 4548-4564 Main – which could include two restaurants – would be three stories tall along Main, but four stories in back. The ground slopes downward there along Chateau Terrace and Fruehauf Avenue, where the project generated its most fervent opposition.
"The process for commercial development in Amherst appears to be like the Wild West," said Cathy Skora of Fruehauf Avenue. "The rules are fuzzy and don't seem to matter much."
Neighbors say the height and scale of the project are excessive and would worsen an already-bad traffic and parking situation. Even more, they say their concerns and objections were ignored by Benderson and the town officials elected to represent them.
They say the Town Board significantly altered their Snyder neighborhood in May 2021, when it rezoned 35 properties along Main Street and intersecting streets to a new "traditional infill" designation that allows mixed-use projects.
Neighbors say they weren't aware of the 19-acre rezoning, done through a pandemic-era remote board meeting with only a few area residents in attendance. They say they also weren't aware Benderson could combine its four properties into one for a single large building – even though it could have done so for an even larger building under the prior zoning.
Now – after 20 residents spoke at the Town Board meeting on March 6 – they are upset to learn the board doesn't have a role in approving or denying the project, since Benderson's plan complies with the zoning.
"It's extremely frustrating that the Town Board has zero control over what is being built in the town once the code is passed," said Jessica Black, a neighbor and leading opponent. "That just seems absolutely ridiculous."
A Benderson executive declined to comment.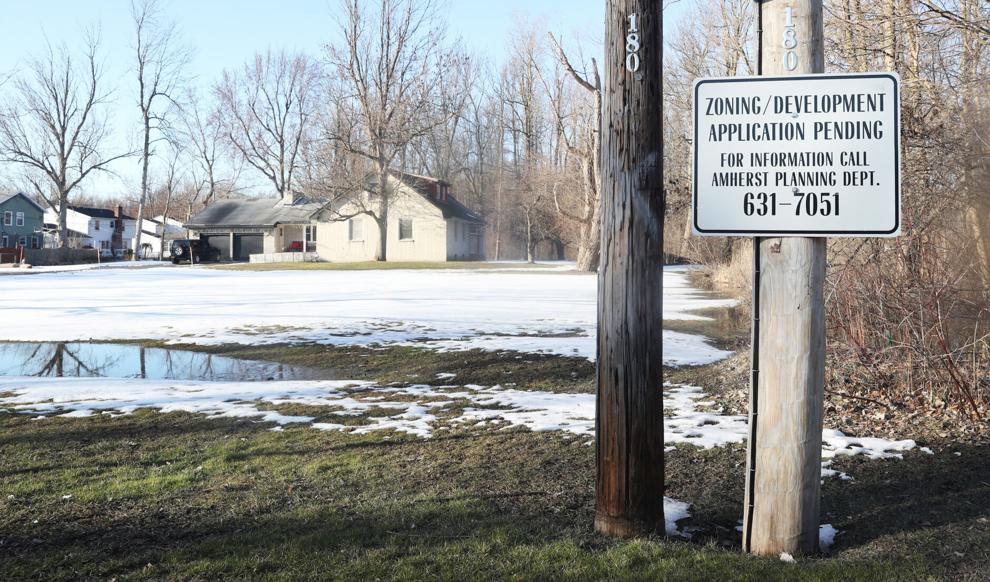 Regency Builders is working with 166 Klein Road owner Mohammad Qasaymeh on a plan to build 18 patio homes on a narrow, 5.4-acre piece of land largely covered by trees.
The site along a busy stretch of Klein is in between homes along Kingswaye Drive and Bentley Court, about halfway between Hopkins and Youngs roads.
The Koziols, who have lived on Kingswaye for 16 years, say they are aware the property is zoned for residential use. "I think what really triggered the anger from the residents around this area was kind of the boldness of the developer to push the envelope to do what he did with the small piece of property," Brian Koziol said.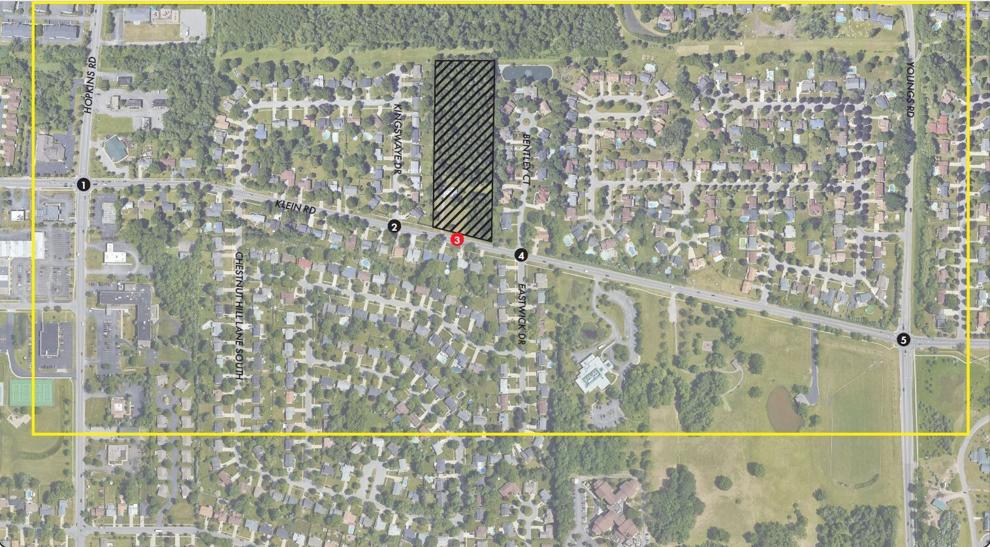 Lasky, a Regency Builders partner, said the development, which seeks condominium status, has a waiting list for patio homes expected to sell at prices from $575,000 to $900,000.
At the Feb. 16 Planning Board meeting, Christine Koziol gave the neighbors' main rebuttal, presenting photos that showed flooding after heavy rains. Residents also pointed out an eagle on the property, though Lasky said a wildlife specialist disputed the parcel was a nesting site.
It was pushing 11:30 p.m. when the Planning Board ruled the project wouldn't harm the environment. But then, members voted 5-2 to reject the project's preliminary plan, a detailed subdivision drawing.
"I think they were bowing to the pressures of the neighborhood," Lasky said.
This prompted town planners to warn board members they need to explicitly state why they rejected the map – and they must have valid reasons to do so. After an extended back and forth, the board reversed itself.
Christine Koziol had been pleasantly surprised by the initial vote – "We never win," she said – but the follow-up map approval left her reeling.
"It is getting harder and harder to recommend living here," she said.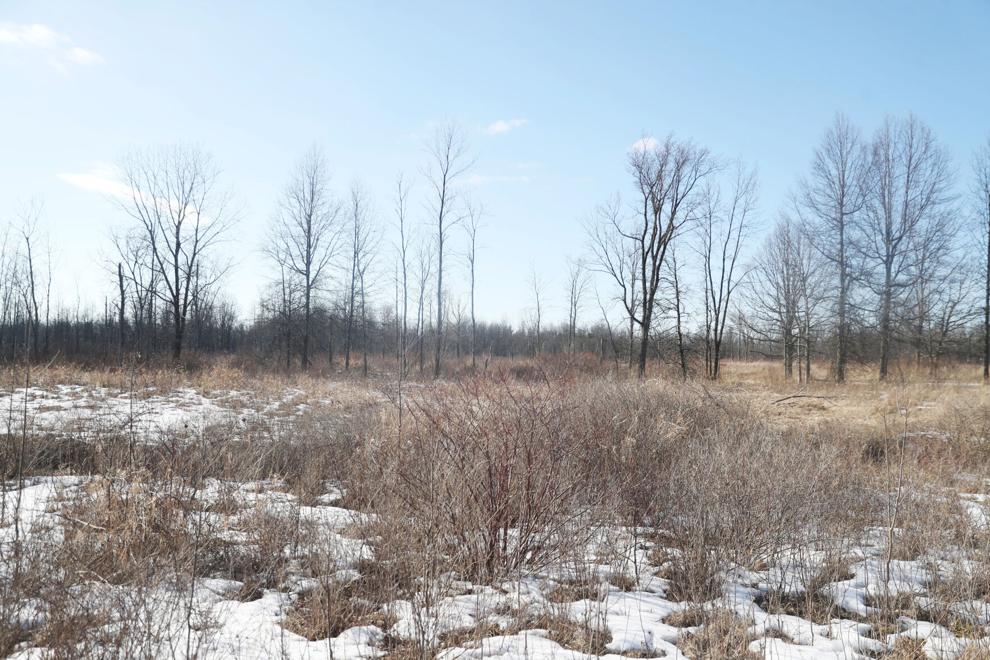 In North Amherst, Cimato Enterprises – an affiliate of Cimato Brothers Construction – wants to redevelop more than a third of the 67-acre site at 4300 Millersport to ultimately bring 122 residential units and 22,000 square feet of ground-floor retail and office space to the intersection of Millersport and Smith Road.
That's a site that had previously been targeted for a Walmart superstore 17 years ago but has sat unused since that project was defeated.
The first phase would include 38 patio homes, seven four-unit townhome buildings and six two-unit townhome buildings, with all units built for sale by another developer. A combined second and third phase would introduce a pair of three-story mixed use buildings totaling 66,000 square feet, with 44 apartments above the retail and office space.
That's a total of 139,390 square feet of residential space, plus 150 parking spaces, new roads, water and sewer lines.
Two groups of Amherst residents tried, unsuccessfully so far, to block the proposal, saying they opposed the loss of agricultural land and greenspace. They also cited concerns about traffic, pollution, noise, crime, density, drainage, sewer capacity and architectural resources.
They urged the project be scaled but, despite the community resistance, the project received approval from the town.
But the critics – including Rich – still hope to appeal to the state Department of Environmental Conservation, among others, to force changes.
"The developer with our project, I was able to have some good conversations with him, and his attorney, and I'm hoping we can find a compromise," Rich said of Cimato.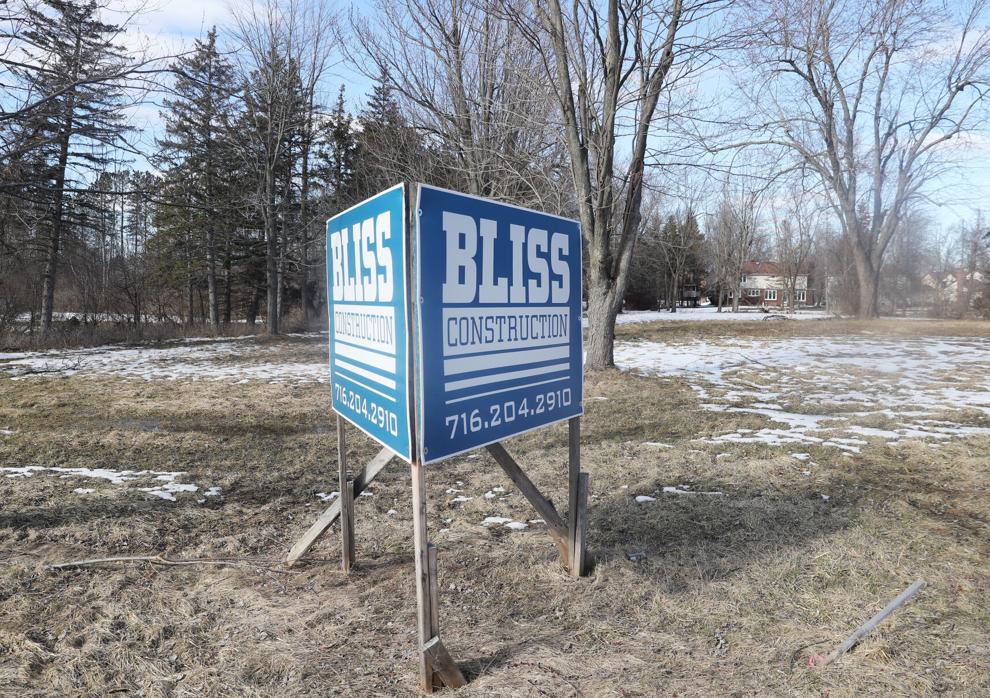 The $25 million development planned for three parcels on Maple Road between Youngs and Ayer roads also has proven divisive.
Developer Paul Bliss has proposed constructing two, four-story buildings holding 102 apartments, with a small retail operation on one building's ground floor, with two townhouse buildings elsewhere on the 5-acre site at 1720, 1740 and 1760 Maple.
Bliss said the apartments would appeal to Millard Fillmore Suburban Hospital workers. "We've come up with what we feel is a product that we can put there that will be positively received by the public," Bliss said.
Even at four stories, instead of the five stories allowed under current zoning, some neighbors object to dozens of new residents coming to a part of Amherst that has seen substantial development recently.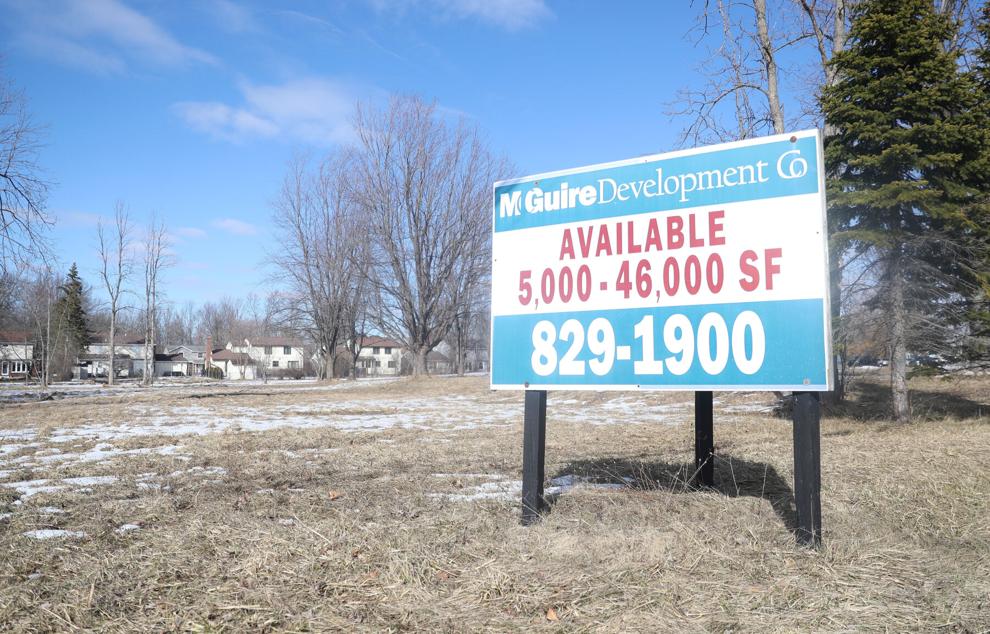 "If they wanted to take this land and do something that was a smaller scale, I think they would find a lot less resistance to that," said David Saia, a neighbor and leading project critic.
The Dec. 12 Town Board meeting got testy and one resident started to shout from the audience. When the town supervisor said he was out of order, the resident replied, "You're out of order," punctuated by an expletive.
The Planning Board had previously recommended the required rezoning and the Town Board last month approved the change. This left some neighbors feeling officials weren't listening.
"After this process it is very clear to me that they pay attention to the developers," Saia said.