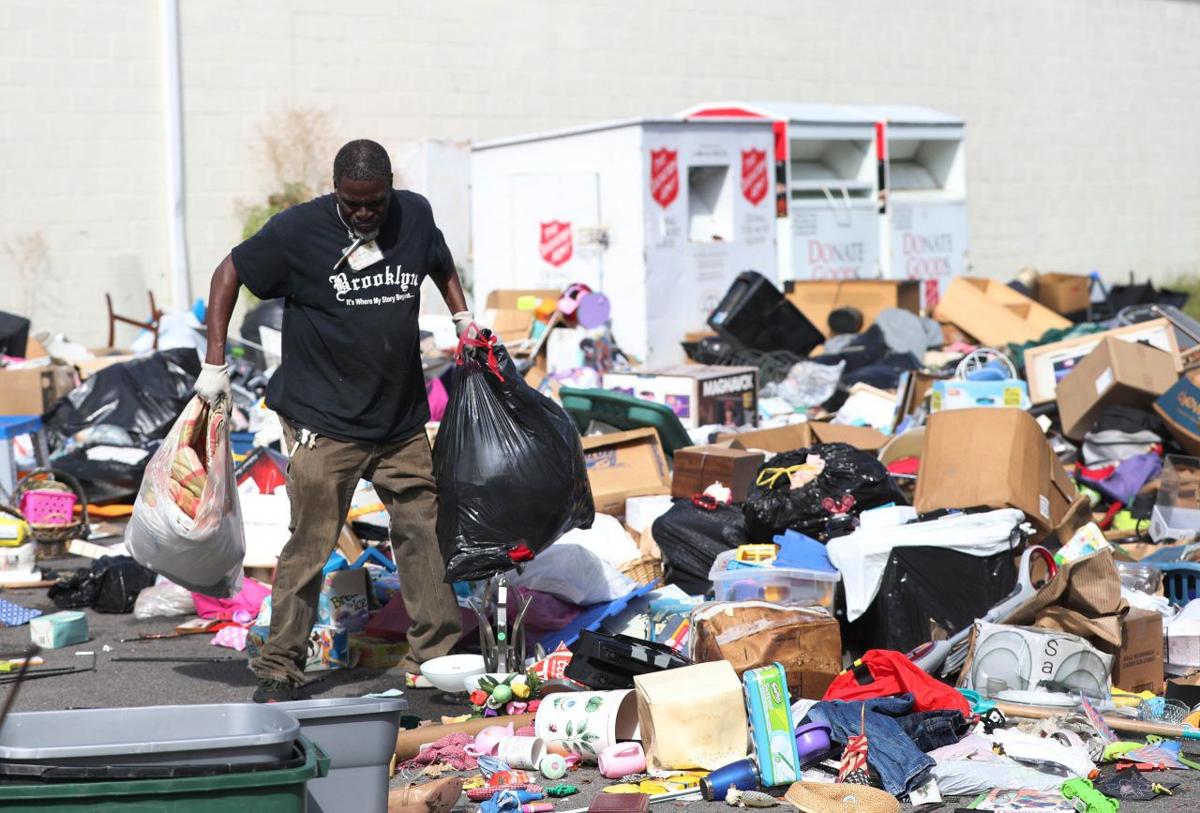 In the best of times, donation dumping outside its collection bins is a hardship for charities such as Salvation Army and Goodwill. Now, with their thrift stores closed and much of their workers idled, it's devastating.
Stuck at home due to the coronavirus outbreak, people are cleaning out closets, garages and basements, and leaving the castoffs outside of overflowing donation bins where there is no one to collect them.
That's despite clear labeling at donation sites warning consumers not to leave anything outside of the unattended bins if they are full.
"Leaving any object outside this store is called dumping," one sign reads at a Salvation Army thrift store in Niagara Falls. "Dumping is a crime. "
Clearly, the signs aren't working.
Boxes and bags of clothing, toys and household goods surround bins and donation centers throughout Western New York. They're piled against shuttered thrift shop storefronts, spill out of receptacles and litter parking lots. Unprotected from the elements, the donations – including books, furniture and electronics – have been destroyed in the rain.
Besides creating an eyesore, dumping creates a financial mess, too.
Charities are responsible for disposing of anything they receive that can't be resold or recycled.
Hearts for the Homeless uses clothing donations to stock its thrift store, which in turn funds its mobile food pantry and soup kitchen in Riverside. People in need can also "shop" the thrift store for free.
"Our garbage budget line would make you nauseous," said Nicholas Calandra, CEO of Hearts from the Homeless. "It's staggering, just paying to dispose of stuff, with resources we could use elsewhere."
It's a constant burden for charities, but one that has become almost unbearable since the shutdown.
Because the thrift store is closed, there is no money coming in to finance operations. Since the companies that usually lend support are also struggling, funding has dried up. Calandra has been forced to lay off some crew members, but still needs to keep up with the charity's donation bins enough to keep them from being a health hazard, he said.
"This is different from the economic downturn. At least then we could have the thrift store open as a generator of proceeds for the outreach," Calandra said. "And it's not like something where you can just turn off the spigot."
But donors can turn off the spigot, and charities are urging them to.