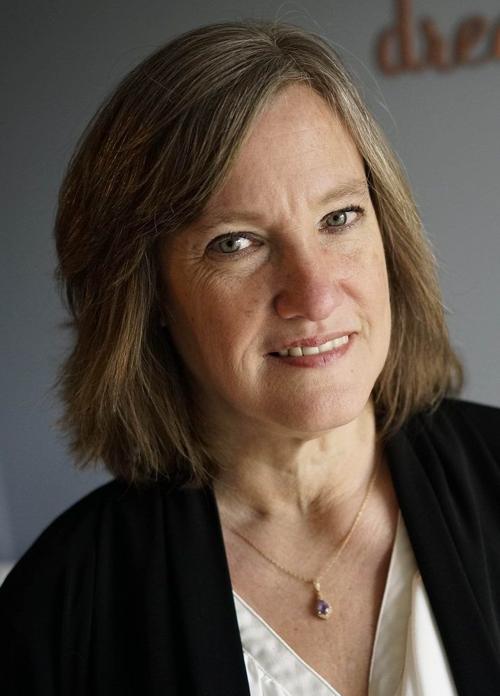 Her husband, Tim Colvin, has been gone for more than seven years now, after his death from late-stage gallbladder cancer at age 48.
Their son, David, is 15, and has discovered his father's passion for hockey.
And Thiel is walking her father through the latter stages of Parkinson's disease.
All continue to teach the West Seneca mental health counselor lessons about health, love and precious moments as she makes her way.
What is her perspective five years after she was featured in the first In the Field story in Refresh?
"I don't know if you would call it a philosophy," she said last week, "but I'm a glass half-full and half-empty person. I think power and transformation come when you're ready to look at the empty fully, and find the full.
"I think ignoring the reality of whatever is, isn't helpful. Being Suzy Sunshine all the time doesn't work. There's a paradox in life. It's wonderful and it's hard. That definitely came from Tim and what our family experienced together, fighting for life, accepting death. You have to do things in life that are contradictory. If you're willing to do that, it can have a profound effect."
Thiel, 51, a Lockport native, graduated from Moody Bible Institute and Wheaton College in Chicago before returning to Western New York in 1995, after a six-year marriage ended in divorce. Her son is now a freshman at West Seneca East High School, gets good grades and plays junior varsity hockey. They live with one of Thiel's three stepchildren, Tim Colvin Jr., who's helped raise his half-brother.
In five years, the décor in her counseling office has changed some. The "Wizard of Oz" memorabilia remains on the walls, but she's added a doll house to help some of her clients express what it was like growing up, and how they live now. A chalk tray – inscribed with the words, "When prayers go up, blessings come down" – sits on the coffee table in front of the couch.
Thiel has become primary patient advocate for her father, David, almost 86, a General Motors retiree. Her mother, Vera, died of colon cancer a decade ago, at age 72.
Q: How are you and your father?
A: His affairs are in order. He is not in the active stages of dying but he has made a decision in sound mind not to do any more active treatments. There's no point in running blood tests to see how he's doing because we're not going to do anything with his results. We cut his medications in half and he has improved tremendously in the past month and a half…
We have had to become very educated. There are so many illnesses and symptoms that we didn't know were Parkinson's-related. I thought it was a tremor disease but I didn't know it also wreaks havoc on your internal organs. He has had trouble swallowing for years and no one told us that was because he has Parkinson's. He's had problems with his bladder for years. We didn't know that was because of Parkinson's. Part of why he was in the hospital recently is that he was having problems with his blood pressure spiking and dropping, and no one told us that was related to Parkinson's. Even his dermatologist said the itching in his skin is Parkinson's. I've learned to ask now.
I'm at a crossroads. Along with counseling, I would really like to be able to help people with end-of-life planning. The focus since Tim's death has been on trying to help people – both patients and medical professionals – start talking about death from birth on, to have it not be such a taboo topic, so that people can have a much more meaningful life until the point of death.
Q: How has your grief of the loss of Tim changed over time?
A: The acute feeling you have lessens but it never leaves you. You learn to walk with it. I'm still a single parent and you still have to struggle to figure out how to make everything work. … Tim talked to me about moving on and he, in some ways, knew me better than I knew myself. He said, "You don't like to be alone." I've written a lot on my blog (helpforhealing.wordpress.com) about dating. It's the same kind of dating as it always was, in high school, as a divorced person. Dating is not for sissies, just like parenting is not for sissies.
Q: What do you think Tim would say to you today about your life and how things have gone?
A: I would like to think that from the perspective that he has now, whatever plane he's on, that he would probably tell me to not worry so much, that David's going to be fine.
Q: Does having Tim Jr. at the house take off any of the worry?
A: I can't imagine our lives without him. It's not a traditional family unit but he, in many ways, has been the hands-on person with David so I can pay the bills. I can't imagine what we would have done otherwise.
Q: Talk about the makeup of your counseling practice. 
A: My specialty has always been a couples' counselor. I'm a big believer in life experiences. Having been divorced, having been widowed, having been a step-parent, all of those things help me understand what people are going through in a much different way had I not experienced those things - but I definitely get more grief referrals than I used to.  It's probably 70 percent couples and relationship issues and 30 or so grief and loss.
Q: What are some of the things you hear the most when you talk with others about grief?
A: Depending at what point they come in – and this isn't just in my counseling practice, this is when I'm speaking or lecturing – I cannot tell you how many people have said to me, "I think I'm having a nervous breakdown." I say to them, "You're probably not." I've reassured a lot of people that what they're going through is normal under grieving circumstances. When you get triggered by seeing a car that reminds you of your loved one, and you find yourself crying, you think, "My God, what's wrong with me?" Nothing. It's OK.
Q: What do you wish more people understood about grief and loss?
A: That it's healthy. There's no way around it but through it. Avoiding it is usually not the most helpful way to deal with it.
Q: How do people do it, especially those who have really struggled? Are there common elements?
A: Most of them think they're not doing a good job. It's my job to tell them, "No, you are being very strong." Your kids need to see you grieve so that they're OK with grieving. When I'm talking to caregivers, I tell them that one piece of advice I can give you, and it's going to sound really strange, is "The best thing you can do to help your loved one is to accept that they're going to die. Maybe not now, maybe not from whatever disease they currently have. It may not be for 20 years, but eventually their mortality will be there, just like yours and mine." If you can grasp that, it's the most helpful thing you can do for someone.
Twitter: @BNrefresh, @ScottBScanlon