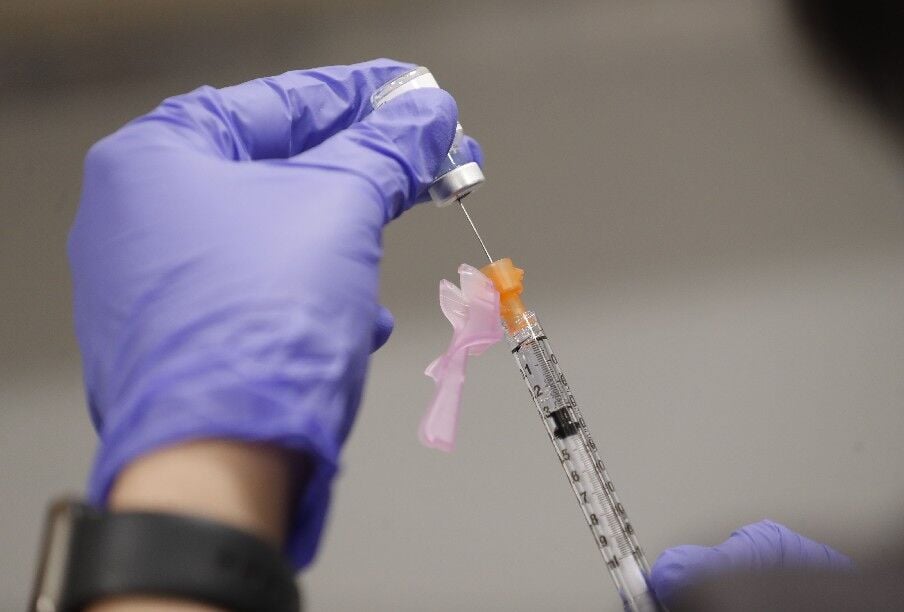 The health care staffing crunch is about to get worse in Western New York and across the state.
Thousands of health care workers who were previously granted religious exemptions to the state's Covid-19 vaccine mandate are losing those exceptions following a court ruling late last month, the state Health Department said.
Starting Monday, workers who had a religious exemption must have documentation of either a first dose of vaccination or a valid medical exemption if they want to keep their jobs.
As of Friday, 10,985 health care workers across the state had religious exemptions, which is 1.1% of the state's total health care workforce, according to figures provided Monday by the state Health Department.
That includes 3,162 workers across a 17-county region that stretches from Western New York to Rochester, through the Finger Lakes to the Southern Tier, state figures show.
Those workers now face the same decision their colleagues did in late September: Get vaccinated or lose their jobs.
The tipping point came after a federal appellate court in late October sided with Gov. Kathy Hochul's administration and stayed a lower court's ruling that temporarily allowed health care workers to claim a religious exemption to get around a requirement that they must have a Covid-19 vaccine.
Now, enforcement is beginning and health care employers – and employees – are weighing their options. It all threatens to exacerbate staffing issues that have plagued health care settings throughout the pandemic.
"Kaleida Health is concerned about any changes which can impact our strained workforce. Our first priority is getting our staff vaccinated," said Dr. Michael Mineo, chief medical officer at Buffalo General Medical Center, Millard Fillmore Suburban Hospital and DeGraff Medical Park.
"Our leadership teams are assessing areas that can be short staffed as the result of this regulatory requirement and are developing contingency plans," he said, noting those options include more overtime, new hires and using costly traveling staff.
Health care employment across the country is down by 524,000 since February 2020, with nursing and residential care facilities making up about 80% of the loss, according to the U.S. Bureau of Labor Statistics. 
Erie County Medical Center Corp. has 147 employees – 127 at the hospital; 20 at Terrace View Long-Term Care facility – who requested a religious exemption, spokesperson Peter Cutler said. That is about 4% of total payroll.
Those employees are scheduled to be terminated Dec. 4, giving ECMC a couple weeks to prepare, Cutler said.
At Kaleida Health, 190 employees and medical staff members are currently working with a religious exemption, Mineo said.
Kaleida managers and site leaders are "performing a good faith inquiry" into whether each employee with a religious exemption can work fully remotely. If remote work is not an option, Mineo said the employee can choose to request a medical exemption or get vaccinated to continue working at Kaleida. 
If they decide to get vaccinated, Mineo said employees will need to get their first dose of the Pfizer or Moderna vaccine or a one-dose Johnson & Johnson vaccine by Dec. 5. For Pfizer and Moderna vaccines, the employee would have to get their second dose by Jan. 4 to keep working at Kaleida. 
In a statement Monday, Catholic Health System did not provide the number of unvaccinated employees working with a religious exemption but said it was complying with the mandate.
"We are in the process of making final determinations on accommodation requests based on religious beliefs," Catholic Health said. "We remain committed to maintaining safe staffing levels for our patients, especially during the recent spike of Covid-19 infections in our community, and expect to be in compliance with state and federal vaccine mandates by Dec. 4."
New York's vaccine mandate for health care workers, which applies to hospitals, nursing homes, diagnostic and treatment centers and adult day health care programs, among others, required personnel to get their first Covid-19 vaccination dose by Sept. 27 unless they had a medical exemption.
The regulation provided no religious exemptions, though it noted health care employers could follow federal, state and local guidance, on a case-by-case basis, "to provide reasonable accommodations for personnel, who, because of sincerely held religious beliefs, do not get vaccinated."
A preliminary injunction issued by U.S. District Court Judge David Hurd in Utica barred the state from enforcing the mandate on workers who claimed a religious exemption. That ruling was overturned by the Second Circuit Court of Appeals on Oct. 29.
Even before a decision loomed for those with religious exemptions, hundreds of health care workers in the region opted to lose their jobs rather than get vaccinated. It was a relatively small percentage of the overall workforce, but every little bit hurts amid a health care staffing crunch.
When the state's vaccination mandate for health care workers became effective Sept. 27, some Western New York hospitals opted to place unvaccinated workers on a 30-day unpaid leave. With that period now expired, just how many unvaccinated workers lost their jobs? 
For instance, 100 Kaleida employees lost their jobs shortly after the mandate went into effect in late September, as did 60 workers at Niagara Falls Memorial Medical Center and Schoellkopf Health Center. Catholic Health, meanwhile, previously terminated 26 people over the mandate, while Roswell Park Comprehensive Cancer Center let go of 25 unvaccinated workers. On Oct. 28, Erie County Medical Center terminated 25 employees, along with 17 at Terrace View.
Niagara Falls Memorial, meanwhile, said religious exemption requests from staff members were evaluated under the legal framework of federal and state statutes, Alexander Collichio, the medical center's vice president of human resources, said in a statement.
"We currently do not employ any staff that are unvaccinated and working under a religious exemption," Collichio said.
According to state figures for the 17-county region that includes Western New York, 2,120 hospital workers have religious exemptions, equal to two-thirds of the health care employees working under that exemption. Nursing homes are the next highest, with 528 workers with a decision to make about getting vaccinated.