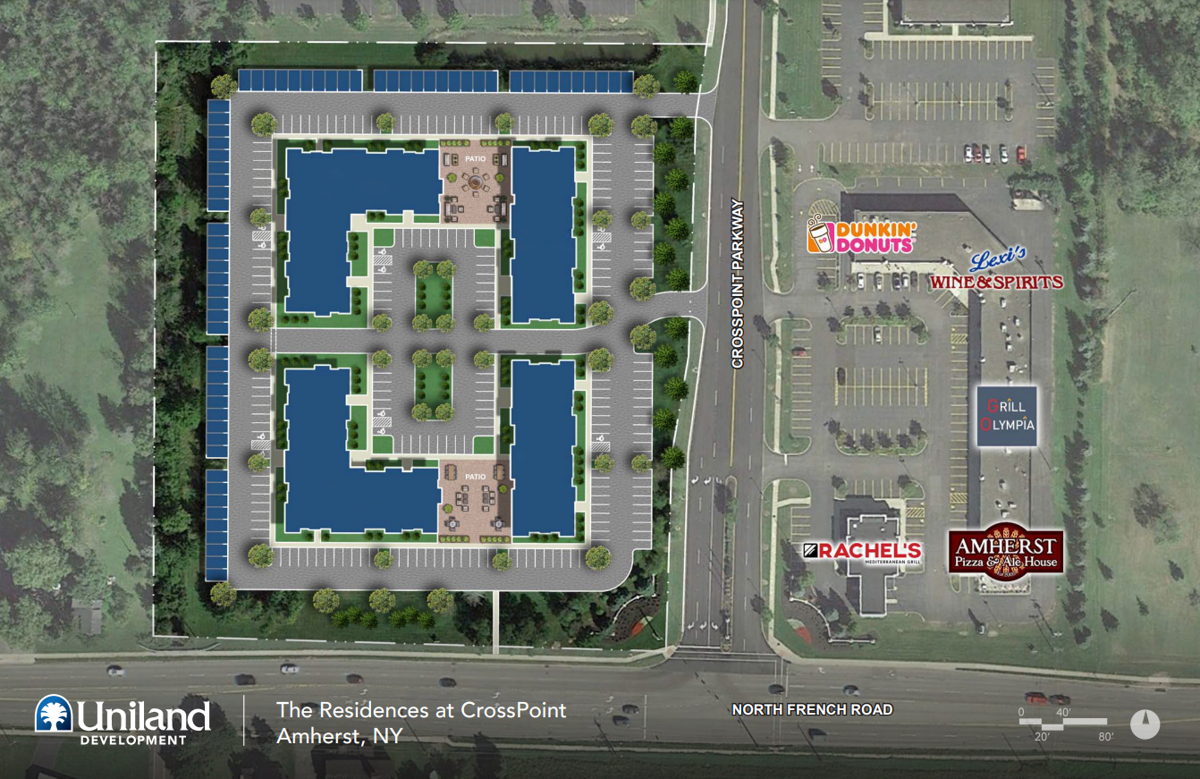 The developer behind the region's largest office park – CrossPoint Business Park in Amherst – plans to add 200 apartments to the complex at a time when demand for office space has lagged.
Uniland Development Co. on Friday will announce plans for the $45 million apartment complex at the front entrance to CrossPoint, branching far afield from the large office buildings that have dominated the Amherst business park.
Citigroup has completed its  purchase of one of its two office buildings at the CrossPoint Business Park in Getzville, cementing its presence in Western New York with a $52.8 million investment. The New York City-based banking company – the nation's third-largest – acquired 580 and 562 CrossPoint Parkway from affiliates of Uniland Development Co. The deal – which was
The Amherst-based developer is proposing to create a 230,000-square-foot residential project at the corner of North French Road and CrossPoint Parkway, with four buildings arranged in a square.
More than 15 tenants and building owners currently occupy most of the park, including Geico Corp., Citigroup, Columbus McKinnon Corp., Fidelis Care, NCO Financial and ATTO Technology, as well as mega-church The Chapel. More than 9,000 employees already work onsite.
But there's been little new construction activity in the park in recent years, aside from Columbus McKinnon's new headquarters. Office demand in the region has been slack for years, and especially in the suburbs, as many employers and their workers have expressed a strong desire to be in or near downtown Buffalo.
A $4.5 million project that promises to create 70 jobs at Fidelis Care's large Getzville data center will receive $245,220 in tax breaks from the Amherst Industrial Development Agency. The agency's board of directors voted 5-1 Friday to provide $213,520 in sales tax breaks, $18,000 in mortgage recording tax breaks and $13,700 in property tax breaks, IDA records show.
The situation has only worsened during the Covid-19 pandemic, as many companies are either still remote or adopted hybrid work schedules. 
The park currently has more than 42.5 acres of land available for development, in eight different parcels – one at either end and a cluster in the center. Uniland is taking up 7.5 acres of one of the sites – at 250 CrossPoint Parkway – for the residential project, leaving 35 acres still available.
"This location is already amenity-rich," Uniland spokesman Ryan Weisz said. "By adding a residential complex, it adds another dimension to an already thriving location."
Amherst Town Supervisor Brian Kulpa praised Uniland's past success, but said he was "excited" about the new concept.
"These office parks need to diversify. There's a lot of land holdings, but the office market post-Covid is still a little wobbly in terms of its future," said Kulpa, who said Uniland approached him about the concept two months ago. "Single-use occupancies aren't sustainable in the long-term."
Uniland Development Co. plans to build a 6-acre parking lot with about 600 spaces at its CrossPoint Business Park in Getzville to provide additional parking for employees at Fidelis Care. The Queens-based health insurance provider had more than 1,100 employees here as of 2017. The company occupies two buildings in the business park, 480 and 490 CrossPoint Parkway, and
He described the business park as "a little dead when you drive in," contrasting it with Ciminelli Real Estate Corp.'s Centerpointe Park on Essjay Road.
"It needs some vitality, and I think this is a great way to do that," Kulpa said. "It puts a new front door on that office park."
The Residences at CrossPoint would be located next to the main access into the business park, and across the parkway from a retail plaza that currently includes Amherst Pizza & Ale House, Dunkin' Donuts and Rachel's Mediterranean Grill, among other businesses.
That would provide a convenient home for residents who work at one of the park's employers, or easy access to Millersport Highway or the I-990 highway further east along North French.
"This is a prime residential location based on its walkability, park-like qualities and ease of access to local restaurants, businesses and nearby greenspace," Uniland CEO Michael J. Montante said.
The health insurer Fidelis Care would add 70 jobs at its Getzville data center if the project receives tax breaks from the Amherst Industrial Development Agency. Fidelis Care, now part of Centene Corp., has 1,420 employees in 480 and 490 CrossPoint Parkway at Uniland Development Co.'s CrossPoint Business Park. Uniland recently filed plans to build a 6-acre parking lot
According to the site plan and Uniland officials, the two rectangular buildings and two L-shaped buildings in the complex would feature a mix of 60% two-bedroom apartments and 40% one-bedroom units, all at market-rate rents.
Plans also call for amenities like a fitness area, electric vehicle charging stations, a dog park, a community center and two large outdoor patios or recreational spaces with grills and fire-pits. It would have 65 covered garage parking spaces and about 250 surface spaces.
"There is strong market demand for multifamily residential housing in our region,"  said Kellena Kane, Uniland's director of development.
The new development marks a radical shift by Uniland at CrossPoint, which is the largest office park in the region, with nearly 210 acres of shovel-ready land, and multiple large office buildings already constructed.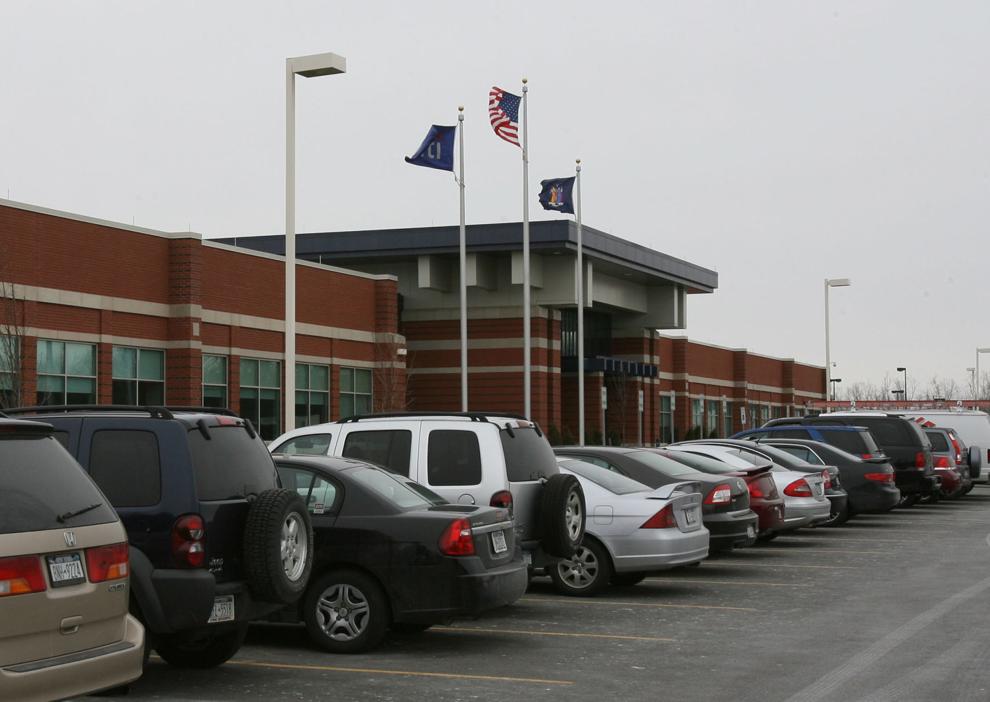 Weisz said Uniland's decision is "really about capturing the opportunity which exists in the market now - and that's the strong residential demand at a location people want to be."
But he also acknowledged that the market is challenging for commercial space. "Certainly, demand for new office construction is lower right now, but that's only temporary," he said. "As office demand rebounds, having on-site residential housing will raise the attractiveness of CrossPoint."
Formal plans will be submitted to the town in early 2022 for municipal approval. Construction is expected to begin in the second half of 2022, with completion and opening in 2023.
This isn't Uniland's first residential go-around. The developer previously built and operates The Glen at Sheridan Meadows - at the corner of Sheridan Drive and Transit Road in Amherst - as well as The Glen at Perinton Hills outside Rochester. And it's building townhouses at Gates Circle.
"The demand for multifamily residential housing in our region is undeniable. We don't see that changing anytime soon," Weisz said.