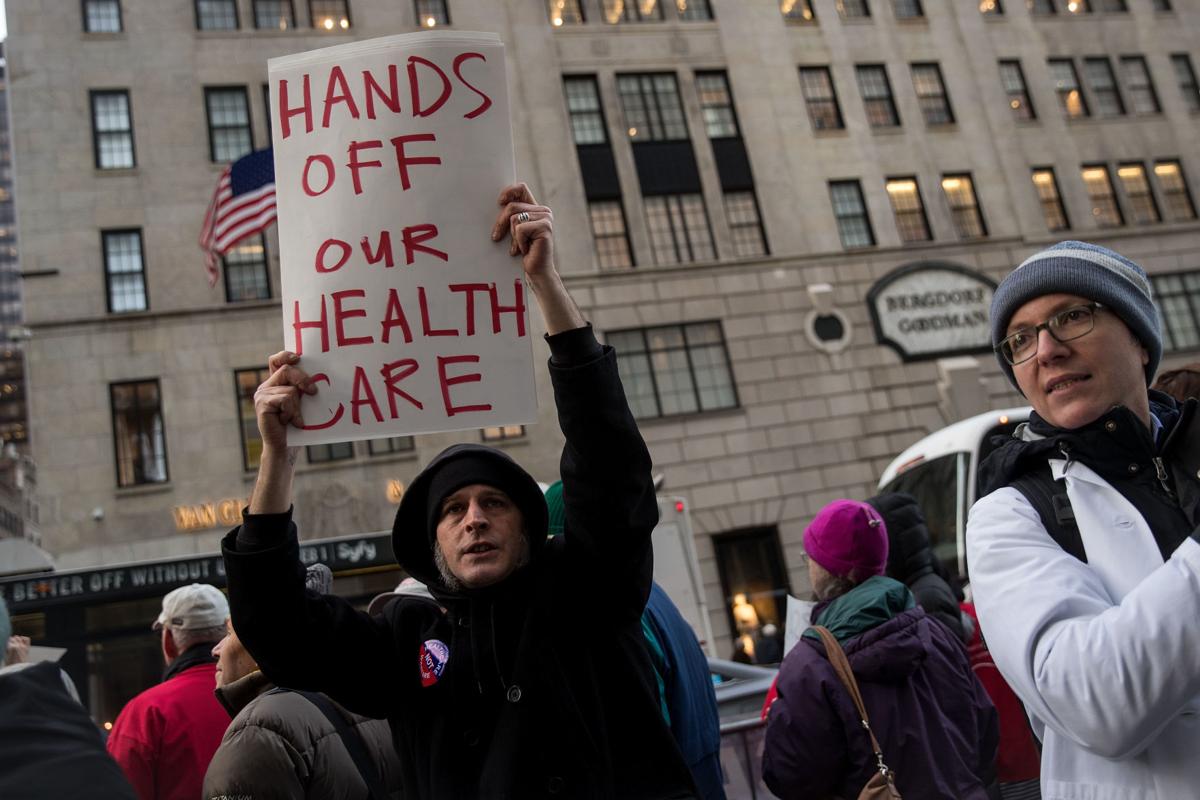 An average of 2,000 people a day signed up for the state's health insurance exchange over the past month, as the inauguration of President Trump – an Obamacare critic promising big changes – approached.
Industry experts say the increase is driven by high demand for two programs serving low-income residents and workers, but also that people are signing up for insurance while it still is available to help them.
New Yorkers can be reasonably confident, observers said, that any actions Republicans take against the Affordable Care Act won't affect their coverage this year.
But next year is a different matter, they said, and concern about the future likely is boosting enrollment.
"With uncertainty looming over Obamacare, New Yorkers are seizing the chance to gain affordable and comprehensive health insurance while it is secure," said David Sandman, president and CEO of the New York State Health Foundation.
The state Health Department said Friday that enrollment in the NY State of Health exchange rose by 52,000 between Dec. 24, the date of its last sign-up snapshot, and Thursday, when enrollment statewide reached 3.5 million.
The overall 24.4 percent increase from the end of the 2016 open enrollment period 12 months ago includes a 21.4 percent increase in Western New York as of Dec. 24.
"This steady increase in enrollment shows how much New Yorkers want and need the health insurance coverage offered by the marketplace," Donna Frescatore, the exchange's executive director, said in a prepared statement.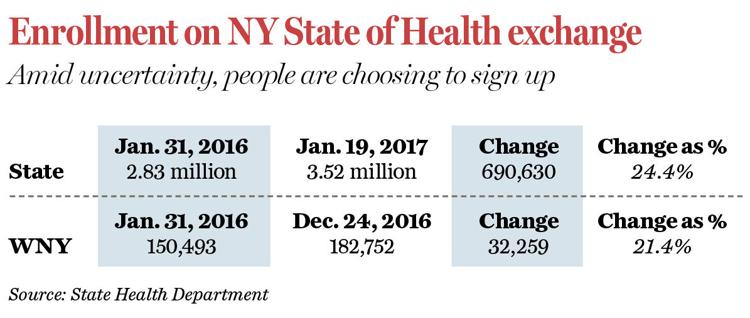 Eighty-five percent of people enrolled in coverage through New York's exchange are signed up for either Medicaid or the Essential Plan, a new, low-cost plan for people who earn slightly too much to qualify for Medicaid. Enrollment in private insurance, known as qualified health plans, fell between January 2016 and December before ticking up this month.
The 2017 open enrollment period ends Jan. 31, and experts encourage people to sign up for insurance through the Affordable Care Act while it's still offered.
"Jump in the pool," said John Bartimole, president of the Western New York Healthcare Association, which represents the region's hospitals. "Why would you not have coverage?"
The state released its latest update by email at 11:37 a.m. Friday, about 20 minutes before Trump took the oath of office as the nation's 45th president.
The statement didn't name Trump, but the new president looms large over the health care landscape.
Trump and Republicans in Congress have vowed to repeal the Affordable Care Act, which, among other provisions, established a network of insurance exchanges to bring coverage to people who don't receive insurance through an employer or Medicare.
One of the new president's first official actions was to sign an executive order directing federal agencies to take every step possible to minimize the financial burdens imposed by the health care law. That order is subject to interpretation, experts said.
"We're going to have a health care that is far less expensive and far better," Trump said at his Jan. 11 news conference.
The question is when and how they will do this, and what will replace the health care law. Republicans have offered few details.
And that leaves uncertainty, the Health Foundation's Sandman said.
"The joke is there's three phrases," he said. "First it was 'repeal and replace.' Then it became 'repeal and delay.' Now it's being called 'repeal and chaos.' "
Republicans also are split on how quickly they want the repeal to take effect. Hard-liners say six months, while others want two or three years, because they don't want people enrolled through the exchanges to lose their coverage.
"I doubt anybody wants to weather the maelstrom of costing 20 million people their health insurance," said Dr. Nancy H. Nielsen, senior associate dean for health policy at the University at Buffalo School of Medicine and Biomedical Sciences.
In New York, worry about the future of the act likely is pushing up enrollment on the exchange today, experts said. The 2017 open enrollment period began Nov. 1, one week before Trump's unexpected Election Day victory.
That marked an increase of 33 percent over the previous year, driven by people flocking to Medicaid and to the first year of the Essential Plan, officials said.
New York had a high number of people who, prior to the start of the exchange in fall 2013, were eligible for Medicaid but not enrolled, Sandman said. The act had a "welcome-mat effect" and drew them in to enroll, he said.
By Thursday, enrollment had risen to more than 3.5 million.
The private health plans have slipped to just 6.5 percent of enrollment statewide. That's a concern for the stability of the exchange, said Leslie Moran, senior vice president of the New York Health Plan Association, which represents health insurance companies based in the state.
"The fewer people you have paying premiums, there's less room to spread the risk, if you will," she said.
As of Jan. 31, 2016, 150,493 people in Western New York were enrolled in coverage through the exchange, and 81 percent of them were enrolled in Medicaid or the Essential Plan.
By Dec. 24, the most recent date for which local data is available, enrollment in the region had risen by 21.4 percent to 182,752. Medicaid, Essential Plan and Child Health Plus enrollment all rose by at least 20 percent here, offsetting a 17 percent decline in enrollment in private health plans. The private insurance plans make up 7.6 percent of local exchange enrollment now.
Not everyone is impressed by the Health Department's latest enrollment figures. Bill Hammond is the director of health policy for the Empire Center for Public Policy, a conservative-leaning think tank in Albany.
In a blog post earlier this month, Hammond said the department gave a skewed view of enrollment in the programs because it only included enrollment completed through the NY State of Health exchange. People also can enroll in Medicaid and Child Health Plus outside of the exchange, Hammond noted.
Taking the programs' off-exchange sign-ups into account, enrollment in all four of the programs rose just 2 percent between January 2016 and December 2016 – not 24.4 percent.
"The latest enrollment numbers publicized by New York's Obamacare exchange paint an incomplete and misleading picture of what's really happening in the state's health insurance marketplace," Hammond wrote.
The 24.4 percent enrollment increase on the exchange is real, but this is just an snapshot and it's not the full picture for enrollment in the state, Moran agreed.
In New York, the Affordable Care Act helped reduce the uninsured rate from 10 percent in 2013 to 5 percent in 2015. "It's been an enormous success for New York," the Health Foundation's Sandman said.
Will unraveling it send the uninsured rate in the other direction? Experts say that question can't be answered in the short term.
"Come Saturday morning the 21st, everyone who is insured is still going to be insured," Bartimole, of the hospitals' group, said before the inauguration. "It's an evolution, not a revolution. It's going to take time."
The Buffalo News: Good Morning, Buffalo
The smart way to start your day. We sift through all the news to give you a concise, informative look at the top headlines and must-read stories every weekday.