One of the region's biggest medical practice groups is seeking more than $3.7 million in tax breaks for a proposed new $67.25 million medical complex project.
UBMD and Ciminelli Real Estate Corp. are planning to construct a 163,200-square-foot medical building with both one-story and two-story sections, using 15 acres of vacant land that the developer would acquire at 500 Maple Road and 111 North Maplemere Road.
The site is just east of the town's Northtown Center ice-skating complex, and southeast of Millersport Highway, near University at Buffalo's North Campus.
The health care facility would bring together medical providers from several practices as tenants, including UBMD Orthopaedics and Sports Medicine, UBMD General Surgery, a General Physician PC primary care office and a Great Lakes Medical Imaging and UBMD Radiology center. There will also be an ambulatory surgery center that will offer robotic surgery – making it unique in the area among similar facilities.
UBMD and Ciminelli are asking the Amherst Industrial Development Agency to approve sales and mortgage recording tax breaks, as well as a special 20-year partial property tax abatement that would for the first time use a customized payment-in-lieu-of-taxes agreement to support the new $11.99 million Amherst Central Park Infrastructure Fund.
Under the proposed agreement, the vast majority of the PILOT payments to the town and the Sweet Home Central School District would be redirected to that fund, but the county payments would not. In all, the developers would receive $355,781 in mortgage recording tax breaks, $2.21 million in sales tax breaks, and $1.146 million in property tax breaks.
The project is expected to create 26 full-time jobs and 13 part-time jobs, while retaining 136 full-time positions and nine part-time roles, with average full-time salaries of nearly $100,000.
It will not result in any operations moving from Buffalo, but UBMD Surgery would move from 1150 Youngs Road, Great Lakes Medical Imaging will relocate from 199 Park Club Lane, UBMD Orthopaedics would move from 4949 Harlem Road, and General Physician would consolidate four locations into one.
Medical projects are not typically eligible for tax breaks. But UBMD and Ciminelli said in their filing with the IDA that they need the assistance to offset expenses and make the project "economically feasible." Otherwise, they can't get $47.4 million in needed bank financing, the application said.
They noted that since they began planning the project construction costs have risen significantly because of the Covid-19 pandemic and supply-chain problems. And the site improvements requested by Amherst officials would benefit the town.
The project "will generate substantial annual tax revenues ... that would not be realized" otherwise, since the land is currently decommissioned athletic fields and greenspace, they said.
UBMD and Ciminelli said the project qualifies for tax breaks because "it will provide high quality medical services within a multitenant healthcare facility building that are not currently available," citing a market analysis report by Donald A. Griebner of Real Property Services.
That report concluded that it would "introduce leading edge medical technology to the region and will offer advanced research and educational programs."
The ambulatory surgery center will perform robotic hip and knee replacements, vascular procedures and complex abdominal surgeries that "are not provided by competitors," the report said.
The project will also include a "world-class" concussion practice offering treatment and training, as well as a unique Pediatric Sports Medicine practice, and the General Physician group has specialists in 17 fields.
The developers also cited training and education for future doctors in an outpatient setting, as well as the possibility of creating an adjacent "large scale athletic fieldhouse" for training, treatment and rehab for high school and college athletes.
The developers asserted that the proposed project should be eligible for tax breaks because it would "attract and retain higher paying employment and promote desired forms and locations of development and redevelopment," in accordance with the goals of the town's comprehensive plan. And they said it encourages collaboration among medical practices, the Northtown Center and the University at Buffalo. 
"The impact of the Project is a positive one on the community, as it will promote job opportunities, general prosperity and economic welfare for the residents of Erie County and the Town of Amherst," the applicants wrote.
The site would also include 816 parking spaces – 389 around the building and 427 in a surface lot to the south – plus new roads and related public infrastructure that would be dedicated to the town.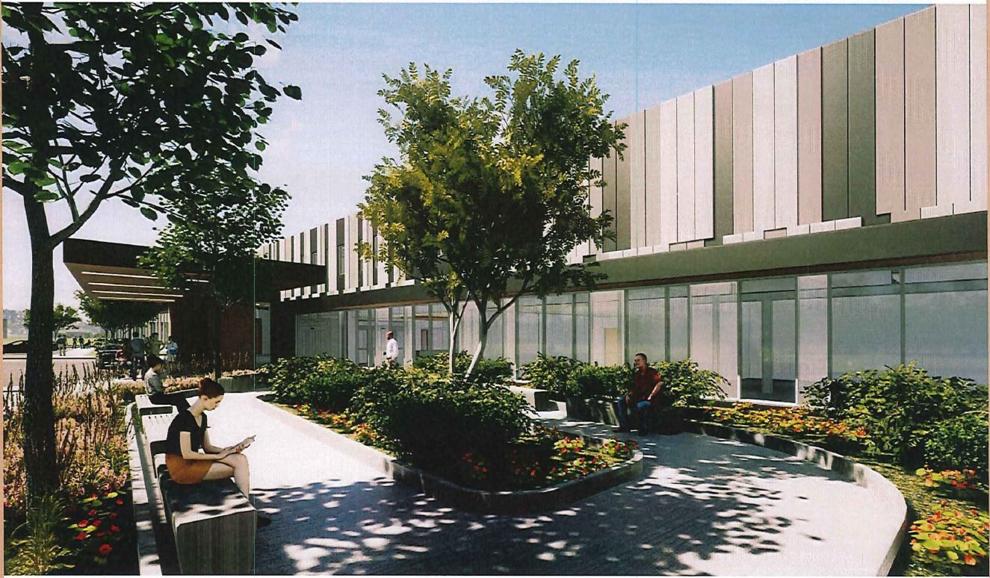 The Town Board rezoned the property in July 2020, and approved a contract with Bones and Guts LLC, which is the group of doctors and investors behind the project. The project also received zoning variances in August 2020, and the town Planning Board approved the proposal – which grew from 137,516 square feet and 621 parking spaces – in both May and September of 2021. All environmental reviews are also completed.
Construction is expected to begin in winter 2022, with completion a year later in winter 2023.
The Amherst IDA will hold an online public hearing on the request on at 8:30 a.m. Dec. 6.