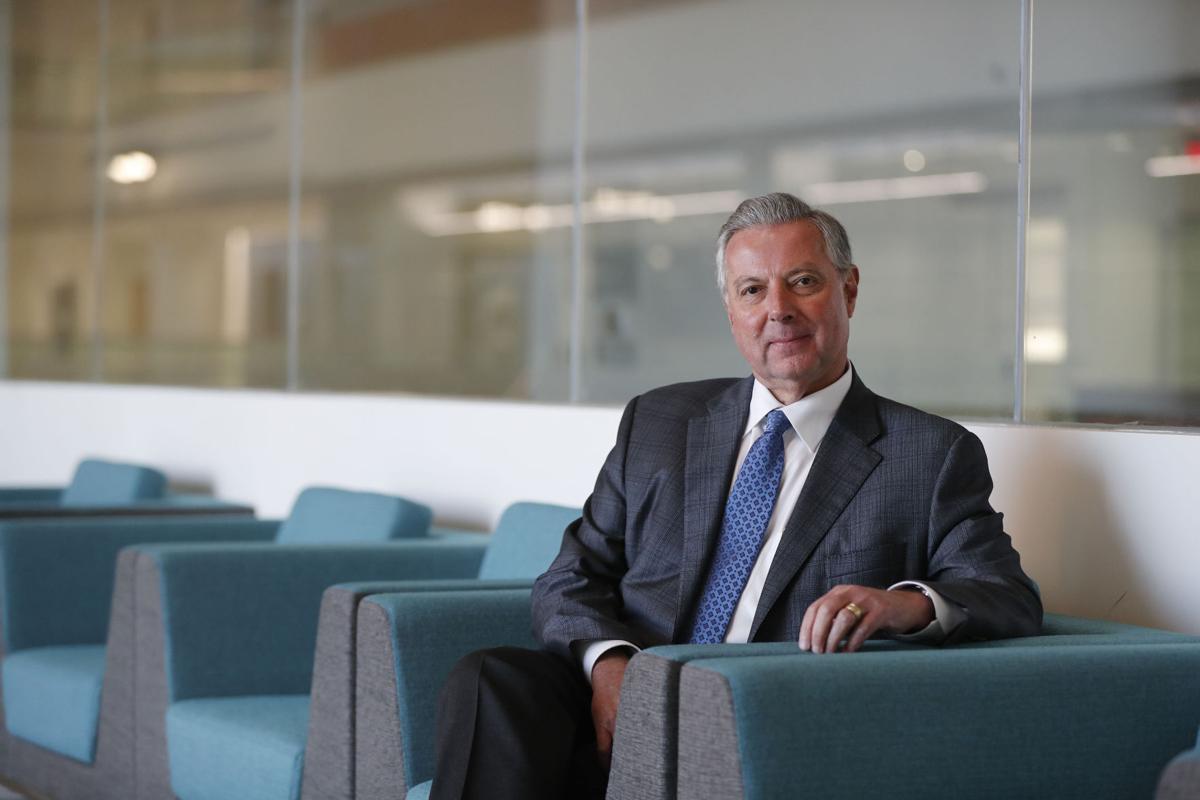 The University at Buffalo in 2008 unveiled an ambitious initiative to reorganize the university, including moving the medical school downtown to the Buffalo Niagara Medical Campus.
Dr. Michael E. Cain, dean of the Jacobs School of Medicine and Biomedical Sciences and UB's vice president for health sciences, shepherded the project to completion.
The plans for the medical school seek to adapt to changes in medical education, enhance recruitment of top physician-scientists, fill in gaps in the community's medical services, and attract more research funding.
UB's current medical school on the South Campus is an outdated maze of interconnected buildings. The move downtown gives UB a larger building to accommodate more students, should strengthen its connections to affiliated hospitals, fits a new, more modern curriculum, and allows doctors, researchers and students in basic and clinical sciences to interact in the same location throughout the entire course of their training.
UB increased its medical school class size 25 percent from 144 to 180 this year, and has been incrementally increasing faculty — now at 812 members — with a goal of 860 by 2020.
Efforts by UB and hospitals here to work together to create an academic medical center in Buffalo known for top-notch health care, research and education have often resembled different bands playing their own music, according to Cain. By consolidating on the medical campus, the goal is to achieve the unified sound of an orchestra.
"Hundreds of people discussed and gave ideas about what the medical school should look like, and what the research and education venues should be and how they should be configured. They watched all of that being built, and enjoyed that. The even greater euphoria is the ability now to expand and build additional programs that in the end benefit everything that we do here in Buffalo," Cain said.
Western New Yorkers have a lot at stake in the outcome. UB supplies a large portion of our doctors, and its researchers bring in tens of millions of dollars of government and industry funding.
The following is an interview with Cain. It has been edited for brevity and clarity.
Q:  Why is it advantageous to provide medical students an academic home for all four years of their education?
A: On the South Campus, we had first- and second-year medical students, and most faculty were from our basic science departments, like chemistry and microbiology. There were no clinical departments housed in the old school because the clinical departments were in our hospitals, such as surgery, pediatrics and obstetrics. On the South Campus, we also had our graduate students who were earning masters or PhD. degrees in the fundamental medical biosciences. In the hospitals, we had third- and fourth-year medical students, and we had our faculty from the clinical departments, as well as our graduate medical education programs – the interns, residents and advanced fellows doing specialty training.
So, the first- and second-year medical students got a very skewed view of what medical school was like. There was no hospital. There were no residents, and there were no clinical faculty. Once you left that and came down to the hospitals, you had the opposite. You no longer were adjacent to basic science faculty. You weren't interacting with masters and graduate students if you were engaged in research. It was a distraction and a feeling that you weren't in a completely integrated medical school.
Q:  What are some of the noteworthy features of the new building?
A:  The educational space has increased by 178 percent. In addition to some traditional lecture halls, we now have many active learning centers, small group discussion and learning rooms, and larger simulation centers, and we can do all of this to a much more interactive extent with students.
Part of changing medical curriculum across the country is driven by how readily available knowledge is in the 21st century. One can have a cellphone, and it will tell you the side effects of drugs and drug interactions, whereas when I went to school that had to be hammered into your brain, and you had to remember all of that stuff.
Today, you can spend more time on how you are going to use this information. It's the difference between knowing how the body breaks down a complex fat into usable fatty acids rather than having to memorize each of the enzymes. Why do you need to know that? How does that help you take care of someone who has elevated cholesterol or triglycerides?
Q: What does the move downtown mean for enhancing collaboration between doctors and scientists?
A: We now have our scientists in the basic science departments living on the same campus as our scientists in the clinical departments. Research we do ought to be targeted toward some health issue. New knowledge is always good, but from a health point of view that new knowledge only makes a difference if it is translated and tested and optimized in the actual care of patients.
So that interaction between basic science investigators and clinical investigators has been enriched by being on the same campus and being able to interact. As you walk around the school, you will see dozens of places where one can sit and have a discussion. All of this is meant to help research interactions. You have these people physically seeing each other, being able in multiple areas to interact with one another.
In education, it is the same kind of thing. Clinical people typically have grand rounds where you have a topic about how to treat a condition like atrial fibrillation or diabetes. In the old days, the only people attending these were going to be clinicians because it was six miles away from the basic scientists, graduate students and first- and second-year medical students on the South Campus.
With everything on one campus and linked by bridges, those conferences can bring the full spectrum of the medical school together.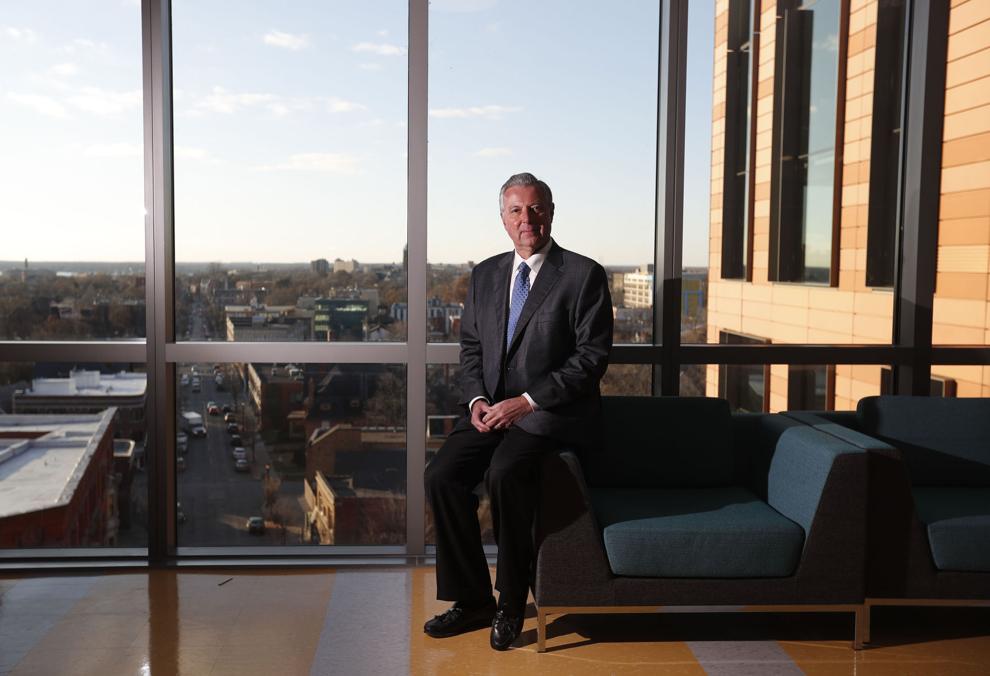 Dr. Michael Cain, dean of the UB Jacobs School of Medicine and Biomedical Sciences, at the new medical school in Buffalo. (Mark Mulville/Buffalo News)
Q:  How does the new school help further the goal of creating an academic medical center in Buffalo that combines patient care, medical research and doctor-training?
A: Everyone who works at an academic health center has to wake up every morning and say this is the place where we want people to come to learn. This is the place where new knowledge of some type is going to be created, and this is the place, if any of us need a physician, where I want to go because I'm not just getting standard of care but, if needed, have the opportunity to participate in new directions for treatment.
The Buffalo version of an academic health center is being helped because we are all connected now, and in my 11 years here there has been a growing appreciation of the value an academic health center brings to a community. Not every city has one of these. It is like a baseball, football or hockey team. You never want one to leave your city.
We are at that point where people understand that. Leadership of the university and hospitals share that common vision of an academic health center. More and more of the leadership positions in the hospital, such as chief of service for surgery or cardiology, are now being staffed by full-time medical school faculty. That ensures that each of the service lines has those three missions – this is the best place for education, clinical care and, if appropriate, where new knowledge can be tested.
Q: Will the move downtown boost economic development in the city?
A: The power of an academic health center is very strong. That is published and proven. A consulting firm (Tripp Umbach) did a report for New York's medical schools and their affiliated hospitals and found that $1 of every $13 in the economy comes from them. One job in every 11 is related to their work.
There is no full-service restaurant in the new building . That encourages people to go outside and use restaurants in the community. Same with housing. An academic health center here gives the community an opportunity to respond to 20,000 people who work on this campus and may want to live nearby.
Q:  What is the most striking aspect of the building?
A: What has struck me the most, is that every time I come in to work, every time I leave the office to see someone else, and every night when I go home, I am truly in the complete medical school. I look out over the atrium. I see this vastness. I am in a home that I realize how big it is, and can see the components in it.
On South Campus, we have the longest ranch house in the world. You and I could work there and never see each other or interact. Now, I feel like I belong to a school because I can see all of it, and I can look out the window and see I am in an urban medical center.
Q:  What are some of the next priorities for the school?
A: We are conducting three major strategic plans. One, for a new medical curriculum, we started a year ago and finished last March. We are currently examining our research agenda and clinical care delivery. They are looking at what are our strengths and weaknesses.
What do we want to invest in? There are strengths that you always want to invest in. There may be an area of weakness that will always be an area of weakness, and we have to accept that we can't do everything. There may be an area of strength, but the NIH (National Institutes
of Health)  is taking a different direction, meaning we may not be able to keep it as good as it is now. Or maybe there is an area of weakness now, but we see that in the next 10 years this is where the funding is going to be, and this is an area we want to consider recruiting into so that we can get stronger and compete for NIH dollars.