Jim Vail and Jamie Lanier look forward to a day when an artificial pancreas and a bandage-sized sensor placed under the skin will help them seamlessly manage the oft-changing insulin demands of their Type 1 diabetes.
Meanwhile, they are among those who look for help and inspiration from Dr. Paresh Dandona and his colleagues at the Western New York Center of Diabetes-Endocrinology in Amherst.
Dandona, a native of India who turned 75 last May, entered the diabetes field in the 1970s, after he landed a Rhodes Scholarship to attend the University of Oxford in England. He arrived in Buffalo in the early 1990s, after about a decade at Royal Free Hospital in London.
"With my loud, noisy personality, I knew that If I went to places in Boston or Johns Hopkins, I'd have enemies in no time," he said with a laugh. "Here I was safe. Nobody bothered me, and we've done all kinds of things in different ways and different directions."
Dandona has become a pre-eminent international diabetes researcher involved in studies that have shown the impact of inflammation and exercise on blood sugar levels, the lower testosterone levels that often come with diabetes and, most recently, the effectiveness of using Type 2 diabetes drugs to help those like Vail and Lanier manage the more daunting Type 1 disease.
He has done so in his roles as regional diabetes center leader; distinguished professor and chief of endocrinology, diabetes and metabolism in the Department of Medicine in the Jacobs School of Medicine and Biomedical Sciences at the University at Buffalo; and with UBMD Internal Medicine.
"The value in doing these studies – and the idea that patients in Western New York are making such a big difference for the care of people with diabetes – is a big deal," said Vail, 51, who works in biotech and lives in Orchard Park. He was diagnosed with Type 1 diabetes at age 19.
Today, he said, "an insulin pump can deliver incredibly precise amounts of insulin all the time. You've also got a continuous glucose sensor that is incredibly accurate in telling you what your blood sugar is without using your blood. This is not exclusively cure-related, it's 'How do we improve lives of those living with Type 1, and how do we get them to live an extra decade and die with diabetes instead of because of diabetes?' That's the goal."
A world center
Diabetes has haunted Dandona since the early 1970s, when he started treating people with the condition in Europe. His fellowship years in England came during a time when health care providers measured blood glucose (sugar) levels once every few weeks and treatment options were limited to insulin provided at much less precise levels than now. He was among doctors during those years who took part in clinical trials of the drug metformin, which by 1996 – the year after he set up his Buffalo diabetes center in the basement of now-closed and demolished Millard Fillmore Gates Circle Hospital – had become standard treatment for Type 2 diabetes.
"Diabetes pills" called sulfonylureas, which stimulate beta cells to produce insulin, were the only other medications available at the time to address the more common form of diabetes. A similar class of drugs, called thiazolidinediones (TZDs), became available a year after that, after clinical trials Dandona and other Buffalo researchers also helped conduct.
"Now you have so many drugs available that I call this the golden age of Type 2 diabetes," Dandona said. "On the basis of the use of those drugs, not one patient should be out of (blood sugar) control.
"Unfortunately," he added, "that golden age of availability of drugs, or weapons, has not been translated into clinical practice. We are far behind on that in terms of commitment and in terms of knowledge."
Diabetes challenges
High cholesterol can be lowered by prescribing a statin, Dandona said, while high blood pressure also will drop with help from medication. Diabetes often must be attacked by a combination of drugs and behavioral changes, Dandona said, which make it "a much more complex affair."
Major inroads in Type 2 diabetes treatment came out of necessity, as well as the relative simplicity of the disease, in which the body can no longer properly use the insulin it makes. Insulin is a hormone needed to get glucose from the bloodstream into the cells.
Almost 30 million Americans have Type 2 diabetes, and almost three times that number have blood sugar levels in a prediabetes range that put them at risk for it. Lifestyle, obesity and lack of exercise generally drive those numbers, which have grown substantially since Dandona arrived in Buffalo.
Type 1 diabetes is another matter. It is diagnosed when the body cannot produce insulin, or produces trace amounts quickly overwhelmed by an overly zealous autoimmune response. About 1.25 million Americans have the condition, accounting for fewer than 5 percent of all diabetes cases.
Those with Type 1 diabetes can face a daunting time using insulin in the proper level because different foods and activities boost demand for the hormone. The human body generally can sense, understand and respond to those changing demands by producing more or less insulin. Those demands can change from minute to minute, hour to hour, and person to person.
Someone with Type 1 diabetes must make informed decisions about when to inject insulin; otherwise, levels can go too high or too low, endangering their health.
"It's a constant struggle," said Dandona, who treats all forms of diabetes.
"I love barbecue sauce, but I have to give myself too much insulin just to have barbecue chicken. It's not worth it," said Lanier, 39, an educational project manager for the federal government who lives in the Masten District. "It's also not worth giving myself insulin for OJ or apple cider when I can have an entire meal."
A question of control
Blood sugar levels that regularly stay in the normal range are critical for everyone – but particularly those with any type of diabetes, said Karen Swierski, executive director with the regional chapter of the Juvenile Diabetes Research Foundation (JDRF), which supports children, adults and families touched by the disease.
"I don't think everybody understands that it's the blood sugar control that causes the complications: the heart attack, the stroke, the kidney disease, the blindness," Swierski said.
That's why compliance counts – especially now, after a January study showed that only about half of those with Type 1 diabetes reach target levels of hemoglobin A1c despite new medications and growing use of insulin pumps.
Dandona and Lanier can relate – but say that education is important not only for patients, but also health care providers, especially those in primary care expected to understand a wide range of health conditions.
It wasn't that Lanier couldn't accept the disease when she was diagnosed seven years ago. "I didn't understand it," she said. "I didn't understand what it meant to have a high or a low carb count. I was told, 'You have Type 1 diabetes and if you don't take insulin, you'll die.' They gave me the title of the book, and the back cover, but they didn't tell me the chapters in between. It wasn't fair."
The word "noncompliance" is banned in the UB-Kaleida Health clinics Dandona oversees. The doctor credits longer appointment times, learning more about patient professional and family lives, and diabetes nurse educators – particularly those embedded in primary care and specialty practices – as important parts of the treatment process.
"My philosophy is that … noncompliance is the product of lack of knowledge on behalf of the doctor and lack of confidence and ability to communicate what needs to be done," Dandona said. "Then, when things don't happen, the doctor finds it very convenient to blame the patient – and that's wrong."
Using what Dandona called an "aggressive approach" to treatment in the center that involves helping patients meet medication and behavioral goals, patients have not progressed to diabetic foot ulcers, gangrene or foot amputation since 1997. During the last half-dozen years, the staff also has been able to heal every treatable diabetic foot ulcer that has come their way.
"This is not because we had any magic," he said. "It was sheer blood sugar control. That's probably the most important thing."
Greater understanding
During this decade, Dandona and his fellow regional-based researchers have focused a greater percentage of their work on other mechanisms involved in Type 1 diabetes – and how Type 2 diabetes drugs can help.
These researchers are among those thankful for the growing willingness of those in the region to participate in UB-related clinical trials. University-wide, the number of participants has grown 65 percent, to more than 2,200, since 2015.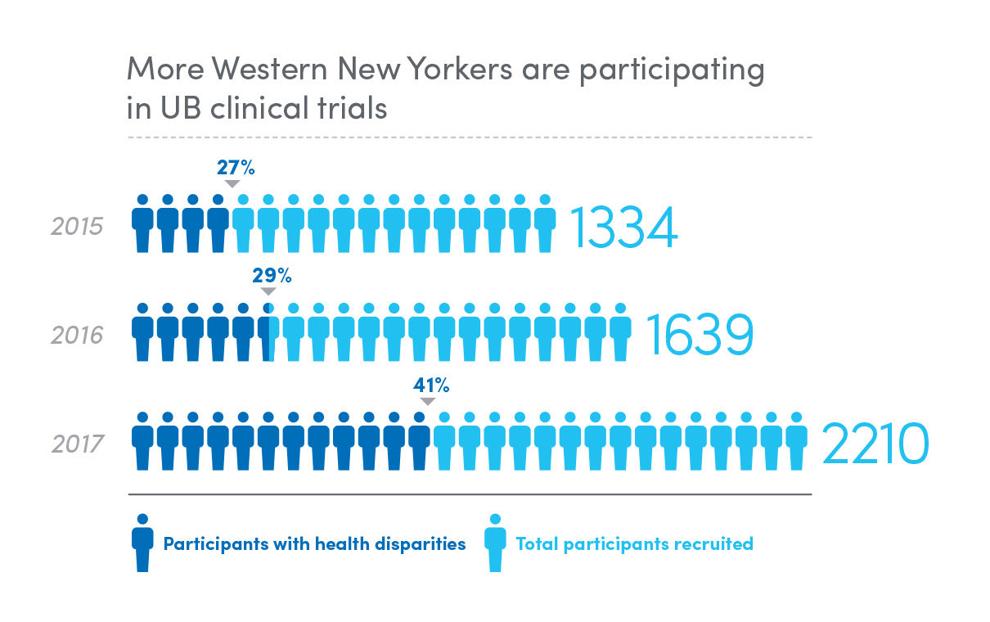 Late last year, Dandona and Dr. John Petrie, professor of medicine at the University of Glasgow, Scotland, began a three-year, $1.6 million study to combine insulin therapy with two similar Type 2 diabetes drugs – dapaglifozin and semaglutide – or with semaglutide alone. The JDRF funded the study.
The three drugs suppress a hormone called glucagon, which opposes the action of insulin. This suppresses appetite, reduces body weight and slows emptying of the stomach after a meal, creating more balanced blood sugars. Semaglutide also works to release a higher percentage of blood glucose out of the body through the kidneys.
The goal is FDA approval to move all three drugs – now "off-license" to treat Type 1 diabetes – into the licensed category, which should lower costs of treatment.
Vail and Vail's wife, who also has the condition, already have managed to keep their blood sugar levels in a healthy range on lower dosages of insulin, Dandona said.
The diabetes foundation and its supporters are thrilled to participate in the research, Swierski said. She said the foundation was founded in 1970 to cure diabetes and has evolved to serve three missions: to cure, treat and prevent the disease.
"We're working on a vaccine, too," she said. "The last five years have been incredible. I have a firm, solid belief we're going to be the ones to find a cure for Type 1 diabetes."
Diabetes fast facts
This autoimmune disease is diagnosed when the body cannot produce insulin, a hormone needed to get glucose (sugar) from the bloodstream into the cells. It once was believed to strike in childhood but can do so at any age. It can run in families and the cause has nothing to do with behavioral and nutritional choices. Type 1 makes up fewer than 5 percent of diabetes cases.
By far the most common form of diabetes, this metabolic disorder prevents the pancreas over time from making enough insulin to keep blood sugar levels in the normal range. This process, called insulin resistance, leads to higher blood sugar levels, or hyperglycemia. This can run in families, though a poor diet, lack of exercise and obesity are considered major risks regardless of heredity.
About 31 million American adults have diabetes; more than one-quarter of them have not been diagnosed.
Roughly 84 million more have prediabetes, higher-than-normal blood sugar levels that put them at higher risk for Type 2 diabetes.
One-quarter of those over age 65 have diabetes.
Juvenile Diabetes Research Foundation: Call 833-2873 or visit jdrf.org/westernny to reach the WNY chapter, which serves children, adults and families.
American Diabetes Foundation: Call 835-0274 or click here  to reach the WNY chapter, which serves children, adults and families.
Diabetes self-management programs: Call 211 or visit 211.org and search for diabetes resources in your ZIP code.