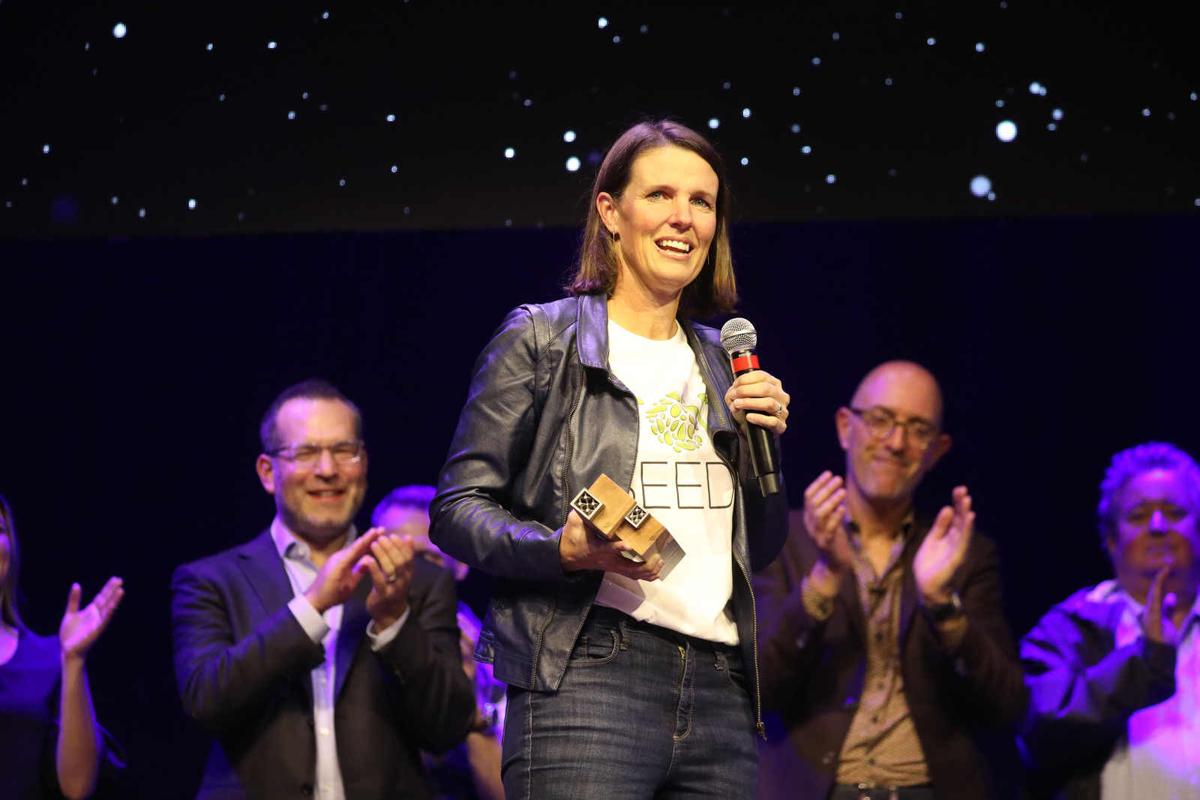 A startup doesn't necessarily have to be a high-tech wonder to win the $1 million grand prize in the 43North competition.
Top Seedz proved that Thursday. The Cheektowaga-based company, which makes artisan crackers and seeds, prevailed over nine other finalists at Shea's Performing Arts Center.
Top Seedz, a Buffalo maker of artisan crackers and roasted seeds made from organic ingredients, captured the $1 million grand prize in the 43North competition at Shea's Buffalo Theatre on Thursday.
Its founder, Rebecca Brady, swayed the judges with her vision for creating a $100 million business.
Even if it was decidedly old school. It certainly helped that Top Seedz already is profitable and has millions in annual sales.
Plenty of tech-driven startups claimed the seven $500,000 runner-up prizes, pitching solutions for better digital payments, monitoring chicken farmers' flocks and teaching guitar lessons.
The international appeal of the 43North business plan competition was on display in Wednesday's qualifying round for the 19 finalists.
But Brady's plan for steadily building up Top Seedz came out on top. And with that, the competition crowned its first locally based champion since ACV Auctions won it all in 2015.
"She had a lot of traction," said Brian Brackeen, general partner at Lightship Capital and one of the judges. "Traction for any investor is really important: she's in a lot of stores, has good revenue, a really impressive business."
Brady told the judges that Top Seedz will generate a profit of $300,000 this year, on a run rate of $2.5 million that she projects will rise to $4 million next year. Top Seedz's products are in 350 stores now – including Wegmans and Whole Foods – and Brady is aiming to grow that number to 6,500 stores by 2027.
Here's a look at Top Seedz's path to victory and where Brady plans to take her business.
With the 43North finals just days away, Verivend's founders are reviewing their pitch again and again.
Good vibes. Even during her pitch on Thursday, there were signs Brady was winning over the judges.
Brackeen expressed interest in investing in the business, regardless of whether Brady won or lost.
Howard Draft, a Peloton board member, declared the crackers "frickin' ridiculous. It's one of the best crackers I've ever had, if not ever."
Draft went on to provide advice to Brady during the Q&A period.
"Your product is built for a direct consumer model and a retail model," Draft said. "If you can drive your business more towards a direct consumer model, while you're supported through retail, your business will grow faster. "
Long-range plans. At Wednesday's qualifying round for the finalists, a judge asked Brady to gaze five years into the future, and whether she would keep growing the business, or exit through a sale at that point. Brady didn't hesitate with her answer.
"I don't want to exit," she said. "I want to grow this into the next big thing. My mother's in New Zealand. She would die if I don't get these into New Zealand."
At Thursday's final round, one of the judges, Jackie Reses, a former Square Financial Services executive, asked Brady if anyone had ever approached her about buying the business. Brady said that hasn't happened.
New investment. Automation is a "key pillar" of Top Seedz's growth strategy, and the $1 million prize from 43North will fuel those plans, Brady said. 
"It's a largely manual manufacturing process at the moment," she said.
With increased automation, Top Seedz can ramp up production beyond its current 50,000 boxes of products a month, she said.
"Our limitations now are our production facility," Brady said. "If we can plow more money into production, we can meet demand. It's all about getting the cracker into people's mouths."
Top Seedz operates from a location near the Buffalo Niagara International Airport. The company is exploring whether to expand there or move into a different location to grow.
"We've got a couple of different plans in the works," she said. "We're not sure exactly what we'll do. But have a great landlord at the moment. There's lots of options for growth."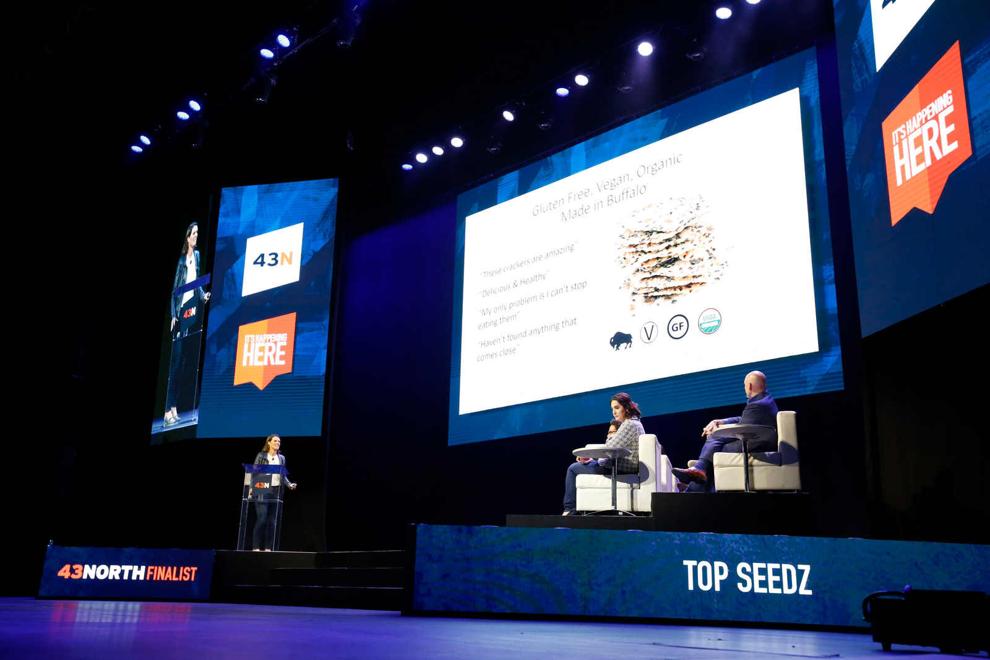 More jobs. Brady described Top Seedz as "woman owned and minority driven." The business employs refugees from around the world with the help of Journey's End, which provides refugee services.
Top Seedz has about 20 employees and plans to increase its staff, but Brady declined to project its number of new hires.
"We definitely need people," she said. "We're going to grow, and we're going to grow fast."
Resources. The $1 million prize understandably grabs attention. But 43North's package for prize winners contains other resources from which Brady said she will benefit.
"The connections are going to be incredible, the mentorship, the support, just being able to confide in someone and ask for advice, it's incredible," she said. "I've done this before with Ignite Buffalo, and it was invaluable."
How it started. Brady is a native of New Zealand, and she met her future husband while visiting Japan. She and her husband have three children. They previously lived in Japan and Singapore, where her husband was working for Moog Inc.
In a video profile by 43North, Brady said she started out selling her products at farmer's markets, and then expanded her customer base to stores. She originally worked from shared space in a commercial kitchen.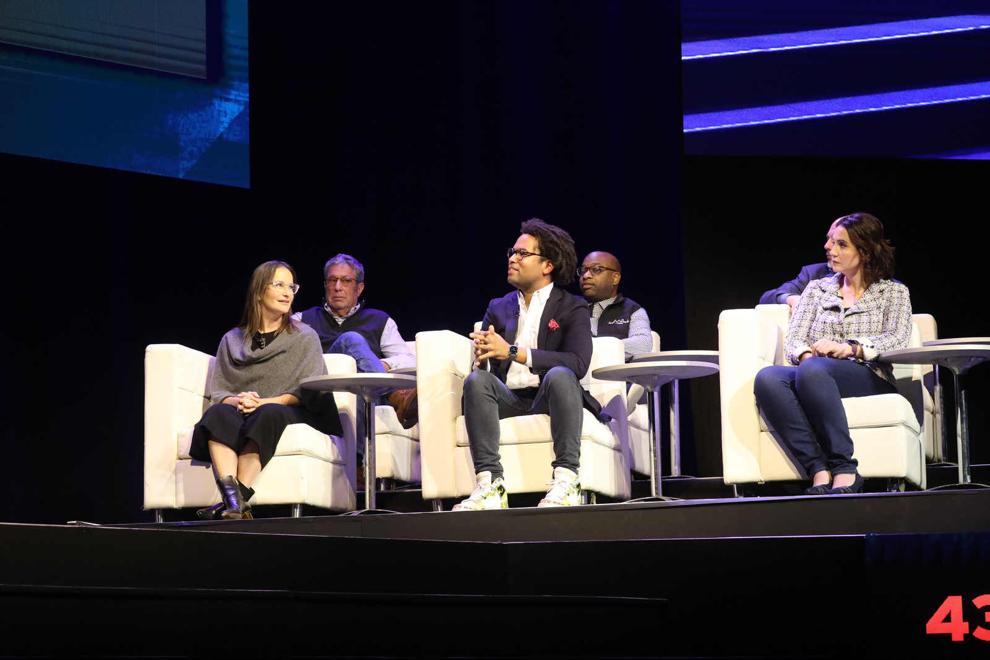 Glimpse of the future. In 2018, Brady competed in a different startup competition, Ignite Buffalo, presented by 43North and Facebook. The competition was aimed at earlier-stage startups than 43North's big event. Brady won a $50,000 grant.
At the time, Top Seedz had eight part-time employees. Brady was looking forward to buying equipment and having full-time workers.
One of the judges, Eric Feldstein, head of business banking at M&T Bank, asked Brady where she wanted her fledgling business to be in three to five years – that is, 2021 to 2023. Brady thought about it. 
"The next big Buffalo brand, I guess," she said. "I want to be recognized nationally."