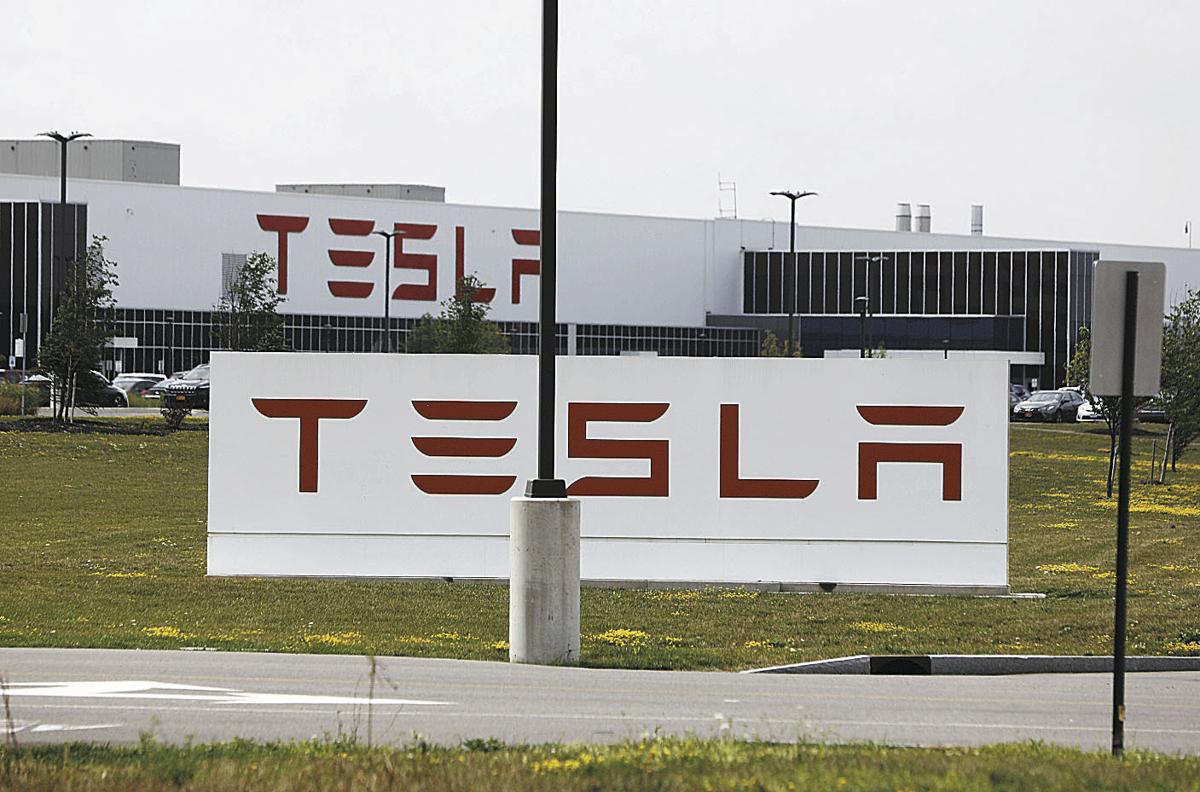 Tesla Inc.'s already shrinking solar energy business took a nosedive during the first quarter.
The company's solar energy deployments plunged by 38 percent during the first three months of this year to their lowest level in at least six years, dating back to its days as the stand-alone SolarCity business, Tesla said Wednesday.
Tesla said it expects its solar energy business to start growing again during the second half of this year as it revamps its sales strategy for rooftop solar in a bid to cut costs.
During the first quarter, Tesla deployed 47 megawatts of solar energy generating capacity, down from 76 megawatts during the first quarter of last year and far less than the five-year low of 73 megawatts set during the fourth quarter of 2018.
For the first time, Tesla did not provide any update in its shareholder letter on its plans to begin high volume production of its solar roof, which is expected to be the main product at the sprawling factory on South Park Avenue that was built with $750 million in taxpayer money under the state's Buffalo Billion economic development program.
But Tesla CEO Elon Musk, in a conference call late Wednesday, said he still sees the solar roof, which looks like a conventional roof but has solar cells inside, as one of the company's central products as it tries to become a renewable energy powerhouse built around electric vehicles, solar energy and battery storage.
Tesla still is developing and testing the solar roof, and Musk, who visited the Buffalo factory earlier this month, said the complex nature of the solar roof and the challenges involved with testing its durability have delayed the launch of a product first unveiled at a Hollywood event in October 2016.
"I was pretty impressed with the team, and we're looking forward to scaling that up pretty significantly later this year and into next," Musk said.
Tesla's solar deployments have been steadily dropping during the last two years. Its deployments last year were 62 percent less than they were just two years ago, when it was the unquestioned leader in the residential rooftop market with a market share of around 33 percent. Today, Tesla is No. 2, and its market share last year was around 9 percent, according to analysts at Wood Mackenzie Power & Renewables.
To cut the stubbornly high costs of signing up customers for rooftop solar, Tesla has been revamping the way it sells solar energy systems.
To cut costs as it ramps up production of its all-important Model 3 electric sedan, Tesla stopped selling solar door to door in favor of online sales and adding solar displays at Tesla stores, with the expectation that there would be a lot of overlap between the company's vehicle buyers and its solar customers.
But Tesla earlier this year said it plans to close about half of its 130 stores and to require all orders to be placed online, with a deposit of as little as $99. Tesla has said about 75 percent of its residential solar orders already are placed online, although it has not indicated how many of those purchases originate with a visit to a Tesla store or gallery.
"The key to accelerating mass adoption is to standardize the product offering, simplify the customer buying experience and focus on the markets with the strongest economics," Tesla said in a letter to shareholders. "This results in cost efficiencies, enabling industry leading pricing and an expanded market."
Tesla reported a first-quarter loss of $702.1 million, or $4.10 per share, compared with a loss of $709.6 million, or $4.19 per share, a year earlier. The company said it expected to post another loss during the current quarter, but predicted that the second quarter loss would be "significantly lower" than during the first quarter. It forecast a return to profitability during the third quarter.
Tesla said it burned through $1.5 billion in cash during the first quarter after paying off $920 million in convertible bonds during March. Many Wall Street analysts think Tesla may have to raise more cash to fund its operations.