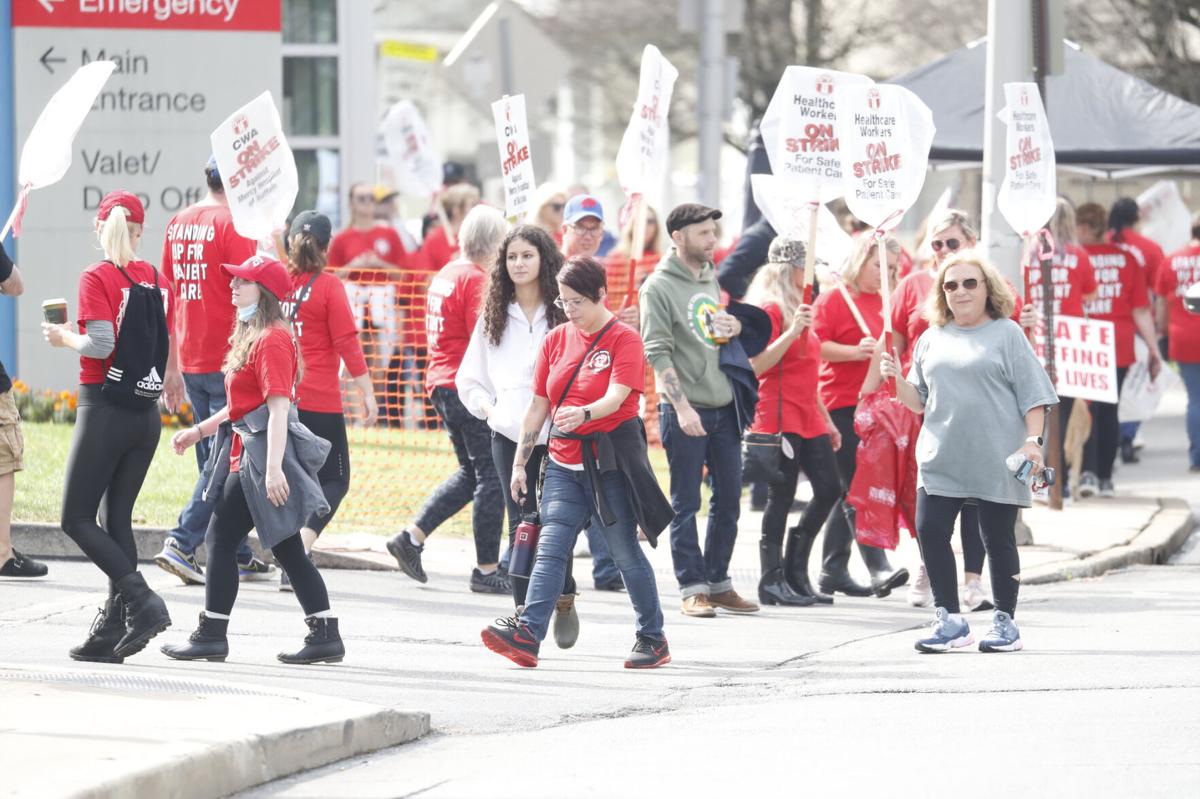 Catholic Health System and the union representing about 2,500 of its workers announced a tentative agreement Thursday night on a new four-year labor contract that will end a 35-day strike that idled many services at Mercy Hospital in South Buffalo, put about 2,000 workers on the picket line and strained the region's other hospitals in one of the most significant walkouts to hit Western New York in recent history.
"We listened to our associates and their primary concerns were market-competitive wages and increased staffing," Catholic Health President and CEO Mark Sullivan said. "These new contracts address both and more. We are ready to welcome our caregivers back to Mercy Hospital."
In a joint statement, Communications Workers of America District 1 Vice President Dennis Trainor and Area Director Debora Hayes credited the "determination and fighting spirit" of their members.
"Our members, the frontline nurses, technical, service and clerical workers at Catholic Health, made incredible sacrifices over the last five weeks to stand up for high-quality patient care in Buffalo, and this tentative agreement is a tremendous victory that sets new standards in care for the region," their statement read.
Late Thursday, the CWA was busy making plans for membership meetings to review details of the agreement with workers before a ratification vote. The union said contract explanation and ratification meetings are scheduled for Saturday and Sunday, with the goal of getting workers back to their jobs at Mercy Hospital by Wednesday. To keep Mercy Hospital operating during the strike, Catholic Health has been paying hefty weekly installments to a staffing firm for replacement workers – a pricey expense it will gladly see come to a close.
It's the beginning of the end of a dispute that included back-and-forth public accusations that came deep into a pandemic that strained health care workers and stressed hospital finances after a year of on-again, off-again elective surgeries. After the strike started Oct. 1, the two sides resumed bargaining Oct. 5 at the Gateway Building in Hamburg, negotiations that often stretched deep into the night as the sides attempted to find common ground over wages and, most significantly, staffing ratios. After a series of discussions Wednesday, the two sides were able to sign the agreement before 9 p.m. Thursday.
Catholic Health and the CWA – Locals 1133 and 1168 – had been bargaining since February, though talks heated up in the run-up to the strike as they negotiated six labor contracts at Mercy Hospital of Buffalo, Kenmore Mercy Hospital and Sisters of Charity Hospital, St. Joseph Campus.
"We need to do a better job working together with the CWA, and they need to do a better job working together with us to bring this to resolution," said Mark Sullivan, Catholic Health's CEO.
The previous contract expired last year, but the two sides agreed on a one-year extension to not disrupt patient care in the early days of the Covid-19 pandemic.
Though the deals cover workers at three hospitals, per an earlier agreement, a strike could only happen at Mercy Hospital if a deal could not be reached.
For much of the lengthy dispute, it seemed as though the two sides weren't all that close to a tentative agreement. Catholic Health regularly accused the union of showing no sense of urgency, while the CWA countered by saying the Catholic Health didn't submit a serious offer until the 11th hour of negotiations in late September.
Then, on Sunday, both sides reported progress before talks, once again, broke down at 6 a.m. when they couldn't come to terms on a staffing agreement. Later that day, Catholic Health started sending notices to striking workers, informing them it would no longer administer and pay their health benefits. Several days earlier, Catholic Health had said it was considering such a move as the strike entered its second month.
But after Sunday's near-deal, the two sides got back to talking later in the week, hammering out an agreement on staffing that was the most significant issue in this dispute.
The union sought a nurse-to-patient ratio of one nurse for every four patients in the medical-surgical areas, seeking to alleviate burnout and exhaustion among its members while bolstering patient care. Catholic Health regularly pointed to the national shortage of health care workers, especially nurses, that could make hitting ratios a challenge. 
What Catholic Health proposed, it argued, went beyond staffing ratios, with plans to hire more nursing assistants and immediate treatment assistants that could free the registered nurses up to work at the top of their license. With those hiring plans, Catholic Health's plan revealed earlier this week resulted in a proposed nurse-to-patient ratio of one nurse for every five patients. 
While the union on Thursday declined to share specific details of the contract until bargaining reports can be prepared and shared with members, Catholic Health said it presented a compromise on Wednesday that would "reallocate staffing resources across the care-delivery team to achieve the staffing numbers CWA sought." Catholic Health said, among other things, the staffing model born out of the tentative agreement will result in more than 250 new positions.
The union is looking for a nurse-to-patient ratio of one nurse for every four patients in the medical-surgical areas.
In their joint statement, Trainor and Hayes said the agreement achieves "historic breakthroughs in guaranteed safe staffing ratios."
In addition, Catholic Health said the staffing model will go "far beyond" the state's "safe staffing" legislation that goes into effect next year.
That legislation mandates each New York state hospital to create a staffing committee by Jan. 1, with each facility adopting and submitting its first hospital staffing plan to the Health Department by July 1, 2022. Those plans would then have to be implemented by Jan. 1, 2023.
Another major issue revolved around the lower-wage workers at Catholic Health such as environmental services workers and dietary aides, some of whom make as little as $13.45 an hour.
Those low wages have made it difficult to retain staff amid a strong labor market where pay is rising, putting more pressure on the remaining workers to clean and keep the hospitals operating.
The union said the agreement will bring all workers above $15 an hour. In addition, Catholic Health's most recent publicly available proposal included a minimum 3% wage increase in the first year of a deal, followed by general wage increases of 2% in the second year, 2.5% in the third year and 2.75% in the fourth year. All wage increases also would be retroactive to the first full pay period of June.
Competition for low-wage workers has intensified as employers struggle to find entry-level and part-time employees, giving those workers more employment options to consider.
While the dispute is now ending, Catholic Health and the striking workers suffered an economic blow in the near term.
For the workers on strike, unemployment and CWA strike benefits didn't kick in until the walkout reached its 15th day, meaning the nurses, clerical, service and technical staff on the picket line went two weeks without a paycheck. Catholic Health did, however, continue to pay their health insurance through the first month of the strike before pulling it Nov. 1.
For Catholic Health, keeping Mercy Hospital open meant paying higher wages to the replacement workers from Huffmaster. Some of the replacement registered nurses, for instance, made up to $150 an hour, compared with $45.16 an hour for the most senior union-represented floor nurse.
The strike also is costing Mercy revenue that it is missing out on because of the limited services it now offers. 
Sullivan, the CEO, on Monday said that had added up to "tens of millions of dollars."
In addition, Catholic Health had to suspend all inpatient elective surgeries during the strike, a big moneymaker for hospitals. Mercy Hospital also diverted incoming ambulances to alternate facilities and suspended labor and delivery services at the South Buffalo facility, which strained Western New York's other hospitals.
For Catholic Health, keeping Mercy Hospital open means paying vastly higher wages to replacement workers. For striking workers, each day means more lost wages.
In fact, Mercy Hospital was caring for 132 patients just five days after the strike started, a 53% drop from 278 patients exactly one week earlier. Through much of the strike, Mercy Hospital had been caring for more than 100 patients, about one-third of its usual census.
Catholic Health on Thursday said it has a plan to restore services at Mercy Hospital and will share updates in the coming days.
Sullivan, who on several occasions called the striking workers "the soul of Mercy Hospital," will now have the task of bringing the two sides back together and trying to avoid long-term damage to the hospital's culture. To get ready for that moment, he said Catholic Health had more than 80 of its leaders go through trainings.
"As we come back together as one family, we have our own healing to do," Sullivan said.