Jessica Maxwell is looking forward to receiving her first $300 weekly payment from her union's relief fund.
For Maxwell, a housekeeper at Mercy Hospital, every bit helps financially as the strike reaches the two-week mark.
"There's a large group of us who work here who live paycheck to paycheck," Maxwell said. "It's putting a strain on a lot of us, especially people like me, a single mother with no extra income, no extra help."
The 2,000 striking CWA members are about to receive a financial boost. CWA's weekly payments kick in Friday, and the workers are now eligible for state unemployment benefits.
Striking workers will get $300 a week in strike benefits from the union right away. When unemployment benefits start a week from now, it will add another $108 to $504 in payments, giving workers between $408 and $804 in weekly benefits, depending on their income.
The workers stopped collecting income from their hospital jobs when they went on strike on Oct. 1.
"It would make up part of it, but it doesn't make up what you get working," Maxwell said.
Maxwell said she typically picks up a lot of overtime hours, "and that's obviously not an option right now."
Catholic Health has continued to provide health insurance benefits to the striking workers and their families, an expense that Catholic Health is costing the system over $1.3 million.
Art Wheaton, director of Western New York labor and environmental programs for the Worker Institute at the Cornell School of Industrial and Labor Relations in Buffalo, said the benefit payments are no replacement for a paycheck.
"It's still a huge loss of money," Wheaton said. "Inflation is hitting everybody, so it's going to make things tight. But it does kind of help."
New York State last year shortened the waiting period for striking workers to be eligible for unemployment benefits, to two weeks from seven weeks. The Business Council of New York State has criticized the practice of paying unemployment benefits to workers who go on strike, and argued that shortening the waiting period tilted state law in favor of striking workers.
"Unemployment insurance is a benefit 100% paid for by the employer to pay insurance to workers who lose their jobs through no fault of their own," said Ken Pokalsky, the council's vice president. "That is not what a strike is."
While higher-earning striking workers at Mercy will be eligible for as much as $804 a week in combined CWA and unemployment payments, Maxwell said she is in line for only about $340 in weekly unemployment benefits, for a combined $640 a week.
Diane Peach, an environmental services worker on strike, was relieved that the CWA payments were about to arrive.
"I might be able to pay a bill or two," she said.
Like other workers on the picket line Thursday, she has been careful about her spending. She worries about being able to pay her rent.
"For the last couple of weeks, I've been making sandwiches, trying to save," Peach said.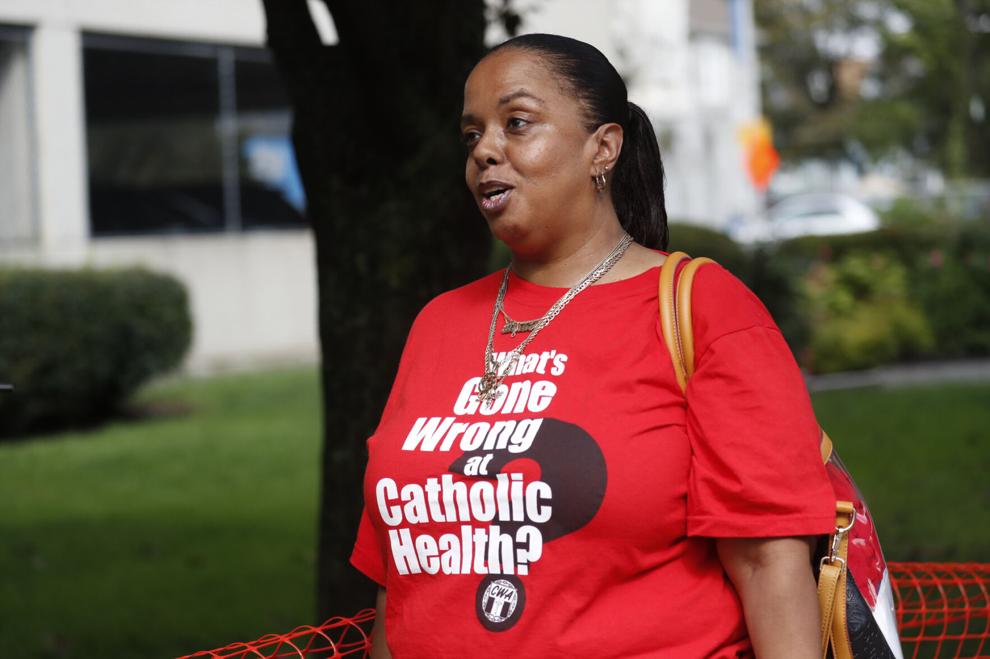 As the strike continues at Mercy, the walkout will get expensive for both Catholic Health and CWA.
Catholic Health has said it is spending millions of dollars each week with Huffmaster, a Michigan-based staffing firm supplying replacement health care workers and security workers at Mercy.
The CWA is paying the $300 a week benefit from its $400 million relief fund to about 2,000 striking workers, for a tab of about $600,000 a week. If the strike is still underway on Oct. 29, those weekly payments will rise to $400 a week, for an expense of $800,000 a week.
Striking workers say they have received help in other forms. Supporters routinely drop off water, sandwiches, pizza and supermarket gift cards at the picket line.
CWA Local 1133 has established a food bank at its office, stocked with donated items, said Debora Hayes, the CWA's area director.
And the local created a "solidarity fund" to meet members' immediate financial needs, Hayes said.
"We want to make sure that no one loses a home or an apartment or a vehicle or suffers any kind of significant financial hardship if we have the ability to help them," she said.