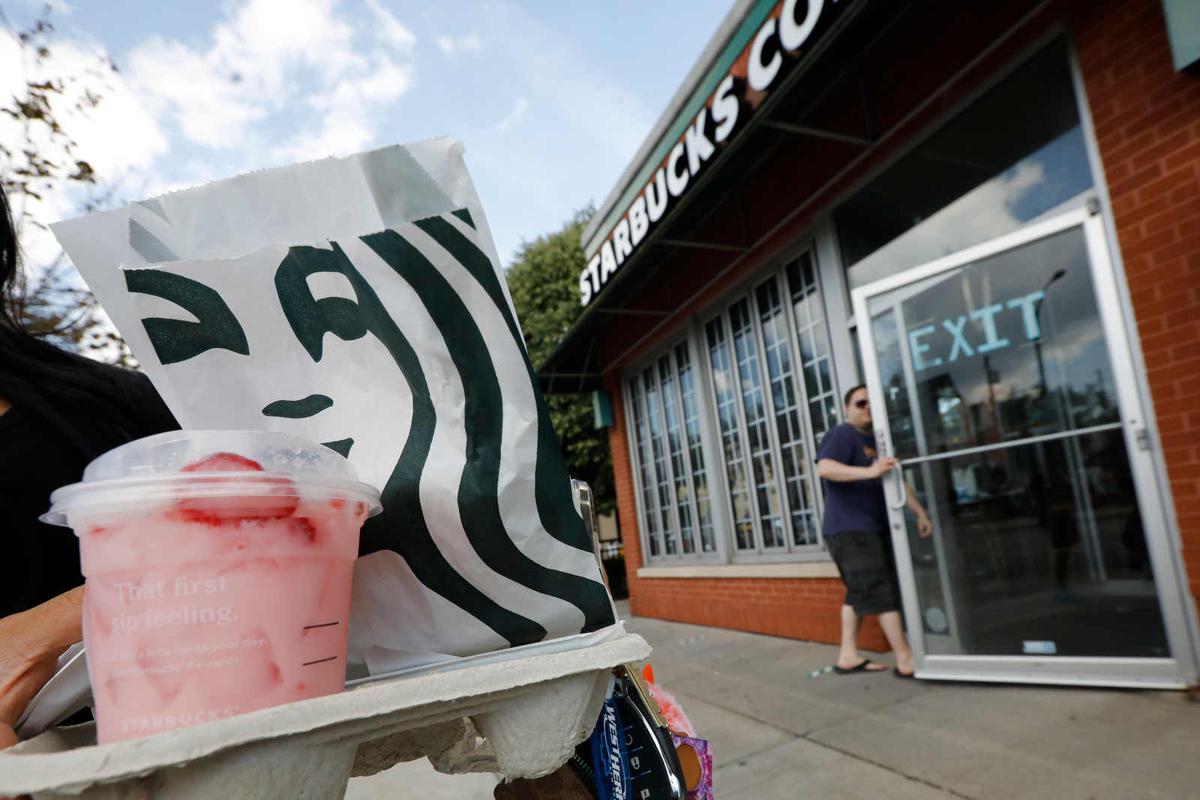 Starbucks wants to open up a proposed union vote to include all 20 corporate-owned stores in the Buffalo market, according to papers the corporation filed with the National Labor Relations Board Tuesday.
That move, if granted, would likely delay the voting process and make it more difficult for organizers to win a majority in favor of a union, said the organizing workers and a labor expert.
"We are forming a union to bring out the best in all of us. Our organizing committee includes Starbucks partners from across the Buffalo region," workers wrote.
The letter was signed by workers from locations that have not yet filed for elections. There are other union organizing committees at almost all of the 20 stores, workers said.
Asking for a wider pool of voters is a common practice among companies, and one used successfully by Amazon in its recent counter-union campaign that ended with workers voting against the union. Starbucks has 450 workers in the Buffalo market.
The high rate of turnover in the fast-food industry makes it difficult for organizers to successfully form unions – especially in the face of protracted legal battles, according to Cathy Creighton, a former labor attorney and the current director of Cornell University's School of Industrial and Labor Relations in Buffalo.
"Data shows the longer the campaign goes on, the more unlikely employees are to vote for a union. Every employer in America knows this, so they create issues that can go to a hearing," she said.
Standalone shop votes are standard among companies with multiple locations, Creighton said, so Starbucks' request for a marketwide vote would not likely be granted.
Starbucks made a similar move in 2004 when the Industrial Workers of the World tried to organize workers at a Manhattan location. Starbucks asked the NLRB to expand the vote to 50 stores in the area.
The courts sided with workers to approve the one-shop vote, but the union vote never took place. Workers said the lack of a vote was because litigation was expected to drag on for years, Starbucks said it was because there was not enough interest among workers to form a union.
Starbucks Workers United called the move a common stalling tactic.
"It would be very hard for them to win the unit they are asking for, but litigating the issue could delay the election for several weeks, during which time they can continue swarming the stores and pulling workers into mandatory meetings," said Richard Bensinger, a labor organizer who helped Spot Coffee workers unionize in 2019 and is working with Starbucks Workers United.
Starbucks stressed that the meetings with workers are not mandatory and that workers who attend are paid for their time, in accordance with NLRB rules.
Top brass including former Starbucks CEO Howard Schultz and current North American executive vice president Rossann Williams have been in town for weeks recently, visiting stores and holding "listening sessions" with workers. The meetings were not a response to union organizing, rather an attempt to address issues that prompted workers to form a union in the first place, Starbucks said.
All 20 of the stores targeted in the unionizing effort are corporate-owned. The organizing campaign does not involve any stores run under licensing agreements with other operators.
Starbucks has asked for a wider vote in order to let all workers (which it calls partners) in the region have a say, regional vice president Allyson Peck told workers in a letter Tuesday morning.
"We believe this will make this process fair and respectful for every partner in Buffalo. It will ensure that all of you are afforded the voting rights and the voice that you deserve in this process," Peck wrote. "Our stores in the Buffalo market function as one – always have, always will."
In a previous letter to employees, Rossann Williams has said it is in workers' best interest to vote against a union, and that the company and its workers function best without a third party.
Stores on Elmwood Avenue, Walden Avenue in Cheektowaga, Transit Road in East Amherst, Camp Road in Hamburg and Genesee Street in Cheektowaga are all pressing toward a union vote; though Walden Avenue and Transit Road locations have since withdrawn their election petitions in an effort to speed up votes at the initial three stores that filed.
In June, a National Labor Relations Board judge ruled that Starbucks had unlawfully fired two workers in order to stem union organization efforts in Philadelphia. Starbucks had also spied on conversations that one worker had with colleagues, the judge found. Starbucks has appealed. In 2008, a judge ruled that Starbucks violated a host of labor rules in its campaign against a Minnesota union
Spot Coffee workers voted to unionize in 2019 after efforts at Ithaca café called Gimme! Coffee succeeded. High-profile efforts to organize Amazon workers were voted down after a strong counter-campaign by the conglomerate earlier this year.