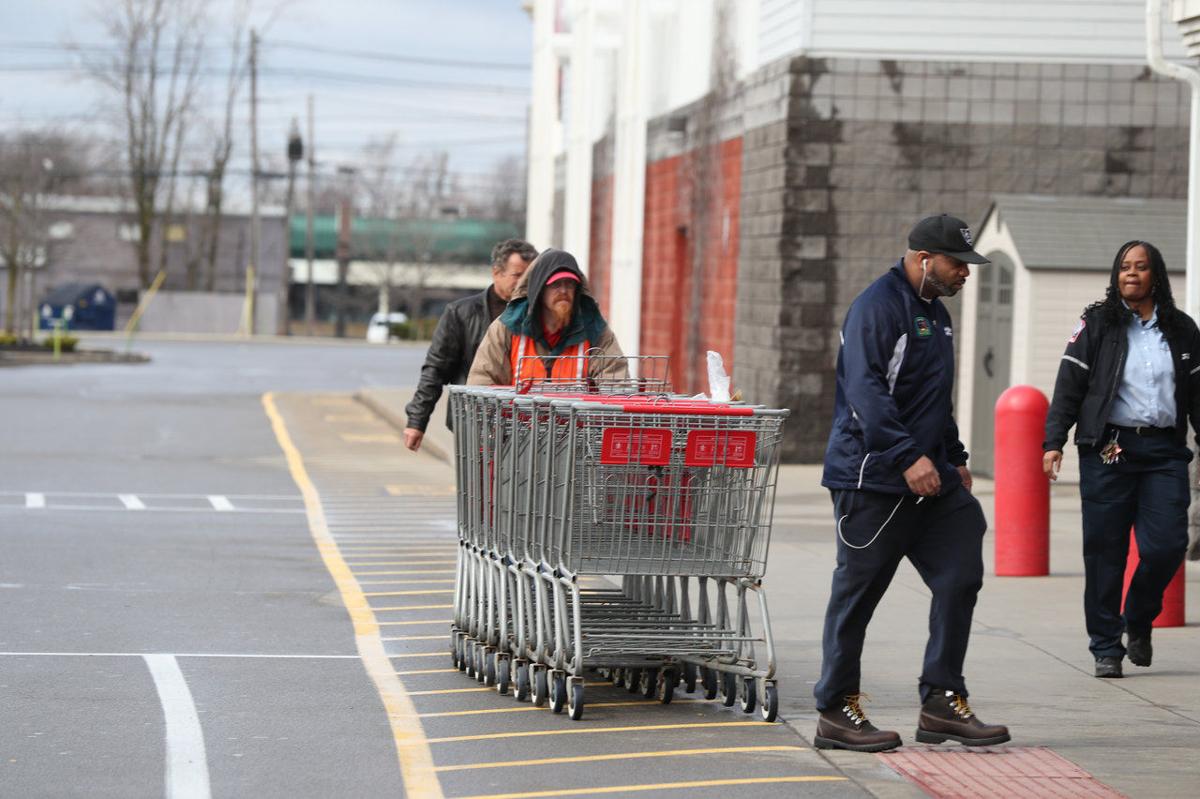 Fast-food, grocery, retail and other essential workers are finding themselves in an odd position: relieved to have jobs, yet scared for their safety.
On one hand, such essential workers are grateful to have been deemed essential by New York State and spared the widespread layoffs caused by the coronavirus shutdown. On the other, they're filled with anxiety about being exposed to as many as thousands of people per day while on the job.
As a security guard, Enrique Villalobos is an essential employee. But, as someone with asthma, he is concerned about the risks of working closely with the public during a health crisis.
"I feel vulnerable and in fear of losing my life," he said. "As we all know, this is a respiratory virus. If I happen to catch this, I'll be another number in the death column.
Workers say they're worried about their own health, and about bringing the virus home to their families.
Bottle return storefronts remain open, much to the chagrin of some employees tasked with handling empty bottles and cans customers return for their deposit value.
Norway-headquartered Tomra Collection Solutions owns about two dozen Bottle & Can Retrieval Center locations in Erie and Niagara counties.
"The situation is very unhealthy and the stores need to be closed," one worker from a Tomra-owned site said in an email. "The employees are dealing with things that have been in people's mouths as well as being face to face in close quarters with the public."
Workers at places such as Tim Hortons, PetSmart and Lowe's have no choice but to go to their jobs, they said, but many of them would prefer if their employers would shut down, allowing them to ride things out safely at home. Shutting down would allow workers to collect a portion of their wages through unemployment.
"Coffee and doughnuts aren't worth human life," one Tim Hortons employee said.
Family members are scared, too.
Tamara Burgett of Lovejoy worries every day when her daughter goes to work at a local burger chain.
Fast-food restaurants, equipped with drive-thru windows, have an ideal setup for minimal-contact transactions. Still, many chains have kept their dining rooms open for takeout, which allows customers to come into stores the way they would any other day.
"People are still coming in the building on top of each other, leaning over the counter, coughing in workers' faces," she said. "No amount of money is worth that."
Several grocery stores – including Tops Markets, Dash's Market, Market in the Square and Wegmans – have given hourly employees temporary pay raises, ranging from 50 cents to $2 per hour.
That extra $4 to $16 per day is nice, but it doesn't go far enough, especially if an employer hopes to hold onto its workers in such extreme circumstances, said Brian Becker, a human resources professor at the University at Buffalo School of Management.
"The stakes are too high," he said.
Ed Mitzen is the author of "More than a Number," a book about using the power of empathy to make business decisions. He said employers need to lead with compassion right now and keep their workers' well being top of mind.
"The most important part is showing empathy to employees – now more than ever in these uncertain times," Mitzen said.
In addition to the dangers on the job, employees are dealing with added pressures at home, such as home schooling children or caring for elderly relatives, Mitzen said.
If a company isn't motivated by benevolence, Mitzen suggests, it should at least be motivated by its bottom line.
"In these unusual circumstances, people will notice which companies are treating their employees with empathy and compassion and which are not," he said.
The state Attorney General's Office has set up a hotline and email contact for employees to report Covid-related workforce violations. Workers can report any business in the state that fails to comply with Gov. Andrew Cuomo's rules, including workforce reduction, physical distancing and closure. The hotline is (212) 416-8700 and the email address is labor.bureau@ag.ny.gov.