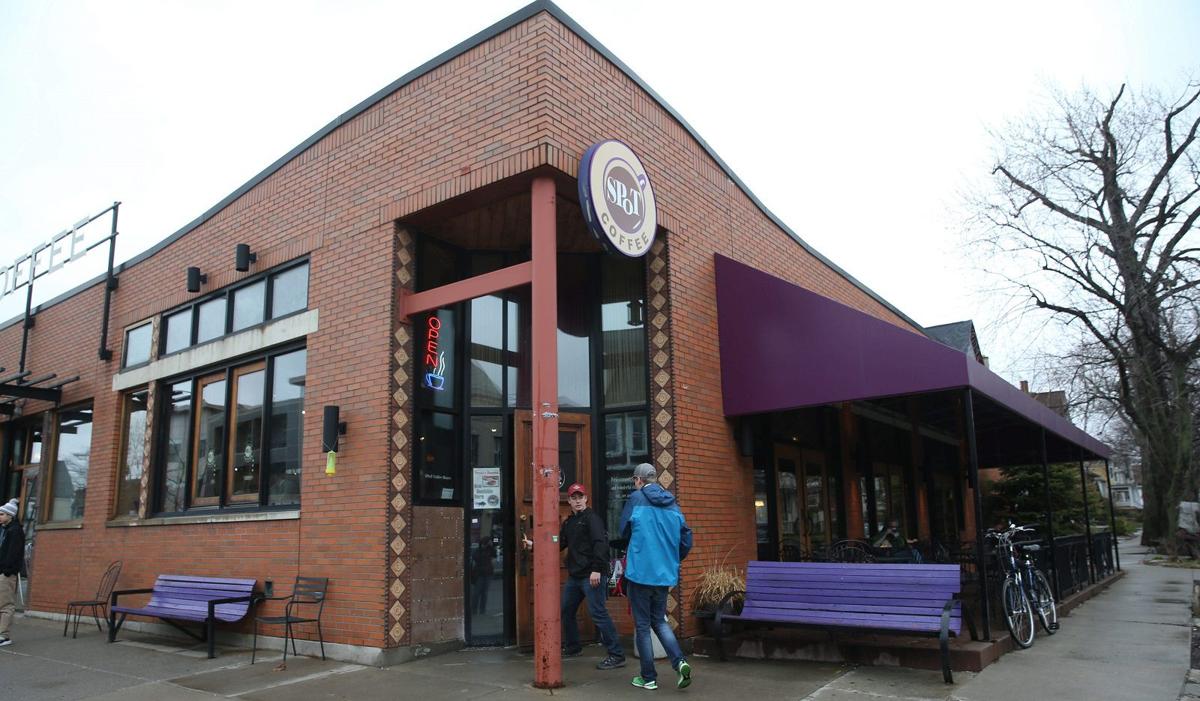 Spot Coffee employees have voted, 43-6, to form a union, making them some of the only barista workers in the country with union representation.
It's the result of an election held Tuesday, affecting 90 workers at Spot Coffee locations on Hertel, Delaware and Elmwood avenues, along with one on Main Street in Williamsville.
"It's really a relatively new thing to organize baristas, so this is a very groundbreaking campaign and it's really significant," said Jaz Brisack, the lead Workers United organizer in the Buffalo Spot Coffee campaign. Workers United Rochester Regional Joint Board is the union that employees voted to represent workers.
Brisack thinks Tuesday's outcome will encourage other baristas to organize.
"I think that it will empower people to realize what's possible," she said. "Other places will say, 'If the Spot workers can do it, why can't we?' "
That's precisely what happened in Buffalo.
Employees Phoenix Cerny, at the company's Elmwood Avenue store, and Cerny's roommate Philip Kneitinger, who worked at the Hertel Avenue location, heard about a Spot location in Rochester that had organized with Workers United in May. It found an article about them and shared it with Buffalo Spot workers. When the workers showed interest, they held a meeting and invited a Rochester employee to share information and answer questions.
"People think it's hard to unionize in the service industry because of high turnover, but I think the reason for high turnover in the service industry is because there's no power to collectively bargain," Brisack said.
Gimme! Coffee, a cafe chain with locations in New York City and Ithaca, voted to unionize in 2017. Workers at Mighty Good Coffee in Michigan formed the Washtenaw Area Coffee Workers Association earlier this year. In April, Mighty Good announced it would close all of its cafes (some will remain in operation until next year), saying running retail operations caused the family owners unexpected stress.
Tuesday night's vote let workers decide whether they wanted to be represented by a union, specifically Workers United. It required a simple majority to pass, meaning 50% of the turnout, plus one vote.
The company's chief executive officer, Anton Ayoub, has previously said corporate leaders "continue to recognize and support our employees' rights to decide whether they wish to be union represented."
Now that employees have voted in favor of representation, the union will be certified by the National Labor Relations Board. Then employees and the union will begin negotiating a contract that will cover such issues as wages, benefits and working conditions.
The union will also continue working to get Cerny, Kneitinger and another longtime employee reinstated with back pay and an apology, Workers United said. Workers and the union maintain they were fired because of their efforts to unionize.
Despite winning the ability to form the union, workers said they would not end the call to boycott Spot cafes until demands over the fired workers are met.
No matter the outcome, Brisack said, the organizers are asking the community to keep holding Spot accountable.
Workers United alleges that Spot fired two workers for holding a meeting about unionizing and fired a manager who did not turn over names of employees who attended the meeting. Charges related to that incident are being reviewed by the NLRB.
Ayoub, Spot's president and CEO, has previously said the employees' organizing efforts had nothing to do with their termination. The company has declined to comment in detail, but has said it would defend its business decisions before the board.
"We have consistently stated that we support our employees' right to decide whether they wish to be union represented. We respect this right to choose, and we are fully prepared to work with the Union to reach a contract that will be a win for all parties," Ayoub said, in an email to The News following Tuesday's vote.
If workers had not voted in favor of the union, organizers could have challenged the decision, saying workers' votes were influenced by employer intimidation. Otherwise, it would have to wait one year in order to hold another vote and try again.
"We're having this vote under duress to a large extent because the company hasn't met the requirements for having a fair and free election," Brisack said. "Workers wanted to go ahead and we felt like we owed it to them to expedite the process."