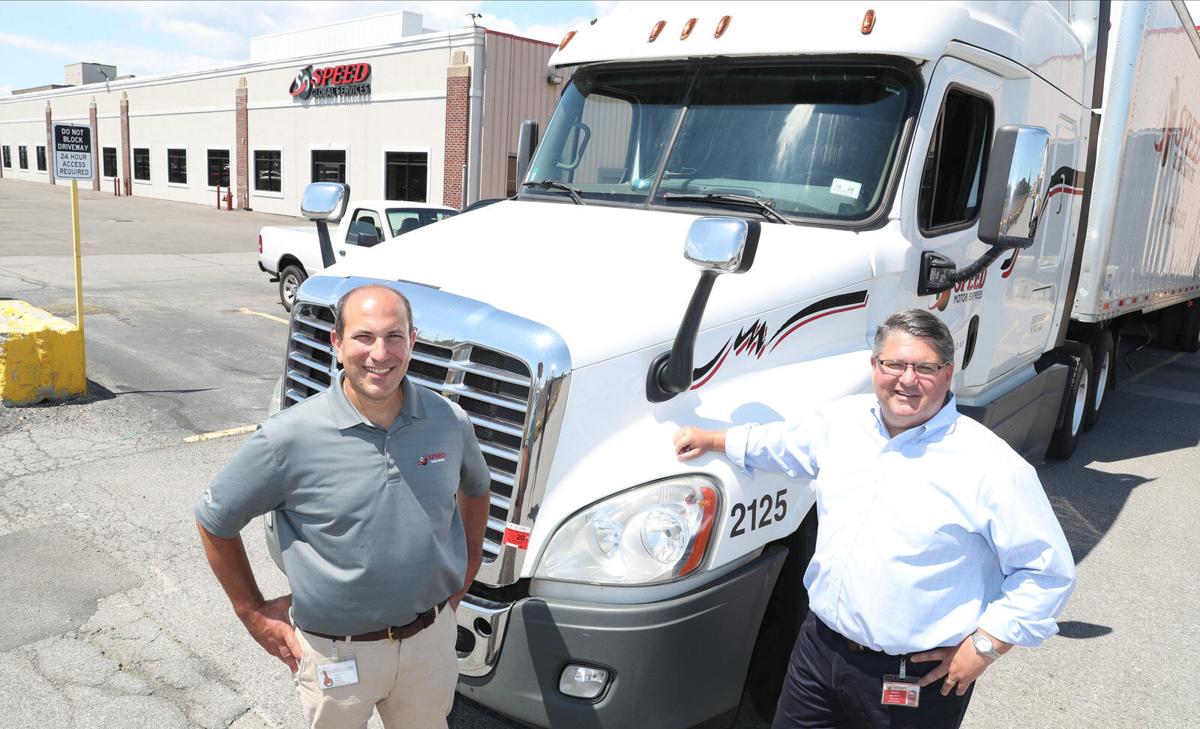 Trucking and logistics company Speed Global Services is expanding its property on Kenmore Avenue in Tonawanda, acquiring the adjacent former Republic Services waste disposal operation from Modern Corp. for $3.6 million.
Speed, through 2315 Kenmore LLC, bought the 12.42-acre site from Model City-based Modern's Project Nickel LLC, according to records filed with the Erie County Clerk's office.
The property, which was listed for sale at $3.9 million, includes three buildings with a total of 182,525 square feet, with warehouse and office space, and heavy cranes.
It was acquired by Modern in June 2020, as part of Modern's purchase of Republic's Western New York operations.
As part of the deal, Modern paid $4.225 million for the Kenmore Avenue property, but it didn't need the real estate, so it put the property back on the market in the fall.
Speed, led by CEO Carl Savarino and President Joseph Berti, is a transportation and freight-forwarding company at 2299 Kenmore, with additional operations in New Jersey and Ontario, and more than 1 million square feet of warehouse space.
In another major deal, a Lafayette, Ind.-based self-storage developer, Boxes Builders, has acquired the former Greif Inc. packaging plant at 2122 Colvin Blvd. in Tonawanda.
Boxes Builders, through Midwest Storage Developers LLC, paid $3.3 million for the 138,000-square-foot facility, which will become a Life Storage location, as previously reported.
Plans call for converting the former industrial drum manufacturing building into 101,000 square feet of climate-controlled interior storage space, with more than 800 individual units of various sizes, while providing additional outdoor parking for recreational vehicles and boats. Amherst-based Life Storage, one of the nation's largest self-storage providers, will manage and brand it, but Boxes will develop and own it as a franchisee.
Ohio-based Greif had operated the facility for more than 22 years, with 44 employees producing fiber drums for customers of the publicly traded industrial packaging company.
• Kevin Brooks – owner of heavy truck shop Colden Enterprises in Kenmore – paid $900,000 through Acorn Hill Properties at 890 LLC to buy a 2.33-acre property at 890 Ontario St. in Tonawanda. The sellers were Rocco Casullo and Paul Billoni, of Casullo's Automotive Services Inc. in Kenmore, through 890 Ontario Street LLC. The 1.75-acre property includes a vacant 25,000-square-foot, single-story metal industrial building, constructed in 1978, with two truck loading docks.
• Dr. Michael R. and Helen Marie Nazareth of Williamsville paid $745,000 to buy 6680 Main St. in Amherst from LSS Properties of Amherst. Nazareth is a dermatologist, while the seller is registered to the office of Dr. Elizabeth Rose Hatton, a family medicine doctor affiliated with Kenmore Mercy Hospital. The 2.06-acre property contains a two-story, 4,683-square-foot office building, constructed in 1920, with 14 offices and two large rooms.