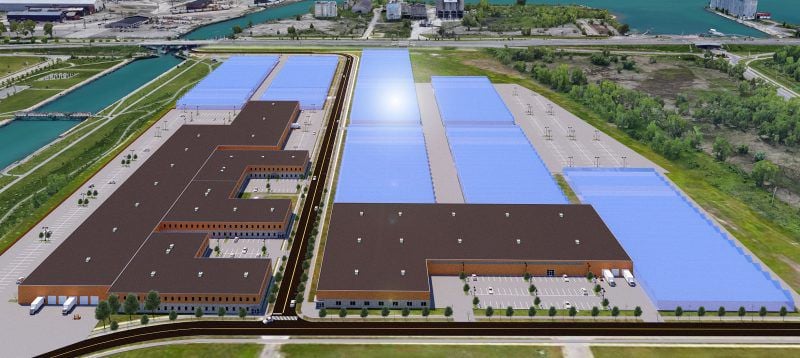 The developer hoping to build a $200 million pot farm in South Buffalo is getting two more years to make it happen.
Despite some resistance from the president of Buffalo's Common Council, the Buffalo Urban Development Corp. extended its agreement by two years to sell land for the marijuana growing operation proposed by Brad Termini's Zephyr Investors, giving it more time to get the state license it needs.
The extension will push out the deadline through July 31, 2023, which Termini and BUDC hope will be enough time for the state to establish procedures and issue licenses under the new recreational marijuana law. That's been the primary cause of the delay, since the framework for companies to operate in New York hasn't been put into place yet.
The agency required Zephyr to pay up to $12,000 in nonrefundable fees for the first year and deposit up to $67,000 in escrow for the second year, to secure its hold on what city officials increasingly see as valuable land.
But the length of the extension was a concern for Council President Darius Pridgen and others on the board. They say the agreement locks up potentially valuable land that could be attractive for Canadian firms or warehouse and distribution companies.
Invest Buffalo Niagara CEO Thomas Kucharski acknowledged that his economic development group hasn't been marketing the site because of the Zephyr agreement, but "certainly would have people touring it" right now if it were available.
"There's no opportunity for another suitor," Pridgen said. "What is this land going to be worth in two years?"
Zephyr wants to construct a cannabis campus in the Buffalo Lakeside Commerce Park, just east of Route 5 and off Tifft Street. The investment firm – which initially sought to work with a company called Flora California Prime that it owned but has since sold – agreed to buy eight parcels of land from BUDC, totaling 72.4 acres, for $1.9 million.
Plans called for construction of a sprawling facility on 47.6 acres, with 1.375 million square feet of building space for growing the plants, manufacturing a variety of products, and conducting research. The complex would feature about a dozen buildings, including seven greenhouse or growing facilities totaling 850,000 square feet, plus two "post-harvest" buildings.
An extraction laboratory would take the oil out of the plant to produce balms, lotions, creams, pills, transdermal patches, food, beverages and other health and wellness products – as well as marijuana cigarettes.
The project would also include an incubator facility for Buffalo entrepreneurs and a vocational job-training center with a curriculum developed by Erie Community College. And Zephyr would collaborate with Roswell Park Comprehensive Cancer Center to research how to use cannabis to treat symptoms caused by chemotherapy.
In all, officials said the project could employ 500 to 1,000 people when fully operational.
But it hasn't gone anywhere since it was proposed two years ago, because state lawmakers and the former Cuomo administration couldn't agree on the legislation to legalize marijuana until earlier this year. And that law gives a new Office of Cannabis Management up to two years to implement it, including writing regulations and issuing licenses.
Both BUDC and Zephyr had remained committed to the plan, and BUDC has extended the due diligence period for Zephyr more than once. But it expired at the end of last month, and BUDC couldn't muster quorum at its last board meeting to approve the longer agreement, forcing the agency to issue a temporary 60-day extension that the board also ratified.