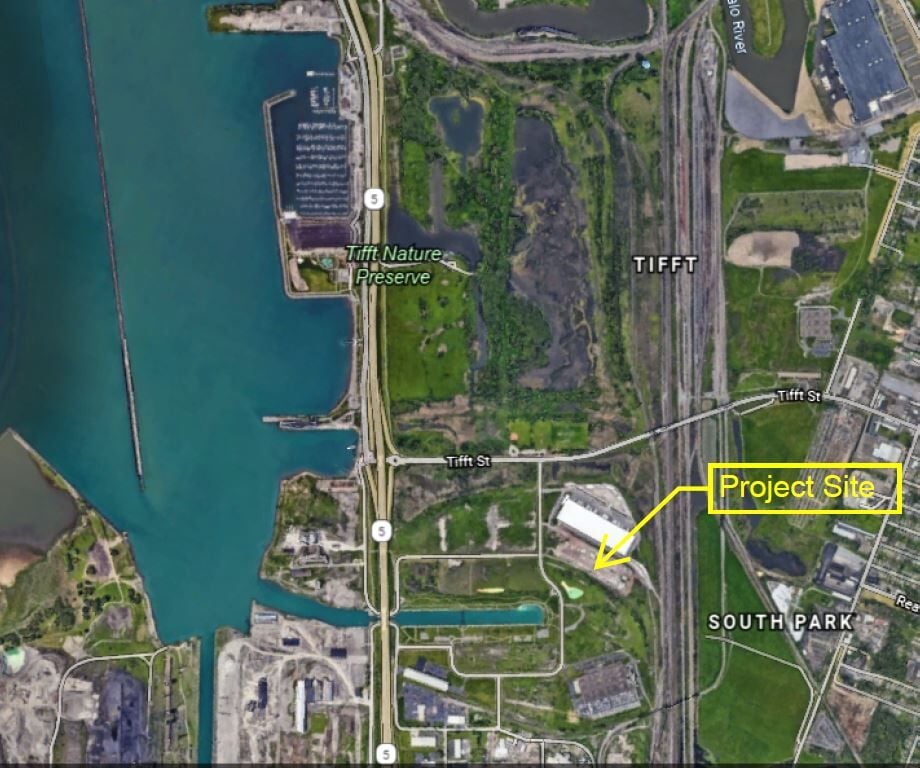 Uniland Development Co.'s revised plan to place a new solar farm at the Buffalo Lakeside Commerce Park in South Buffalo faces a new obstacle: its neighbor, which wants the property for its warehouse business.
Peter Wilson, who owns Sonwil Distribution Center and a large portion of the adjacent land, has filed a lawsuit against the Buffalo Urban Development Corp., seeking to cancel the agency's planned sale of 20.3 acres of property to Uniland.
Wilson says the proposed use of the site for a ground-mounted solar array would be a waste of valuable property, citing its strategic location near Lake Erie, the Thruway and rail lines. It would also be inconsistent with the overall goals of the sprawling commercial park, and would conflict with BUDC's stated corporate purpose, since it would not create many jobs, he argues.
Uniland proposed the solar farm after determining that soil conditions on the property were not suitable for a large warehouse facility without incurring significant extra construction costs.
Wilson, however, said he had experts study the soil conditions and believes the park should continue to be developed as a logistics corridor, in keeping with the significant investment Sonwil has already made.
Wilson said he's interested in buying the property, noting that it's located between his own company's warehouse operations – including a second building now under development – and another company, CertainTeed. And he otherwise has had to look to Niagara Falls and Rochester for new facilities, he added.
He appealed directly to Buffalo Mayor Byron W. Brown – BUDC's chairman – to either open up the property for public bidding or allow Sonwil to purchase this property.
In the letter to Brown that was included in the lawsuit, Wilson pledged to develop a "large industrial park space with rail access" by the first quarter of 2022. Wilson "would even commit to a penalty if Sonwil does not perform," the letter said.
Wilson said his goal is to support the development of a "dynamic commercial logistics hub."
The lawsuit – brought in State Supreme Court in Erie County by one of Wilson's other companies – also says the pending sale would violate BUDC's own rules for property sales, and should be annulled.
Outgoing BUDC President Peter Cammarata declined to comment, citing pending litigation.
Amherst-based Uniland wants to erect a 5-megawatt solar array on the brownfield property at 255 Ship Canal Parkway, producing enough power for 800 households. It would be the first large-scale operation of its kind within the city.
But that wasn't the original plan.
Uniland had worked with the Buffalo Niagara International Trade Gateway Organization for more than two years on a plan to create a transportation, logistics and shipping hub, creating an inland port for freight coming in to the United States through the Port Authority of New York and New Jersey. The project entailed construction of a 42,000-square-foot warehouse and office facility, and Uniland agreed in April 2019 to buy the South Buffalo site from BUDC for $509,000.
However, the developer later discovered that soil conditions might not be suitable to support a large building without deep foundations and significant extra expenses.
After extending the purchase agreement three times, Uniland, by late last year, shifted away from the inland port in favor of the solar array.
"We are opposed to installing a solar farm adjacent to our facilities. This project absolutely must go against any perception or plan of what Lakeside Commerce Park was planned to be," Wilson wrote in his letter to Brown. "All this infrastructure and, in my opinion, putting a solar farm would be a total waste."
Wilson owns the adjacent land at 315 Ship Canal, which he leases to Sonwil. His company bought 54 acres from BUDC in 2007 and built a 300,000-square-foot warehouse, distribution and logistics facility on the site. However, it needs more space and announced plans in December to spend $36 million to construct a companion building next door at 283 Ship Canal. It also recently leased some of the former Nabisco warehouse space in Niagara Falls.
But it has also expressed interest to BUDC in buying the land at 255 Ship Canal – which has been available for many years, long before the Uniland deal – if the Uniland project fell through. Sonwil even reviewed the site for a potential building, hiring developer Peter Krog to design and engineer a structure while resolving concerns about the soil.