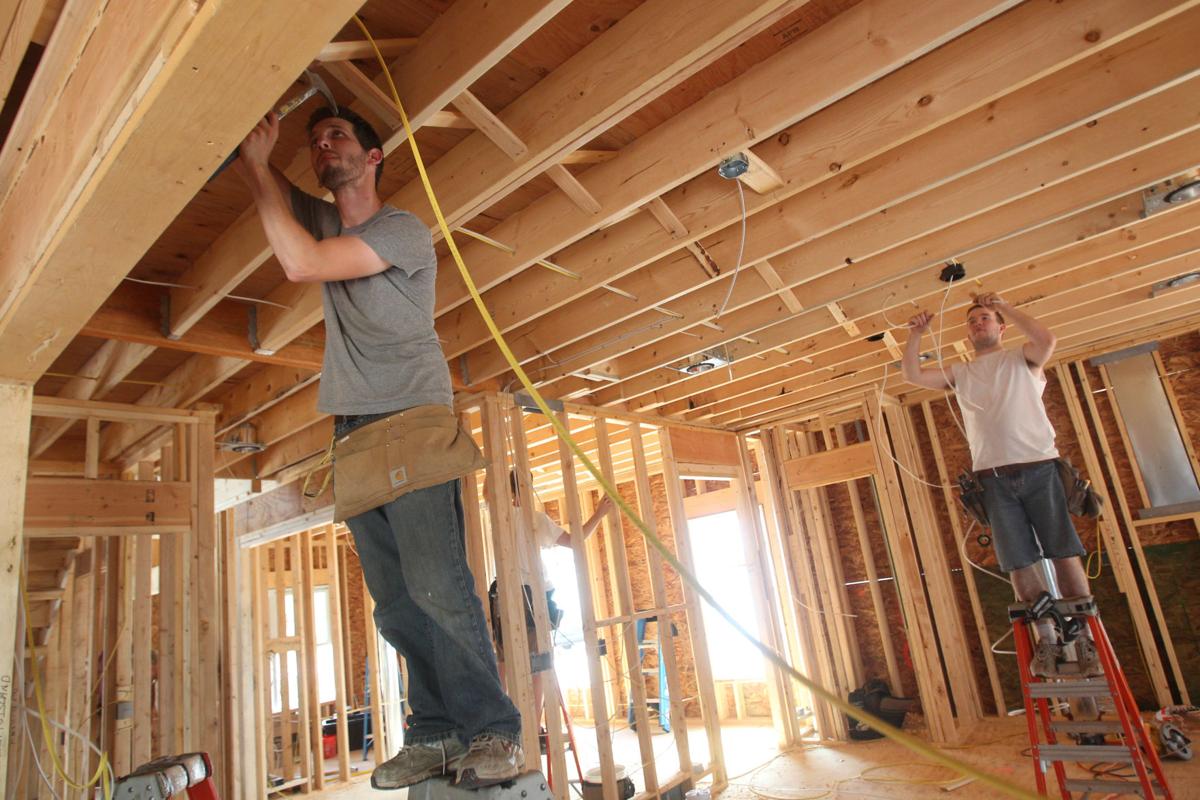 James Mohan has been looking forward to building a patio home where he and his wife can enjoy their senior years.
The former middle school physical education teacher and his wife are both retired from the Williamsville Central School District, where he worked for more than 32 years and she finished the last 15 years of her nursing career.
The couple, who have lived in a Town of Tonawanda ranch house for 43 years, is working with Essex Homes of Western New York, to build a 1,880-square-foot home in the Essex Greens at Waterford neighborhood of Clarence. It has three bedrooms, two bathrooms and "a real nice sunroom," Mohan said.
But instead, it's "turning into a nightmare," as the spiraling cost of lumber and other building materials threatens to drive up the cost by over $35,000 in just two months, to at least $533,000, he said.
"It's totally shocking," said Mohan, who turns 72 on Memorial Day. "When does this damn price increase stop? It's ridiculous ... I'm at numbers I never fathomed. My field of dreams is going away."
He isn't alone. Western New Yorkers are facing sticker shock at the rising prices for new home construction and home repairs. While the price hikes were initially limited for lumber, they've spread to most other products needed for either kind of job.
Wood prices soared late last year, as sawmills in the United States and Canada struggled to ramp back up to full capacity and meet rising demand after shutdowns caused by the coronavirus pandemic. There was a brief respite at the end of 2020, but the cost of lumber has now more than quadrupled since last summer.
"It's crazy. I've never seen it like this," said James Marrano, executive vice president of operations for Marrano/Marc Equity Corp., which operates as Marrano Homes.
Prices on other materials also have spiked. On top of that, there's a severe shortage of many of the items, ranging from the windows, doors and siding needed to frame a house to the kitchen appliances and even bathtubs to finish it off.
"It just causes a chain reaction," said Phil Nanula, president of Essex Homes. "We do the best we can, but at some point, you just have to put the house on hold."
Nanula said he's been told by his lumber suppliers – including 84 Lumber – to expect an increase of $15,000 to $20,000 per house on the base price.
"And then to expect it again the following month," Nanula said.
A truckload of lumber that used to cost $20,000 is now $80,000, he added. 
"In my 30 years of doing this, I've never seen anything like it," Nanula said.
Domenic Cortese, co-owner and president of Cortese Construction Services Corp., said his company initially estimates project costs based on current numbers, but warns customers that it revisits that estimate months later when it's time to place the order.
"We don't know where it's going to stop," he said. "Hopefully by then we'll see a return to normal prices, and then we'll issue a credit."
But it's not just the lumber anymore. Suppliers of roofing, concrete, siding, garage doors and drywall are all raising their prices, citing a supply shortage and insisting on immediate payment.
Nanula said roofing materials cost 24% more, while siding went up 15%. "There hasn't been anything that hasn't had a soaring price attached to it," Nanula said.
And the builders are forced to respond. "The prices eventually get passed along to the consumer," Marrano said. "That's why we're hoping that the public will be outraged by this as well."
Then there are the delays on everything, which holds up the entire process, or forces builders to double back several times to install new items.
"There's extended lead times across the board on everything," said Michael Washington, owner of Ivy Lea Construction, which started a kitchen renovation in September 2020, but didn't get the dishwasher needed for the project until March 2021.
For example, Marrano said, windows are taking nine weeks instead of the usual four.
"I can frame the house, but I can't do anything after that. I have to wait for the windows to come in," Marrano said.
For overhead doors, it's 10 weeks, up from four to five. Cabinets are two to three months out instead of four to six weeks. Kohler bathtubs aren't available until September.
"It's not like it was five years ago, where you could have that in a week," said Rusty Funk, owner and president of Ray Funk Home Remodeling.
And "try finding a refrigerator," Marrano said.
Nanula had ordered a fridge for a model home eight months ago but had to reselect different models three times because it wasn't available. It just came last week. "We have people that are trying to move into their new homes and they can't get their refrigerator," he said.
So far, though, most customers are accepting the increases and delays in stride, despite their unhappiness and grumbling about having to pay more. They're frustrated, but they still want their dream house or renovation. And if they're selling a prior home, they're often making more than enough on the sale to cover the difference.
It's also helped that interest rates are so low that the monthly costs of the additional dollars doesn't amount to very much over time. On the one hand, that's driven the housing boom and accompanying demand for lumber and other products.
But it's also made the price hikes more palatable.
"Customers have been receptive to that, and realize that's a positive factor," Nanula said. "But nobody wants to feel like they have to pay more."
And builders warn that the increases are starting to price people out of the market completely. Last summer, both Essex and Marrano could offer homes starting at $325,000 to $350,000. Today, there's nothing below $400,000.
"Every time the price goes up, you're eliminating people from the market that can afford it," Marrano said. "That's troubling."
The lumber crunch stems from a severe imbalance between the supply and the booming demand in the housing and renovation markets.
First, sawmills in California temporarily closed during a rash of pre-pandemic forest fires. Then, a year ago, the mills shut down during the pandemic lockdown. They were slow to fully restart when home construction and renovation activity began again in earnest after just a couple of months.
At first, there was enough supply to accommodate the home remodeling that kicked off as people were stuck in their houses. But many mills were still at half-capacity when building activity kicked into high gear, so supplies dwindled and prices skyrocketed.
Nanula also blames the U.S. tariff on Canadian lumber, which former President Trump had raised from 9% to 20% during his renegotiation of the U.S. trade agreement with Canada and Mexico. That finally came back down just a few weeks before he left office. But now the Biden administration says it may redouble the tariff to 18%. "It's so irresponsible under these circumstances," Nanula said. "The market reacted to those statements immediately."
According to the National Association of Home Builders, a thousand board feet of lumber – a standard industry measurement – cost about $200 in May 2020 and $600 in late November 2020. But that same volume of 2x4s jumped to almost $1,700 by May 14. That's an eight-fold increase in a year.
That's come down a little in the past two weeks, but it's still more than $1,300. And lumber suppliers won't agree to advance payments on bulk purchases because the prices are changing so quickly.
Frank Cicero, chief operating officer of Pennsylvania-based distributor 84 Lumber, said manufacturers of one common form of engineered plywood can normally produce enough for 1.3 million to 1.4 million houses per year. But the demand in recent months "feels like 1.7 million houses."
That type of plywood – which sold for $12 per sheet in December – is now $66 per sheet.
"There's more houses being built in the United States than the supply of products," Cicero said. "It causes stress throughout the whole supply chain."