A historic commercial building that was once part of Shea's Seneca Theatre in South Buffalo is now destined for reuse, with developer Jake Schneider planning a mix of apartments, a theatre and performance art space in the 88-year-old structure.
Schneider Development on Monday said it wants to spend $9 million to renovate the largely vacant and underused property at 2178 Seneca St., restoring its original architecture and bringing the building back to life as part of the latest adaptive reuse project in the city, and particularly along Seneca Street.
"We're very excited about the neighborhood. It's a well-established and proud community with great assets to build upon," he said. "It is our hope that this project will serve as a catalyst for the revitalization of the Seneca Street commercial corridor."
Located at the intersection of Seneca and Cazenovia streets, near Cazenovia Park, the historic two-story brick building was originally constructed in 1929 by well-known regional cinema icon Michael Shea, who built Shea's Buffalo downtown, the North Park Theatre in North Buffalo, and several other iconic movie and entertainment houses that have since been demolished. With 2,500 seats, Shea's Seneca was once said to be the largest community theater in the city, and grandly featured a colored marble lobby, ornamental plaster and arched windows. It also had a Wurlitzer theater organ, which was played on opening night in 1930 during the showing of The Mighty.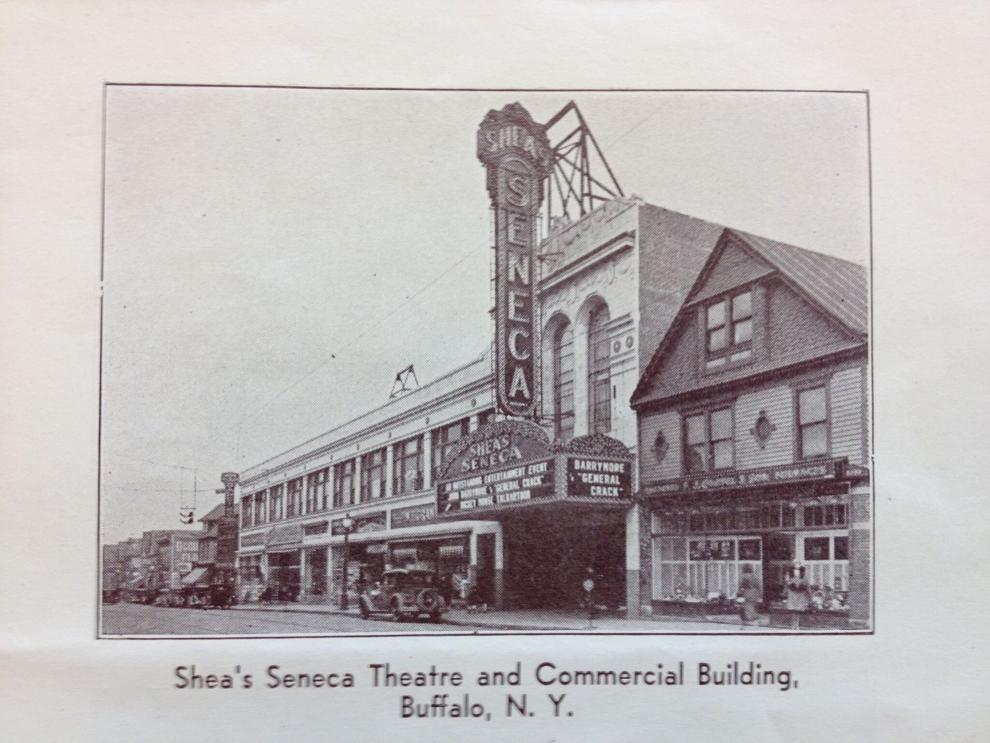 The theatre was briefly closed in the 1960s before a group of business leaders renovated and reopened it with half the seating. But that didn't last. After a brief stint as a nightclub, the auditorium itself was torn down in 1969 and converted to a parking lot in back, while the windows were covered over. The 75-foot-high marquee with the Shea's name is also missing today.
The secondary building was originally designed as a commercial and recreational center, with original tenants like beauty and barber shops, a restaurant, a pool club and a dance studio, as well as doctors and dentists. Various local nonprofits, social clubs and lodge chapters also used it. Ginzy's Bargain Warehouse is located there now. And the second floor was used as a bowling alley, and later converted to a restaurant and dance hall.
That 48,000-square-foot secondary structure and corner tower remain, with its white terra-cotta facade, pilasters, medallions and other details on the exterior, as well as its original ticket vestibule inside, and the ornate plaster castings that decorate the movie theater lobby, with its 2.5-story barrel-vaulted ceiling. All of those details will be restored.
"It's a beautiful and historically significant structure across the street from an Olmsted Park," said Schneider, the firm's president. "The building and the neighborhood have great bones and potential."
Schneider said he has been meeting already with local political and neighborhood leaders over the last few months to find ways to work together in redeveloping that part of South Buffalo. "There are so many people passionately committed and working to bringing the neighborhood back," he said. "The time has come for this neighborhood."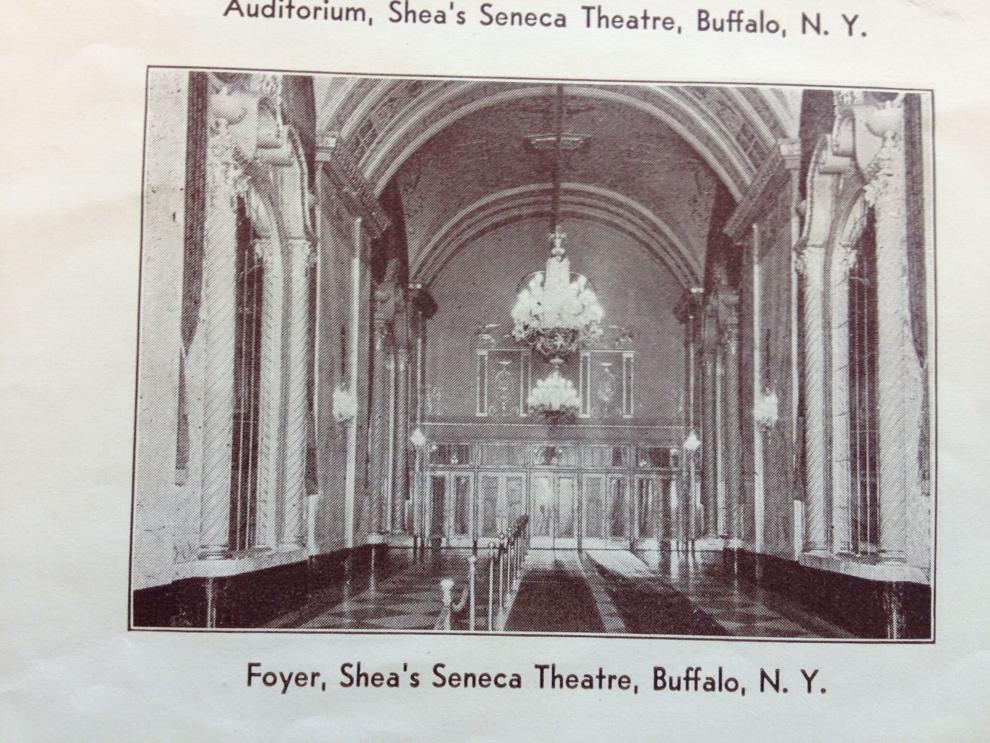 Plans call for 25 apartments, special-event and banquet space, and a 130-seat theater and classroom space for the Second Generation Theatre Company, a local nonprofit. There will also be 3,000 square feet of additional storefront retail space aimed at serving the neighborhood, such as for a coffee shop or bakery or other provider "that bring new amenities into the neighborhood," Schneider said. "We haven't started marketing it yet."
The apartments will likely be a mix of one- and two-bedroom units. Schneider said details on size and rents haven't been finalized, but "it will likely be an upscale" project. "It's a niche that doesn't exist there now that we hope will be attractive to people working at Mercy Hospital and Trocaire College or who want access to Cazenovia Park or be in that neighborhood," he said.
Founded in April 2013, Second Generation was initially located at the Phoenix Theatre and later at the Lancaster Opera House. The theatre company plans to use 5,000 square feet of space for producing its own plays, as well as to provide workshops for local professionals and to establish an educational theatre program for the community, using teaching artists that it will bring in. It also plans to roll out an after-school outreach program for city youth.
"We were looking for a permanent home where we can continue to build our brand and further expand our production capabilities," said Kristin Bentley, Second Generation's executive director. "The building's rich history as a prominent community entertainment venue is a nice tie-in to our work and mission."
The 11,000 square feet of special events space will be run by veteran restaurateurs William and Molly Koessler, who already own and operate several other facilities in Buffalo. Those include Marquis de Lafayette in the Hotel @ the Lafayette in downtown Buffalo, the Acqua Restaurant on Niagara Street on the West Side, the Foundry Banquet and Suites on Elmwood Avenue, William K's and the Hatch at the Erie Basin Marina, and Molly's on Main Street in Fountain Plaza.
"They feel it's an underserved market," Schneider said, referring to the Koesslers. "They fell in love with the historic fabric of the building, just like we did."
And Schneider said the Koesslers and Second Generation plan to work together, to benefit from synergies between them. "Those two tenants will really complement each other," he said. "They want to share the spaces from time to time."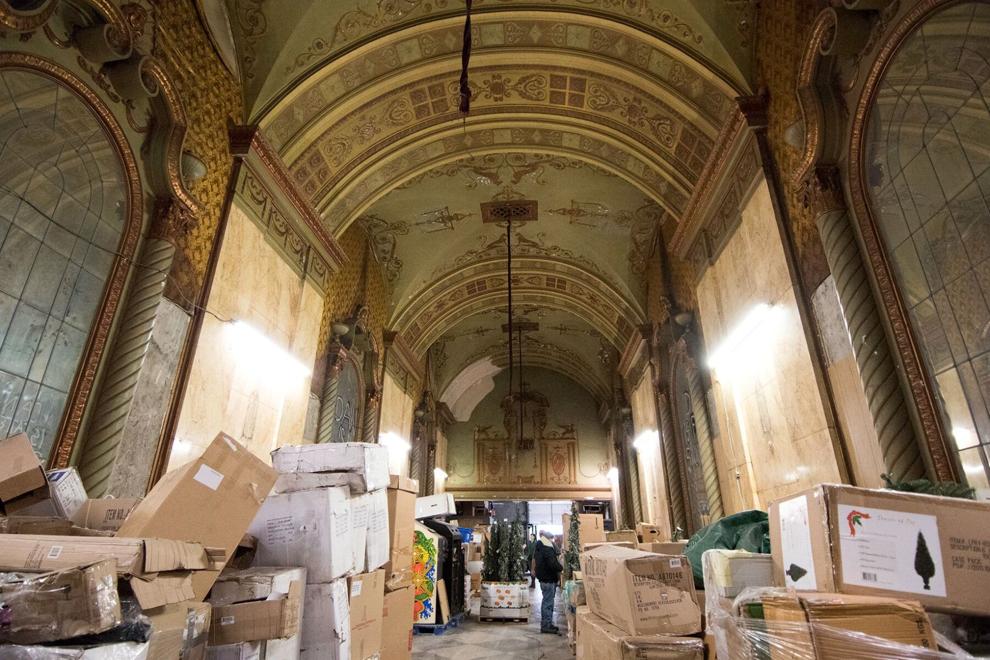 The project will be partially funded using state and federal historic tax credits, which could offset as much as 40 percent of the costs. "The advancements we've seen in the new Buffalo mean nothing if they don't extend into the neighborhoods," said Cong. Brian Higgins, D-Buffalo. "Schneider Development's vision for Shea's Seneca will be transformative for Seneca Street. This exciting investment in a historic South Buffalo landmark doesn't just change a building. It has the ability to change the landscape of this community."
Schneider is also seeking sales and mortgage recording tax breaks from the Erie County Industrial Development Agency, and a more standard property tax break from the county. Pending municipal approvals and financing, construction is expected to begin in spring 2017, with completion targeted for spring or summer of 2018. "Schneider Development's plan for redeveloping Shea's Seneca is exactly the type of investment the community has been anxious to see," said South District Councilmember Christopher P. Scanlon. "The restoration and redevelopment of this magnificent, historic structure will help usher in the rebirth of Seneca Street."
This is the latest historic renovation project for Schneider, who has rehabbed over 400,000 square feet of vacant and underused space in downtown Buffalo since 2003. That includes Apartments @ the Hub, the AC Lofts, the Historic Warehouse Lofts, Turner Brothers Lofts, and a pair of Delaware Avenue buildings, all within a mile of each other.
Focusing on historic properties downtown has been a core part of Schneider's strategy, but "it's getting really hard to find opportunities in the downtown," he said. So while Rocco Termini turned north for new projects, and others have gone west to Niagara Street, the Hamburg resident looked south instead, spending time studying what was available in South Buffalo and the Southtowns before settling on the theater building.
"When I saw this building, I immediately fell in love with the potential of it," he said. "It meets all of our criteria. It's a historic building. It's got great character. It's got parking. It's in a neighborhood that's edgy, in that it's starting to come back."
He also cited a study by University at Buffalo planner Robert Shibley that evaluated the potential for redevelopment along the Seneca corridor from Mineral Springs Road to the city line.
"The business fabric along there isn't bad. It just needs some love. This building, we're hoping, can be catalytic in terms of kicking that process off," Schneider said. "There's a lot of pride in that neighborhood, an awful lot of people proud to have grown up in South Buffalo. Hopefully there will be even more developers who will take a look at Seneca Street now that we're going to be doing our project there."